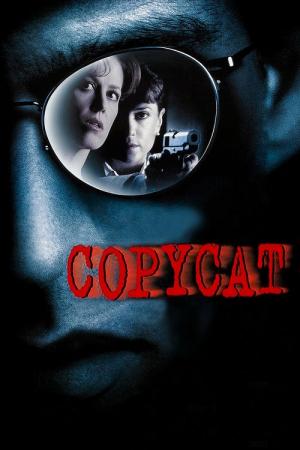 14 Best Movies Like Copycat ...
If you liked this one , you will for sure love these too! In this collection we highlight some of the best films that share a very similar mood to 'Copycat', and are worth checking out.
1.
The Silence of the Lambs (1991)
1h 59m Crime Drama Thriller Horror
Clarice Starling is a top student at the FBI's training academy. Jack Crawford wants Clarice to interview Dr. Hannibal Lecter, a brilliant psychiatrist who is also a violent psychopath, serving life behind bars for various acts of murder and cannibalism. Crawford believes that Lecter may have insight into a case and that Starling, as an attractive young woman, may be just the bait to draw him out.
2.
The Bone Collector (1999)
1h 58m Drama Mystery Thriller Crime
Rookie cop, Amelia Donaghy reluctantly teams with Lincoln Rhyme – formerly the department's top homicide detective but now paralyzed as a result of a spinal injury – to catch a grisly serial killer dubbed 'The Bone Collector'. The murderer's special signature is to leave tantalizing clues based on the grim remains of his crimes.
2h 11m Crime Drama Thriller Horror
After having successfully eluded the authorities for years, Hannibal peacefully lives in Italy in disguise as an art scholar. Trouble strikes again when he's discovered leaving a deserving few dead in the process. He returns to America to make contact with now disgraced Agent Clarice Starling, who is suffering the wrath of a malicious FBI rival as well as the media.
1h 46m Drama Mystery Science Fiction Thriller
Ray Liotta stars as a medical examiner who has been acquitted for his wife's murder but many still question his innocence. Obsessed with finding his wife's killer, a possible solution presents itself in an experimental serum designed by a neurobiology Linda Fiorentino which has the ability to transfer memories from one person to another, but not without consequences. Liotta driven to solve the case injects himself with the serum, bringing him closer and closer to finding her killer but bringing him closer to death.
1h 36m Mystery Thriller
FBI agent Joel Campbell, burnt-out and shell-shocked after years spent chasing serial killers, flees L.A. to begin a new life for himself in Chicago. But five months later, Joel's best laid plans are abruptly cut short when his new hometown becomes the setting for some particularly gruesome murders--murders that could only have been committed by one man: David Allen Griffin. One of Joel's most elusive and cunning nemeses, Griffin has followed his former pursuer to Chicago in order to play a sadistic game of cat and mouse. Taunting Joel with photographs of his intended victims and leaving his crime scenes meticulously free of clues in order to keep the police at bay, Griffin derives as much pleasure out of watching Joel react to every movement as watching his victims die. But when Griffin moves into Joel's inner circle, Joel must quickly find some way to stop him before someone close to him becomes the next one to die.
2h 3m Crime Drama Mystery Thriller
A police chief about to retire pledges to help a woman find her daughter's killer.
7.
Eyes of Laura Mars (1978)
1h 44m Drama Mystery Thriller
A famous fashion photographer develops a disturbing ability to see through the eyes of a killer.
1h 43m Action Crime Mystery Thriller Drama
Recruited to assist Montreal police in their desperate search for a serial killer who assumes the identities of his victims, FBI profiler Illeana Scott knows it's only a matter of time before the killer strikes again. Her most promising lead is a museum employee who might be the killer's only eyewitness.
9.
Murder by Numbers (2002)
2h Crime Drama Thriller
Tenacious homicide detective Cassie Mayweather and her still-green partner are working a murder case, attempting to profile two malevolently brilliant young men: cold, calculating killers whose dark secrets might explain their crimes.
2h 4m Crime Thriller Mystery Horror
Former FBI Agent Will Graham, who was once almost killed by the savage Hannibal 'The Cannibal' Lecter, now has no choice but to face him again, as it seems Lecter is the only one who can help Graham track down a new serial killer.
2h 37m Crime Drama Mystery Thriller
The true story of the investigation of the "Zodiac Killer", a serial killer who terrified the San Francisco Bay Area, taunting police with his ciphers and letters. The case becomes an obsession for three men as their lives and careers are built and destroyed by the endless trail of clues.
12.
Kiss the Girls (1997)
1h 55m Drama Mystery Thriller Crime
Forensic psychologist Alex Cross travels to North Carolina and teams with escaped kidnap victim Kate McTiernan to hunt down "Casanova," a serial killer who abducts strong-willed women and forces them to submit to his demands. The trail leads to Los Angeles, where the duo discovers that the psychopath may not be working alone.
13.
Righteous Kill (2008)
1h 41m Action Crime Drama Thriller
Two veteran New York City detectives work to identify the possible connection between a recent murder and a case they believe they solved years ago; is there a serial killer on the loose, and did they perhaps put the wrong person behind bars?
1h 30m Mystery Thriller
Complete strangers stranded at a remote desert motel during a raging storm soon find themselves the target of a deranged murderer. As their numbers thin out, the travelers begin to turn on each other, as each tries to figure out who the killer is.
explore
Check out more list from our community