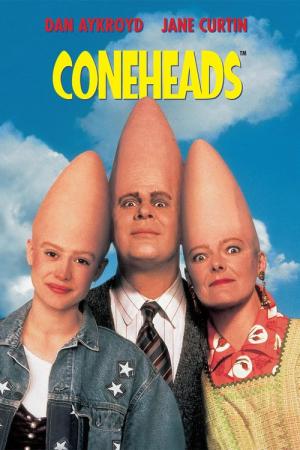 12 Best Movies Like Coneheads ...
If you liked this movie , you will definitely love these too! In this collection we highlight some of the best films that share a very similar mood to 'Coneheads', and are worth checking out.
2.
Mom and Dad Save the World (1992)
1h 28m Adventure Comedy Family Science Fiction
Emperor Spengo sees Marge Nelson and using a giant magnet, kidnaps her and her husband Dick, hoping to make Marge his before blowing up the Earth. The Emperor and other inhabitants of his planet are somewhat less than bright, and Dick begins reliving episodes of Flash Gordon and Buck Rogers in order to rescue Marge, save the Earth, and restore the rightful emperor to the throne.
1h 46m Comedy Fantasy Science Fiction
'We come in peace' is not what those green men from Mars mean when they invade our planet, armed with irresistible weapons and a cruel sense of humor. This star studded cast must play victim to the alien's fun and games in this comedy homage to science fiction films of the '50s and '60s.
23m Comedy Family
A furry alien wiseguy comes to live with a terran family after crashing into their garage.
5.
Nothing But Trouble (1991)
1h 34m Comedy Adventure
While attempting to seduce gorgeous lawyer Diane Lightson, wealthy gadabout Chris Thorne agrees to drive her to Atlantic City, N.J. But, when some reckless driving draws the attention of a deeply critical cop, they and the flamboyant "Brazillionaires" who tagged along end up in the court of a grotesque and vengeful judge, who has a special vendetta against the wealthy and erudite.
6.
Stepsister from Planet Weird (2000)
7.
Spaced Invaders (1990)
1h 40m Comedy Family Science Fiction
A crew of Martians overhears a radio broadcast of Orson Welles' "War of the Worlds" coming from Earth, and, thinking the Martian fleet is attacking Earth, they land their broken-down ship in a backwater mid-American town. As luck would have it, they land on Halloween and get mistaken for trick-or-treaters. Comedy ensues as the Martians try to get taken seriously.
22m Comedy
When the Weavers move to a gated community in New Jersey, they discover that the entire neighborhood is comprised of aliens from the planet Zabvron. But as the Weavers and the aliens face the struggles of everyday life together, they discover that some things -- the ups and downs of marriage, the desire to be a good parent and raise a happy family -- are universal. Intergalactic, even.
9.
3rd Rock from the Sun (1996)
1h 44m Adventure Comedy Science Fiction
For the past 60 years, a space-traveling smart-ass named Paul has been locked up in a top-secret military base, advising world leaders about his kind. But when he worries he's outlived his usefulness and the dissection table is drawing uncomfortably close, Paul escapes on the first RV that passes by his compound in Area 51. Fortunately, it contains the two earthlings who are most likely to rescue and harbor an alien on the run.
1h 35m Comedy Science Fiction
Galaxina is a lifelike, voluptuous android who is assigned to oversee the operations of an intergalactic Space Police cruiser captained by incompetent Cornelius Butt. When a mission requires the ship's crew to be placed in suspended animation for decades, Galaxina finds herself alone for many years, developing emotions and falling in love with the ship's pilot, Thor.
12.
The Brady Bunch Movie (1995)
1h 24m Comedy
The original '70s TV family is now placed in the 1990s, where they're even more square and out of place than ever.
explore
Check out more list from our community