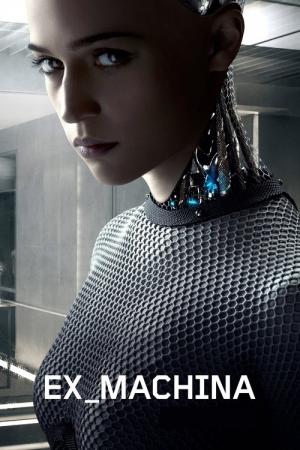 31 Best Movies Like Ex Machina ...
If you liked this one , you will for sure love these too! In this selection we highlight some of the best films that share a very similar premise to '', and are worth checking out.
1h 32m Science Fiction Thriller
Already deep into a second Cold War, Britain's Ministry of Defense seeks a game-changing weapon. Programmer Vincent McCarthy unwittingly provides an answer in The Machine, a super-strong human cyborg. When a programming bug causes the prototype to decimate his lab, McCarthy takes his obsessive efforts underground, far away from inquisitive eyes.
1h 56m Drama Science Fiction Mystery
Taking place after alien crafts land around the world, an expert linguist is recruited by the military to determine whether they come in peace or are a threat.
1h 54m Science Fiction Thriller
A teenage girl is raised underground by a robot "Mother", designed to repopulate the earth following an extinction event. But their unique bond is threatened when an inexplicable stranger arrives with alarming news.
1h 37m Science Fiction Drama
With only three weeks left in his three year contract, Sam Bell is getting anxious to finally return to Earth. He is the only occupant of a Moon-based manufacturing facility along with his computer and assistant, GERTY. When he has an accident however, he wakens to find that he is not alone.
2h Crime Action Science Fiction
Every child comes into the world full of promise, and none more so than Chappie: he is gifted, special, a prodigy. Like any child, Chappie will come under the influence of his surroundings—some good, some bad—and he will rely on his heart and soul to find his way in the world and become his own man. But there's one thing that makes Chappie different from any one else: he is a robot.
6.
Blade Runner 2049 (2017)
2h 44m Science Fiction Drama
Thirty years after the events of the first film, a new blade runner, LAPD Officer K, unearths a long-buried secret that has the potential to plunge what's left of society into chaos. K's discovery leads him on a quest to find Rick Deckard, a former LAPD blade runner who has been missing for 30 years.
1h 50m Thriller Science Fiction
Jacq Vaucan, an insurance agent of ROC robotics corporation, routinely investigates the case of manipulating a robot. What he discovers will have profound consequences for the future of humanity.
46m Drama Mystery Sci-Fi & Fantasy
In a parallel present where the latest must-have gadget for any busy family is a 'Synth' - a highly-developed robotic servant that's so similar to a real human it's transforming the way we live.
2h 6m Romance Science Fiction Drama
In the not so distant future, Theodore, a lonely writer purchases a newly developed operating system designed to meet the user's every needs. To Theodore's surprise, a romantic relationship develops between him and his operating system. This unconventional love story blends science fiction and romance in a sweet tale that explores the nature of love and the ways that technology isolates and connects us all.
10.
A.I. Artificial Intelligence (2001)
2h 26m Drama Science Fiction Adventure
David, a robotic boy—the first of his kind programmed to love—is adopted as a test case by a Cybertronics employee and his wife. Though he gradually becomes their child, a series of unexpected circumstances make this life impossible for David. Without final acceptance by humans or machines, David embarks on a journey to discover where he truly belongs, uncovering a world in which the line between robot and machine is both vast and profoundly thin.
1h 47m Science Fiction Thriller
A scientist becomes obsessed with returning his family to normalcy after a terrible accident.
1h Western Science Fiction
A dark odyssey about the dawn of artificial consciousness and the evolution of sin. Set at the intersection of the near future and the reimagined past, it explores a world in which every human appetite, no matter how noble or depraved, can be indulged.
1h 59m Thriller Science Fiction Drama Mystery
Two leading computer scientists work toward their goal of Technological Singularity, as a radical anti-technology organization fights to prevent them from creating a world where computers can transcend the abilities of the human brain.
1h Sci-Fi & Fantasy Drama
A contemporary British re-working of The Twilight Zone with stories that tap into the collective unease about our modern world. Over the last ten years, technology has transformed almost every aspect of our lives before we've had time to stop and question it. In every home; on every desk; in every palm - a plasma screen; a monitor; a smartphone - a black mirror of our 21st Century existence.
2h 10m Drama Mystery Thriller
A mysterious story of two magicians whose intense rivalry leads them on a life-long battle for supremacy -- full of obsession, deceit and jealousy with dangerous and deadly consequences.
1h 34m Science Fiction Drama
In 2041, humans live side-by-side with robots and androids. A well-known cybernetic engineer, Alex Garel, returns to his hometown to create a new model of robot child.
1h 57m Science Fiction Drama Thriller
In the smog-choked dystopian Los Angeles of 2019, blade runner Rick Deckard is called out of retirement to terminate a quartet of replicants who have escaped to Earth seeking their creator for a way to extend their short life spans.
1h 55m Action Science Fiction
In 2035, where robots are commonplace and abide by the three laws of robotics, a technophobic cop investigates an apparent suicide. Suspecting that a robot may be responsible for the death, his investigation leads him to believe that humanity may be in danger.
1h 37m Action Thriller Science Fiction Horror
A game designer on the run from assassins must play her latest virtual reality creation with a marketing trainee to determine if the game has been damaged.
1h 17m Science Fiction Drama Thriller
Friends and fledgling entrepreneurs invent a device in their garage which reduces the apparent mass of any object placed inside it, but they discover that it has some highly unexpected capabilities - ones that could enable them to do and to have seemingly anything they want. Taking advantage of this unique opportunity is the first challenge they face. Dealing with the consequences is the next.
1h 50m Drama Thriller Science Fiction
A young tech worker takes a job at a powerful Internet corporation, quickly rises up the company's ranks, and soon finds herself in a perilous situation concerning privacy, surveillance and freedom. She comes to learn that her decisions and actions will determine the future of humanity.
22.
Predestination (2014)
1h 37m Science Fiction Thriller
Predestination chronicles the life of a Temporal Agent sent on an intricate series of time-travel journeys designed to prevent future killers from committing their crimes. Now, on his final assignment, the Agent must stop the one criminal that has eluded him throughout time and prevent a devastating attack in which thousands of lives will be lost.
23.
Under the Skin (2013)
19m Drama
Man and Woman are reunited after a long time. Sorrow and desire cannot break the silence. But that's okay: when words don't come, it's the body that speaks.
1h 30m Thriller Science Fiction Mystery
A group of strangers find themselves trapped in a maze-like prison. It soon becomes clear that each of them possesses the peculiar skills necessary to escape, if they don't wind up dead first.
25.
Ghost in the Shell (2017)
1h 47m Science Fiction Action
In the near future, Major is the first of her kind: a human saved from a terrible crash, then cyber-enhanced to be a perfect soldier devoted to stopping the world's most dangerous criminals.
1h 55m Science Fiction Horror
A biologist signs up for a dangerous, secret expedition into a mysterious zone where the laws of nature don't apply.
1h 47m Science Fiction Thriller
Fifty years into the future, the sun is dying, and Earth is threatened by arctic temperatures. A team of astronauts is sent to revive the Sun — but the mission fails. Seven years later, a new team is sent to finish the mission as mankind's last hope.
1h 33m Science Fiction Thriller Horror
Mark 13 is a government-built killing machine programmed with artificial intelligence, able to repair and recharge itself from any energy source. Through a series of coincidences, the cyborg's head ends up in the home of a sculptress as a bizarre Christmas present from her boyfriend. Once inside its new home, the cyborg promptly reconstructs the rest of its body using a variety of household utensils and proceeds to go on a murderous rampage.
1h 35m Drama Mystery Science Fiction Thriller
Set in a world with memory implants, Alan Hakman is a 'cutter'—someone with the power of final edit over people's recorded histories—but his latest assignment puts him in great danger.
2h 49m Adventure Drama Science Fiction
The adventures of a group of explorers who make use of a newly discovered wormhole to surpass the limitations on human space travel and conquer the vast distances involved in an interstellar voyage.
explore
Check out more list from our community