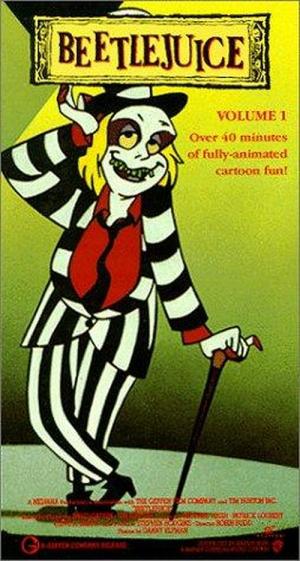 27 Best Movies Like Beetlejuice ...
If you liked this movie , you will probably love these too! In this list we highlight some of the best films that share a very similar mood to '', and are worth checking out.
1h 32m Fantasy Comedy
Thanks to an untimely demise via drowning, a young couple end up as poltergeists in their New England farmhouse, where they fail to meet the challenge of scaring away the insufferable new owners, who want to make drastic changes. In desperation, the undead newlyweds turn to an expert frightmeister, but he's got a diabolical agenda of his own.
1h 47m Comedy Fantasy
After losing their academic posts at a prestigious university, a team of parapsychologists goes into business as proton-pack-toting "ghostbusters" who exterminate ghouls, hobgoblins and supernatural pests of all stripes. An ad campaign pays off when a knockout cellist hires the squad to purge her swanky digs of demons that appear to be living in her refrigerator.
3.
The Addams Family (1991)
1h 42m Comedy Fantasy Drama
When a man claiming to be long-lost Uncle Fester reappears after 25 years lost, the family plans a celebration to wake the dead. But the kids barely have time to warm up the electric chair before Morticia begins to suspect Fester is fraud when he can't recall any of the details of Fester's life.
4.
Death Becomes Her (1992)
1h 44m Comedy Fantasy Horror
Madeline is married to Ernest, who was once arch-rival Helen's fiance. After recovering from a mental breakdown, Helen vows to kill Madeline and steal back Ernest. Unfortunately for everyone, the introduction of a magic potion causes things to be a great deal more complicated than a mere murder plot.
5.
The Haunted Mansion (2003)
1h 39m Thriller Fantasy Comedy Family Mystery
Workaholic Jim Evers and his wife/business partner Sara get a call one night from a mansion owner, Edward Gracey, who wants to sell his house. Once the Evers family arrive at the mansion, a torrential thunderstorm of mysterious origin strands them with the brooding, eccentric Gracey, his mysterious butler, and a variety of residents both seen and unseen.
6.
Addams Family Reunion (1998)
1h 31m Comedy Family Fantasy Thriller TV Movie
The Addams Family goes on a search for their relatives. Gomez and Morticia are horrified to discover that Grandpa and Grandma Addams have a disease that is slowly turning them "normal". The only chance they have of a cure is to find a family member hoping that they know a home remedy.
1h 17m Romance Fantasy Animation
Set in a 19th-century european village, this stop-motion animation feature follows the story of Victor, a young man whisked away to the underworld and wed to a mysterious corpse bride, while his real bride Victoria waits bereft in the land of the living.
8.
Addams Family Values (1993)
1h 34m Comedy Family Fantasy
Siblings Wednesday and Pugsley Addams will stop at nothing to get rid of Pubert, the new baby boy adored by parents Gomez and Morticia. Things go from bad to worse when the new "black widow" nanny, Debbie Jellinsky, launches her plan to add Fester to her collection of dead husbands.
1h 53m Comedy Fantasy
Vampire Barnabas Collins is inadvertently freed from his tomb and emerges into the very changed world of 1972. He returns to Collinwood Manor to find that his once-grand estate and family have fallen into ruin.
1h 39m Fantasy Comedy
When Peter Plunkett's Irish castle turned hotel is about to be repossesed, he decides to spice up the attraction a bit for the 'Yanks' by having his staff pretend to haunt the castle. The trouble begins when a busload of American tourists arrive - along with some real ghosts.
11.
The Frighteners (1996)
1h 50m Horror Comedy
Once an architect, Frank Bannister now passes himself off as an exorcist of evil spirits. To bolster his facade, he claims his "special" gift is the result of a car accident that killed his wife. But what he does not count on is more people dying in the small town where he lives. As he tries to piece together the supernatural mystery of these killings, he falls in love with the wife of one of the victims and deals with a crazy FBI agent.
22m Animation Action Adventure
Hot on the trails of Sheath and Exile, Ghost-Spider teams up with the rest of the Secret Warriors to bring down the villains for good.
1h 40m Fantasy Comedy Family
Furious that her late father only willed her his gloomy-looking mansion rather than his millions, Carrigan Crittenden is ready to burn the place to the ground when she discovers a map to a treasure hidden in the house. But when she enters the rickety mansion to seek her claim, she is frightened away by a wicked wave of ghosts. Determined to get her hands on this hidden fortune, she hires afterlife therapist Dr. James Harvey to exorcise the ghosts from the mansion. Harvey and his daughter Kat move in, and soon Kat meets Casper, the ghost of a young boy who's "the friendliest ghost you know." But not so friendly are Casper's uncles--Stretch, Fatso and Stinkie--who are determined to drive all "fleshies" away.
14.
A Haunted House 2 (2014)
1h 27m Comedy Horror
After exorcising the demons of his ex-, Malcolm starts afresh with his new girlfriend and her two children. After moving into their dream home, Malcolm is once again plagued by bizarre paranormal events.
1h 30m Comedy Fantasy Romance Horror
After the lord of darkness decides he will not cede his throne to any of his three sons, the two most powerful of them escape to Earth to create a kingdom for themselves. This action closes the portal filtering sinful souls to Hell and causes Satan to wither away. He must send his most weak but beloved son, Little Nicky, to Earth to return his brothers to Hell.
16.
Over Her Dead Body (2008)
1h 35m Comedy
After his fiancée, Kate, dies in an accident on their wedding day, veterinarian Henry grows depressed. To help him move on, his sister has him visit psychic Ashley and gives her Kate's diary. Ashley uses the journal's details to convincingly deliver the fake message that Kate wants Henry to move on. However, Kate's ghost is watching over Ashley and Henry. Furious when they fall for each other, she vows to sabotage their relationship.
1h 20m Comedy Horror
It's been some time since Father Jebedaiah Mayii exorcised the Devil from little Nancy Aglet, who is now grown up with a husband and two children of her own. But the prince of darkness wants to go a second round and has returned to repossess her! With Father Mayii unwilling to help, Father Luke Brophy tries his best to help Nancy, even when TV's Ernest Weller plans to air the exorcism live on TV.
19.
Haunted Honeymoon (1986)
1h 22m Comedy Horror Music Drama Mystery
Larry Abbot, speaker in the radio horror shows of Manhattan Mystery Theater wants to marry. For the marriage he takes his fiancée home to the castle where he grew up among his eccentric relatives. His uncle decides that he needs to be cured from a neurotic speech defect and exaggerated bursts of fear: he gives him a shock therapy with palace ghosts.
1h 44m Fantasy Comedy
Steve Brooks, a sexist womanizer, is killed by a group of his angry former lovers. In heaven, he makes a bargain with God for redemption and agrees to return to Earth. Once there, he must have a sincere relationship with a female and make her fall in love with him. If not, Steve's soul will become the property of the devil. But the devil hedges his bet, and Steve is reincarnated as a woman named Amanda Brooks.
22m Animation Sci-Fi & Fantasy Comedy
The adventures of goth girl Lydia Deetz and her undead friend Beetlejuice as they explore The Neitherworld, a wacky afterlife realm inhabited by monsters, ghosts, ghouls and zombies.
1h 38m
When Nick and Jan move into their new apartment in San Francisco, the batty landlady upstairs tells them about a girl who used to live there in the 20's: a brash young party girl named Maxie, who died in a car crash the morning before her big audition for a Hollywood studio. The trouble is, Maxie, or rather her ghost, hasn't left the house. Worse, she can take over Jan's body. And the only way she's going to leave is if she gets that audition.
23.
House II: The Second Story (1987)
1h 28m Fantasy Horror Comedy
Jesse has returned to this old family mansion after his parents were murdered when he was a baby. While going through old things in the basement, Jesse finds a picture of his great-great grandfather in front of a Mayan temple holding a crystal skull with jewels in the eyes. In the background is a man Jesse learns is Slim Razor, a former partner of his great-great grandfather turned bitter enemy after a disagreement over who would get to keep the skull.
24.
Saturday the 14th (1981)
1h 15m Comedy Fantasy Horror
After his family moves to a new house, a young boy discovers a mysterious book that details a curse hanging over the date of Saturday the 14th. Opening the book releases a band of monsters into the house and the family must join together to save themselves and their neighborhood.
25.
Heart and Souls (1993)
1h 44m Fantasy Comedy Romance
A businessman is reunited with the four lost souls who were his guardian angels during childhood, all with a particular purpose to joining the afterlife.
1h 21m Comedy Horror Fantasy
A young man and his girlfriend move into the man's old mansion home, where he becomes possessed by a need to control ancient demons.
explore
Check out more list from our community