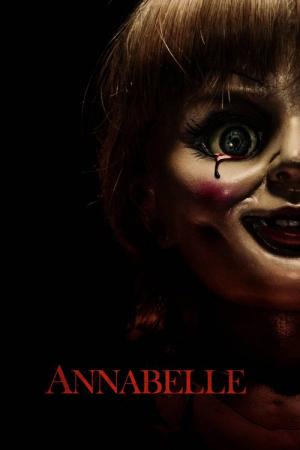 31 Best Movies Like Annabelle ...
If you liked this movie , you will probably love these too! In this list we highlight some of the best films that share a very similar premise to '', and are worth checking out.
1h 52m Horror Thriller
Paranormal investigators Ed and Lorraine Warren work to help a family terrorized by a dark presence in their farmhouse. Forced to confront a powerful entity, the Warrens find themselves caught in the most terrifying case of their lives.
2.
The Conjuring 2 (2016)
2h 14m Horror Mystery Thriller
Lorraine and Ed Warren travel to north London to help a single mother raising four children alone in a house plagued by malicious spirits.
1h 49m Horror Mystery Thriller
Several years after the tragic death of their little girl, a doll maker and his wife welcome a nun and several girls from a shuttered orphanage into their home, soon becoming the target of the doll maker's possessed creation—Annabelle.
4.
Insidious: Chapter 2 (2013)
1h 46m Horror Thriller
The haunted Lambert family seeks to uncover the mysterious childhood secret that has left them dangerously connected to the spirit world.
5.
The Haunting in Connecticut 2: Ghosts of Georgia (2013)
1h 41m Horror Drama Thriller
A young family moves into a historic home in Georgia, only to learn they are not the house's only inhabitants. Soon they find themselves in the presence of a secret rising from underground and threatening to bring down anyone in its path.
1h 43m Horror Thriller
A family discovers that dark spirits have invaded their home after their son inexplicably falls into an endless sleep. When they reach out to a professional for help, they learn things are a lot more personal than they thought.
7.
Annabelle Comes Home (2019)
1h 46m Horror Thriller Mystery
Determined to keep Annabelle from wreaking more havoc, demonologists Ed and Lorraine Warren bring the possessed doll to the locked artifacts room in their home, placing her "safely" behind sacred glass and enlisting a priest's holy blessing. But an unholy night of horror awaits as Annabelle awakens the evil spirits in the room, who all set their sights on a new target—the Warrens' ten-year-old daughter, Judy, and her friends.
1h 36m Horror Mystery Thriller
When a young nun at a cloistered abbey in Romania takes her own life, a priest with a haunted past and a novitiate on the threshold of her final vows are sent by the Vatican to investigate. Together they uncover the order's unholy secret. Risking not only their lives but their faith and their very souls, they confront a malevolent force in the form of the same demonic nun that first terrorized audiences in "The Conjuring 2" as the abbey becomes a horrific battleground between the living and the damned.
1h 29m Horror
A group of friends must confront their most terrifying fears when they awaken the dark powers of an ancient spirit board.
1h 29m Horror
Jamie returns to his hometown in search of answers to his wife's murder, which occurred after receiving a weird package containing a ventriloquist dummy named Billy, which may be linked to the legend of ventriloquist Mary Shaw. Destined to find out the truth, Jamie goes to the town of Raven's Fair, where Shaw used to perform and is buried. But Jamie is in for more than he expected.
11.
Ouija: Origin of Evil (2016)
1h 39m Horror Thriller
In 1965 Los Angeles, a widowed mother and her two daughters add a new stunt to bolster their séance scam business and unwittingly invite authentic evil into their home. When the youngest daughter is overtaken by the merciless spirit, this small family confronts unthinkable fears to save her and send her possessor back to the other side.
1h 50m Horror Thriller Mystery
Found footage helps a true-crime novelist realize how and why a family was murdered in his new home, though his discoveries put his entire family in the path of a supernatural entity.
13.
The Amityville Horror (2005)
1h 30m Horror
This hair-raising remake of the 1979 horror hit depicts the ordeal of the Lutz clan, whose new home has a gory past and a legacy of demons. Before long, the family patriarch is plagued by nightmares and his daughter is seeing phantoms.
14.
Insidious: Chapter 3 (2015)
1h 37m Horror Drama Thriller
A twisted new tale of terror begins for a teenage girl and her family, and revealing more mysteries of the otherworldly realm, 'The Further'.
14m Horror
Mieke is being harassed by an inexplicable phenomenon. She is having nightmares and her children are acting strange. For no apparent reason her mother appears, after a long period without any contact. She tries to warn Mieke for impending doom. Has it something to do with the doll that one of her sons got for his birthday? Mieke makes a discovery, a very dark one. Something that will turn her life upside down.
1h 32m Horror Mystery Thriller
An American nurse living and working in Tokyo is exposed to a mysterious supernatural curse, one that locks a person in a powerful rage before claiming their life and spreading to another victim.
1h 40m Horror
Guillermo del Toro presents Mama, a supernatural thriller that tells the haunting tale of two little girls who disappeared into the woods the day that their parents were killed. When they are rescued years later and begin a new life, they find that someone or something still wants to come tuck them in at night.
1h 49m Horror Mystery Thriller
In her many years as a social worker, Emily Jenkins believes she has seen it all, until she meets 10-year-old Lilith and the girl's cruel parents. Emily's worst fears are confirmed when the parents try to harm the child, and so Emily assumes custody of Lilith while she looks for a foster family. However, Emily soon finds that dark forces surround the seemingly innocent girl, and the more she tries to protect Lilith, the more horrors she encounters.
1h 30m Thriller Horror
A young woman recuperating at her father's run-down home after a tragic accident soon encounters a terrifying presence with a connection to her long-deceased mother.
1h 39m Horror Thriller
Marie, a film producer, returns to her native Russia to find her birth parents. She quickly learns they are dead, and she has inherited their long-empty farmhouse. At the farm, she meets Nicolai, who claims to be her twin brother. Events take a terrifying turn when the two spot a pair of ghastly doppelgangers and the house itself seems to propel them toward a fate they should have met 40 years earlier.
1h 37m Horror Thriller Mystery
An American nanny is shocked that her new English family's boy is actually a life-sized doll. After she violates a list of strict rules, disturbing events make her believe that the doll is really alive.
1h 30m Mystery Horror Thriller
Jake Kimble, the sole survivor of the Chicago massacre, is killed while in solitary confinement. His doctor begins investigating the claims he made about a long-haired woman in white, as a mysterious Japanese woman arrives at his old apartment building to help them get rid of the curse.
23.
Brahms: The Boy II (2020)
1h 26m Horror Mystery Thriller
After a family moves into the Heelshire Mansion, their young son soon makes friends with a life-like doll called Brahms.
24.
We Are Still Here (2015)
1h 24m Horror
After the death of their college age son, Anne and Paul Sacchetti relocate to the snowswept New England hamlet of Aylesbury, a sleepy village where all is most certainly not as it seems. When strange sounds and eerie feelings convince Anne that her son's spirit is still with them, they invite an eccentric, New Age couple to help them get to the bottom of the mystery.
25.
Paranormal Activity (2007)
26.
The Autopsy of Jane Doe (2016)
1h 26m Horror Mystery
Father and son coroners receive a mysterious unidentified corpse with no apparent cause of death. As they attempt to examine the beautiful young "Jane Doe," they discover increasingly bizarre clues that hold the key to her terrifying secrets.
27.
The Last Will and Testament of Rosalind Leigh (2012)
1h 22m Horror Thriller
The story of Leon, an antiques collector who inherits a house from his estranged mother only to discover that she had been living in a shrine devoted to a mysterious cult. Soon, Leon comes to suspect that his mother's oppressive spirit still lingers within her home and is using items in the house to contact him with an urgent message.
1h 31m Horror Thriller Western
A group of Confederate soldiers hole up on an abandoned plantation after robbing a bank, and find themselves at the mercy of supernatural forces.
1h 54m Horror
Steve Freeling lives with his wife, Diane, and their three children, Dana, Robbie, and Carol Anne, in Southern California where he sells houses for the company that built the neighborhood. It starts with just a few odd occurrences, such as broken dishes and furniture moving around by itself. However, when he realizes that something truly evil haunts his home, Steve calls in a team of parapsychologists led by Dr. Lesh to help before it's too late.
1h 53m Horror Thriller Fantasy Mystery
Dr. David Marrow invites Eleanor Vance, Luke Sanderson, and Theo to the eerie and isolated Hill House to be subjects for a sleep disorder study. The unfortunate guests discover that Marrow is far more interested in the sinister mansion itself — and they soon see the true nature of its horror.
explore
Check out more list from our community