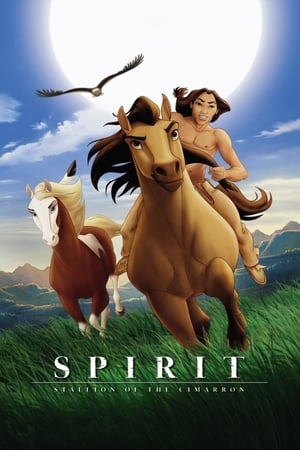 11 Best Movies Like Spirit Stallion Of The Cimarron ...
If you liked this movie , you will probably love these too! In this selection we highlight some of the best films that share a very similar mood to 'Spirit: Stallion of the Cimarron', and are worth checking out.
1.
Ice Age: Continental Drift (2012)
1h 28m Animation Comedy Adventure Family
Manny, Diego, and Sid embark upon another adventure after their continent is set adrift. Using an iceberg as a ship, they encounter sea creatures and battle pirates as they explore a new world.
1h 22m Animation Family
An orphaned dinosaur raised by lemurs joins an arduous trek to a sancturary after a meteorite shower destroys his family home.
1h 28m Animation Family Adventure
A tomboyish girl disguises herself as a young man so she can fight with the Imperial Chinese Army against the invading Huns. With help from wise-cracking dragon Mushu, Mulan just might save her country -- and win the heart of handsome Captain Li Shang.
4.
How to Train Your Dragon (2010)
1h 38m Fantasy Adventure Animation Family
As the son of a Viking leader on the cusp of manhood, shy Hiccup Horrendous Haddock III faces a rite of passage: he must kill a dragon to prove his warrior mettle. But after downing a feared dragon, he realizes that he no longer wants to destroy it, and instead befriends the beast – which he names Toothless – much to the chagrin of his warrior father
5.
The Lion King 1 1/2 (2004)
6.
Balto: Wolf Quest (2002)
1h 15m Family Animation Adventure
Balto and his daughter Aleu embark on a journey of adventure and self discovery.
7.
Spirit: Riding Free (2017)
24m Kids Animation
In a small Western town, spunky ex-city girl Lucky forms a tight bond with wild horse Spirit while having adventures with best pals Pru and Abigail.
1h 29m Family Animation Drama
A young lion prince is cast out of his pride by his cruel uncle, who claims he killed his father. While the uncle rules with an iron paw, the prince grows up beyond the Savannah, living by a philosophy: No worries for the rest of your days. But when his past comes to haunt him, the young prince must decide his fate: Will he remain an outcast or face his demons and become what he needs to be?
1h 21m Animation Comedy Family Adventure
With the impending ice age almost upon them, a mismatched trio of prehistoric critters – Manny the woolly mammoth, Diego the saber-toothed tiger and Sid the giant sloth – find an orphaned infant and decide to return it to its human parents. Along the way, the unlikely allies become friends but, when enemies attack, their quest takes on far nobler aims.
10.
The Land Before Time X: The Great Longneck Migration (2003)
1h 24m Adventure Animation Family
A bedtime story leads Littlefoot and his grandparents on a journey to a new land, where Littlefoot discovers someone who vanished before he was born: his father! Now Littlefoot must decide between two worlds. Will he leave to be with his friends in the Great Valley, or stay behind and start a new life with his father?
11.
The AristoCats (1970)
1h 18m Animation Comedy Family Adventure
When Madame Adelaide Bonfamille leaves her fortune to Duchess and her children—Bonfamille's beloved family of cats—the butler plots to steal the money and kidnaps the legatees, leaving them out on a country road. All seems lost until the wily Thomas O'Malley Cat and his jazz-playing alley cats come to the aristocats' rescue.
explore
Check out more list from our community