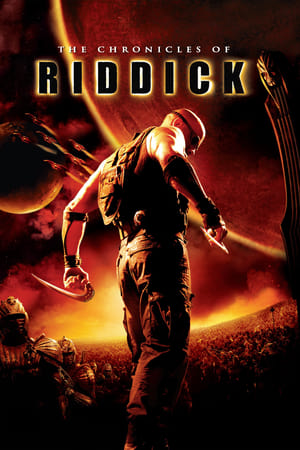 10 Best Movies Like Chronicles Of Riddick ...
If you liked this film , you will for sure love these too! In this list we highlight some of the best films that share a very similar premise to 'The Chronicles of Riddick', and are worth checking out.
1.
Starship Troopers (1997)
2h 9m Adventure Action Thriller Science Fiction
Set in the future, the story follows a young soldier named Johnny Rico and his exploits in the Mobile Infantry. Rico's military career progresses from recruit to non-commissioned officer and finally to officer against the backdrop of an interstellar war between mankind and an arachnoid species known as "the Bugs".
1h 48m Thriller Science Fiction Action
When their ship crash-lands on a remote planet, the marooned passengers soon learn that escaped convict Riddick isn't the only thing they have to fear. Deadly creatures lurk in the shadows, waiting to attack in the dark, and the planet is rapidly plunging into the utter blackness of a total eclipse. With the body count rising, the doomed survivors are forced to turn to Riddick with his eerie eyes to guide them through the darkness to safety. With time running out, there's only one rule: Stay in the light.
2h 4m Action Science Fiction Adventure Mystery
Jack Harper is one of the last few drone repairmen stationed on Earth. Part of a massive operation to extract vital resources after decades of war with a terrifying threat known as the Scavs, Jack's mission is nearly complete. His existence is brought crashing down when he rescues a beautiful stranger from a downed spacecraft. Her arrival triggers a chain of events that forces him to question everything he knows and puts the fate of humanity in his hands.
4.
The Book of Eli (2010)
1h 58m Action Thriller Science Fiction
A post-apocalyptic tale, in which a lone man fights his way across America in order to protect a sacred book that holds the secrets to saving humankind.
5.
Star Wars: The Force Awakens (2015)
2h 16m Action Adventure Science Fiction Fantasy
Thirty years after defeating the Galactic Empire, Han Solo and his allies face a new threat from the evil Kylo Ren and his army of Stormtroopers.
2h 1m Action Science Fiction Adventure Thriller
Welcome to Rekall, the company that can turn your dreams into real memories. For a factory worker named Douglas Quaid, even though he's got a beautiful wife who he loves, the mind-trip sounds like the perfect vacation from his frustrating life - real memories of life as a super-spy might be just what he needs. But when the procedure goes horribly wrong, Quaid becomes a hunted man. Finding himself on the run from the police - controlled by Chancellor Cohaagen, the leader of the free world - Quaid teams up with a rebel fighter to find the head of the underground resistance and stop Cohaagen. The line between fantasy and reality gets blurred and the fate of his world hangs in the balance as Quaid discovers his true identity, his true love, and his true fate.
2h 57m Adventure Science Fiction Action War
In 2013 there are no highways, no I-ways, no dreams of a better tomorrow, only scattered survivors across what was once the Unites States. Into this apocalyptic wasteland comes an enigmatic drifter with a mule, a knack for Shakespeare and something yet undiscovered: the power to inspire hope.
1h 59m Science Fiction Action Adventure Thriller
When the renegade crew of Serenity agrees to hide a fugitive on their ship, they find themselves in an action-packed battle between the relentless military might of a totalitarian regime who will destroy anything – or anyone – to get the girl back and the bloodthirsty creatures who roam the uncharted areas of space. But... the greatest danger of all may be on their ship.
9.
The Darkest Hour (2011)
1h 29m Horror Action Thriller Science Fiction
In Moscow, five young people lead the charge against an alien race which has attacked Earth via our power supply.
1h 35m Action Thriller Science Fiction
Set in the near future, Lockout follows a falsely convicted ex-government agent , whose one chance at obtaining freedom lies in the dangerous mission of rescuing the President's daughter from rioting convicts at an outer space maximum security prison.
explore
Check out more list from our community