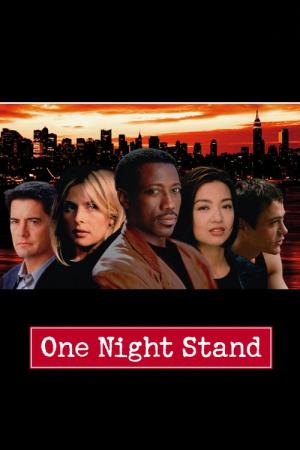 24 Best Movies About One Night Stands ...
If you liked this film , you will for sure love these too! In this selection we highlight some of the best films that share a very similar mood to '', and are worth checking out.
2h 12m Drama Romance
A successful and married black man contemplates having an affair with a white girl from work. He's quite rightly worried that the racial difference would make an already taboo relationship even worse.
1h 51m Drama Romance
The wife of a pastor who preaches against homosexuality embarks on an affair with a female writer.
3.
Falling in Love (1984)
1h 42m Drama Romance
During shopping for Christmas, Frank and Molly run into each other. This fleeting short moment will start to change their lives, when they recognize each other months later in the train home and have a good time together. Although both are married and Frank has two little kids, they meet more and more often, their friendship becoming the most precious thing in their lives.
1h 30m Drama Romance
The story follows a married couple, apart for a night while the husband takes a business trip with a colleague to whom he's attracted. While he's resisting temptation, his wife encounters her past love.
1h 38m Drama Romance
During a car accident, Vincent Eastman watches his whole life flash before his eyes, and he doesn't like what he sees. While maintaining the semblance of a marriage with his wife, Sally, Vincent has been carrying on with a mistress, Olivia. She's everything Sally isn't -- warm, passionate, carefree. So why can't he choose between the two, especially when his indecision is taking its toll on his daughter?
6.
We Don't Live Here Anymore (2004)
1h 41m Drama Romance
Married couple Jack and Terry Linden are experiencing a difficult period in their relationship. When Jack decides to step outside the marriage, he becomes involved with Edith, who happens to be the wife of his best friend and colleague, Hank Evans. Learning of their partners' infidelity, Terry and Hank engage in their own extramarital affair together. Now, both marriages and friendships are on the brink of collapse.
7.
Conversations with Other Women (2005)
1h 53m Drama Romance
Cecilie and Joachim are about to get married when a freak car accident leaves Joachim disabled, throwing their lives into a spin. The driver of the other car, Marie, and her family don't get off lightly, either. Her husband Niels works in the hospital where he meets Cecilie and falls madly in love with her.
10.
Playing by Heart (1998)
2h 1m Drama
Eleven articulate people work through affairs of the heart in L.A. Paul produces Hannah's TV cooking show. Mark is dying of AIDS. Men have scalded Meredith so she rebuffs Trent's charm, but he persists. The trendy, prolix Joan tries to pull the solitary Keenan into her orbit. An adulterous couple meet at hotels for evening sex. Hugh tells tall tales, usually tragic, to women in bars.
11.
Town & Country (2001)
1h 44m Comedy Romance
Porter Stoddard is a well-known New York architect who is at a crossroads... a nexus where twists and turns lead to myriad missteps some with his wife Ellie, others with longtime friends Mona and her husband Griffin. Deciding which direction to take often leads to unexpected encounters with hilarious consequences.
12.
The Waterdance (1992)
1h 46m Drama
Author Joel Garcia breaks his neck while hiking, and finds himself in a rehab center with Raymond, an exaggerating ladies man, and Bloss, a racist biker. Considerable tension builds as each character tries to deal with his new found handicap and the problems that go with it, especially Joel, whose lover Anna is having as difficult a time as he is.
13.
The Man from Elysian Fields (2001)
1h 46m Drama Romance
A failed novelist's inability to pay the bills strains relations with his wife and leads him to work at an escort service where he becomes entwined with a wealthy woman whose husband is a successful writer.
44m Music Family
Wonder girls have arrived, and they are taking New York city by storm! The girls arrive in New York city to prepare for their U.S. tour but because of their fun, mischievous personalities they enter themselves into the Apollo Amateur Competition under the stage name, "The Asian Invasion". Their amazing performance wins them a spot in the finals but also stirs up trouble with the reigning champs... The School Gyrls. Join Yenny, Yubin, Sun, Sohee, and Lim on this hilarious journey as they navigate their way through friendships, rivals, loyalty and crushes to prove they have what it takes to make it in the Big City. Written by Krystal M. Harris
15.
Alexander the Last (2009)
1h 12m Drama Romance
An ensemble drama about a married actress, her sister and their myriad sexual and creative temptations.
16.
A Price Above Rubies (1998)
1h 57m Drama Romance
About a young woman who is married to a devout Jew and the problems that trouble their marriage because of the woman wanting something more out of her life.
1h 40m Drama Romance Thriller
Bored with her marriage to burnt out poet turned corporate executive Thierry, Zandalee falls prey to an old friend of her husband, the manipulative and egotistical Johhny and becomes enmeshed in a sensual, passionate and destructive affair.
1h 44m Drama
Two couples disintegrate when they begin destructive adulterous affairs with each other.
20.
The Dying Gaul (2005)
21.
Indecent Proposal (1993)
1h 57m Romance Drama
John Gage offers a down-on-his-luck yuppie husband $1 million for the opportunity to spend the night with the man's wife.
23.
The Deep Blue Sea (2011)
1h 38m Drama Romance
The wife of a British Judge is caught in a self-destructive love affair with a Royal Air Force pilot.
explore
Check out more list from our community