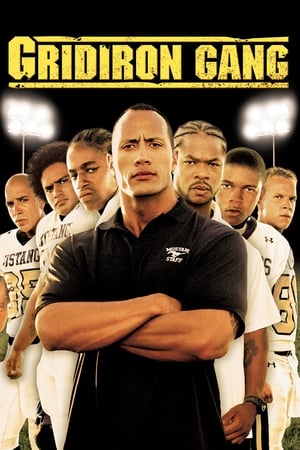 26 Best Movies Like Gridiron Gang ...
If you liked this movie , you will for sure love these too! In this selection we highlight some of the best films that share a very similar mood to '', and are worth checking out.
2h 16m Drama History
Based on a true story, in which Richmond High School head basketball coach Ken Carter made headlines in 1999 for benching his undefeated team due to poor academic results.
2h 9m Drama
The story of Michael Oher, a homeless and traumatized boy who became an All American football player and first round NFL draft pick with the help of a caring woman and her family.
3.
Freedom Writers (2007)
2h 3m Crime Drama
A young teacher inspires her class of at-risk students to learn tolerance, apply themselves, and pursue education beyond high school.
2h 8m Drama
A track coach in a small California town transforms a team of athletes into championship contenders.
5.
Facing the Giants (2006)
1h 51m Drama
A losing coach with an underdog football team faces their giants of fear and failure on and off the field to surprising results.
1h 54m Drama History
Rudy grew up in a steel mill town where most people ended up working, but wanted to play football at Notre Dame instead. There were only a couple of problems. His grades were a little low, his athletic skills were poor, and he was only half the size of the other players. But he had the drive and the spirit of 5 people and has set his sights upon joining the team.
7.
Remember the Titans (2000)
1h 53m Drama
After leading his football team to 15 winning seasons, coach Bill Yoast is demoted and replaced by Herman Boone – tough, opinionated and as different from the beloved Yoast as he could be. The two men learn to overcome their differences and turn a group of hostile young men into champions.
8.
Friday Night Lights (2004)
1h 58m Drama
A small, turbulent town in Texas obsesses over their high school football team to an unhealthy degree. When the star tailback, Boobie Miles, is seriously injured during the first game of the season, all hope is lost, and the town's dormant social problems begin to flare up. It is left to the inspiring abilities of new coach Gary Gaines to instill in the other team members -- and, by proxy, the town itself -- a sense of self-respect and honor.
1h 49m Drama
High school football coach, Harold Jones befriends Radio, a mentally-challenged man who becomes a student at T.L. Hanna High School in Anderson, South Carolina. Their friendship extends over several decades, where Radio transforms from a shy, tormented man into an inspiration to his community.
10.
When the Game Stands Tall (2014)
1h 55m Drama
A young coach turns a losing high school football program around to go undefeated for 12 consecutive seasons.
2h 14m Drama
The story of Oakland Athletics general manager Billy Beane's successful attempt to put together a baseball team on a budget, by employing computer-generated analysis to draft his players.
1h 50m Drama
At the NFL Draft, general manager Sonny Weaver has the opportunity to rebuild his team when he trades for the number one pick. He must decide what he's willing to sacrifice on a life-changing day for a few hundred young men with NFL dreams.
13.
Dangerous Minds (1995)
1h 39m Drama
Former Marine Louanne Johnson lands a gig teaching in a pilot program for bright but underachieving teens at a notorious inner-city high school. After having a terrible first day, she decides she must throw decorum to the wind. When Johnson returns to the classroom, she does so armed with a no-nonsense attitude informed by her military training and a fearless determination to better the lives of her students -- no matter what the cost.
1h 52m Drama Action Romance
Several players from different backgrounds try to cope with the pressures of playing football at a major university. Each deals with the pressure differently, some turn to drinking, others to drugs, and some to studying.
1h 10m Action & Adventure Comedy Drama
Choi Kang is a high school dropout with no goals and no future. Until one day he finds himself recruited into the elite Korea Secret Agency...
1h 44m Drama
In this uplifting film based on a true story, coach Jim Ellis (Terrence Howard) shocks the community and changes lives when, aided by a local janitor (Bernie Mac), he sets out to form Philadelphia's first black swim team. But the odds are against them as they battle rigid rules, racism and more.
2h 10m Drama
Based on the incredible true story, The Express follows the inspirational life of college football hero Ernie Davis, the first African-American to win the Heisman Trophy.
18.
Never Back Down (2008)
1h 55m Drama Action
Jake, full of anger after his father's death, is just starting to find a place for himself at his new Orlando high school - until Ryan, head of an underground MMA fight club, picks Jake out as a prime opponent. After being trounced by Ryan in front of the entire school, Jake begins training under the firm, moral guidance of a MMA master, where he learns how to fight... and how to avoid a fight. But it becomes obvious that a rematch will be inevitable if Jake wants to stop Ryan and his bullying, once and for all.
19.
Against the Ropes (2004)
1h 46m Romance Drama
A fictional story inspired by North America's most famous female boxing promoter, Jackie Kallen. Her struggle to survive and succeed in a male dominated sport.
1h 58m Drama History
In 1966, Texas Western coach Don Haskins led the first all-black starting line-up for a college basketball team to the NCAA national championship.
21.
The Longest Yard (2005)
1h 53m Comedy Drama
Pro quarter-back, Paul Crewe and former college champion and coach, Nate Scarboro are doing time in the same prison. Asked to put together a team of inmates to take on the guards, Crewe enlists the help of Scarboro to coach the inmates to victory in a football game 'fixed' to turn out quite another way.
22.
Without Limits (1998)
1h 57m Drama Romance
The film follows the life of famous 1970s runner Steve Prefontaine from his youth days in Oregon to the University of Oregon where he worked with the legendary coach Bill Bowerman, later to Olympics in Munich and his early death at 24 in a car crash.
23.
We Are Marshall (2006)
2h 4m Drama
When a plane crash claims the lives of members of the Marshall University football team and some of its fans, the team's new coach and his surviving players try to keep the football program alive.
1h 54m Drama Family
High school basketball is king in small-town Indiana, and the 1954 Hickory Huskers are all hope and no talent. But their new coach -- abrasive, unlikable Norman Dale -- whips the team into shape ... while also inciting controversy.
25.
Any Given Sunday (1999)
2h 42m Drama
A star quarterback gets knocked out of the game and an unknown third stringer is called in to replace him. The unknown gives a stunning performance and forces the ageing coach to reevaluate his game plans and life. A new co-owner/president adds to the pressure of winning. The new owner must prove herself in a male dominated world.
explore
Check out more list from our community