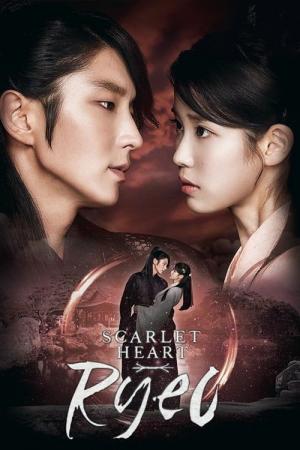 13 Best Dramas Like Scarlet Heart Ryeo ...
If you liked this one , you will definitely love these too! In this selection we highlight some of the best films that share a very similar mood to 'Moon Lovers: Scarlet Heart Ryeo', and are worth checking out.
1.
Arthdal Chronicles (2019)
1h 20m Drama
In a mythical land called Arth, the inhabitants of the ancient city of Arthdal and its surrounding regions vie for power as they build a new society.
2.
Cinderella and Four Knights (2016)
1h Comedy Drama Family
Eun Ha-Won is a college student. She is a bright girl who wants to be a veterinarian, but at home she is lonely. She is isolated from her family members. Eun Ha-Won lives with father, step-mother and step-sister after her mother died in a car accident. One day, she helps a mysterious old man. The old man suggests to her to live in a mansion and pursue her dream of becoming a veterinarian. Since than, she moves into the mansion and lives with three cousins Kang Ji-Woon, Kang Hyun-Min, Kang Seo-Woo and their bodyguard Lee Yoon-Sung.
1h 10m Sci-Fi & Fantasy Drama Comedy
The Hotel Del Luna, located in Seoul, is not like any other hotel: its clients are all ghosts. Jang Man-wol, stuck in the hotel for the past millennium, meets Goo Chan-sung, the new manager.
4.
Hwarang: The Poet Warrior Youth (2016)
1h Drama
Set during the Silla dynasty, Sam Maekjong is the son of the fallen king and present queen regent, Jiso, but he has been kept in hiding for protection ever since he was a young boy, when his father was murdered. Over the years the powerful nobles have tried and failed to usurp power from Jiso, causing her to grow wary and later even reluctant to hand the throne over. As her son comes of age, she creates the Hwarang, an elite group of male youth who train in fighting and education. Their existence cuts across the existing power factions and Sam Maekjong is amidst their ranks under the false name Kim Ji-Dwi, unbeknownst to other Hwarang members.
1h 36m
Songs / Tracks Listing 1. Magic Thriller Intro (2:08) 2. Magic Thriller (4:55) 3. Mad Puppet (6:33) 4. Dr. Frankestein (6:37) 5. Roller (5:04) 6. E Suono Rock(4:42) 7. Aquaman (6:00) 8. Non Ho Sonno (2:54) 9. Death Farm (4:04) 10. Goblin (12:06) 11. L'alba Dei Mortiviventi (7:06) 12. Zombi (5:01) 13. Tenebre (4:42) 14. Suspiria (6:28) 15. School At Night (1:24) 16. Profondo Rosso (4:22)
6.
A Frozen Flower (2008)
2h 13m Drama
A historical drama set in the Koryo dynasty and focused on the relationship between a king and his bodyguard. Under the dominance of Yuan Dynasty China, the king of Goryeo Dynasty Korea is pressured to produce a successor to the throne. Unable to make love to his queen because he is in love with his bodyguard, Hong Lim, the king asks the two of them to sleep together instead. This sexual contact formulates a forbidden love between Hong Lim and the Queen.
7.
The Great Queen Seondeok (2009)
1h Drama History
The life story of Queen Seondeok, the first queen of the Korean people during the Silla Dynasty.
1h Drama Sci-Fi & Fantasy
The story of Claire Randall, a married combat nurse from 1945 who is mysteriously swept back in time to 1743, where she is immediately thrown into an unknown world where her life is threatened. When she is forced to marry Jamie, a chivalrous and romantic young Scottish warrior, a passionate affair is ignited that tears Claire's heart between two vastly different men in two irreconcilable lives.
1h 15m Drama
A young boy who ends up in the U.S. after the 1871 Shinmiyangyo incident returns to Korea at a historical turning point and falls for a noblewoman.
1h Drama Sci-Fi & Fantasy Comedy
Han Hyo-joo plays a surgeon whose father is a famous comic book creator. One day Dad goes missing and she rushes to his workshop to look for him, and instead finds a strange man bathed in blood. She gets kidnapped by the bloody man, which is where their story begins. The drama takes place in 2016 Seoul, but in different dimensions that exist in parallel with one another. It's described as a suspense romance melodrama about "a man and a woman who are living in the same time, but different worlds."
1h Drama War & Politics
A woman born in Korea navigates her way through love, war, politics and national loyalties to become a powerful empress in China's Yuan dynasty.
12.
Mirror of the Witch (2016)
1h 5m Sci-Fi & Fantasy Mystery
Seo-Ri's mother Queen Sim was unable to have a child. She went to a shaman to help her have a child. With the help of shaman Hong-Joo's black magic, Queen Sim was able to have a boy and girl twins. The girl, Seo-Ri, was put under a curse and abandoned deep in the mountains. She meets Heo Jun, a young man, there.
13.
The Great Jang-Geum (2003)
1h 20m Drama
Starring Lee Young Ae, it tells the tale of an orphaned kitchen cook who went on to become the king's first female physician. In a time when women held little influence in society, young apprentice cook Jang Geum strives to learn the secrets of Korean cooking and medicine in order to cure the King of his various ailments. It is based on the true story of Jang-geum, the first female royal physician of the Joseon Dynasty. The main themes are her perseverance and the portrayal of traditional Korean culture, including Korean royal court cuisine and traditional medicine.
explore
Check out more list from our community