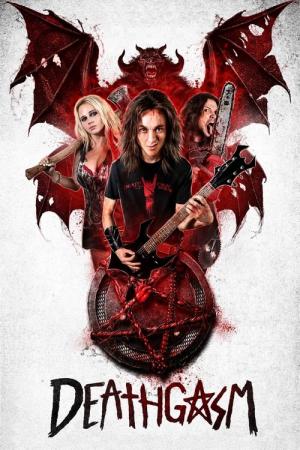 31 Best Movies Like Deathgasm ...
If you liked this movie , you will definitely love these too! In this collection we highlight some of the best films that share a very similar mood to '', and are worth checking out.
1.
Scouts Guide to the Zombie Apocalypse (2015)
1h 33m Comedy Horror
Three scouts and lifelong friends join forces with one badass cocktail waitress to become the world's most unlikely team of heroes. When their peaceful town is ravaged by a zombie invasion, they'll fight for the badge of a lifetime and put their scouting skills to the test to save mankind from the undead.
2.
Detroit Rock City (1999)
1h 35m Comedy Music
In 1978, a Kiss concert was an epoch-making event. For the three teen fans in Detroit Rock City getting tickets to the sold-out show becomes the focal point of their existence. They'll do anything for tickets -- compete in a strip club's amateur-night contest, take on religious protesters, even rob a convenience store!
3.
Dead Snow 2: Red vs. Dead (2014)
1h 40m Horror Action Comedy
The gruesome Nazi Zombies are back to finish their mission, but our hero is not willing to die. He is gathering his own army to give them a final fight.
1h 25m Horror Action Comedy
College friends find their weekend of sex and debauchery ruined when deadly zombie beavers swarm their riverside cabin.
1h 38m Horror Music
Eddie Weinbauer, an '80s metalhead teen who is bullied at school, looks to his heavy metal superstar idol, Sammi Curr, for guidance. When Curr is killed in a hotel fire, Eddie becomes the recipient of the only copy of Curr's unreleased album, which, when played backwards, brings Sammi back to life. As Halloween approaches, Eddie begins to realize that this isn't only rock 'n roll...it's life and death.
6.
Tucker and Dale vs Evil (2010)
1h 29m Comedy Horror
Two hillbillies are suspected of being killers by a group of paranoid college kids camping near the duo's West Virginian cabin. As the body count climbs, so does the fear and confusion as the college kids try to seek revenge against the pair.
7.
Dance of the Dead (2008)
1h 27m Comedy Horror
With Prom only hours away, the usual suspects of Cosa High (Cheerleaders, geeks, bad boys and the happy-go-lucky student council alike) are preoccupied with the annual rituals of teendom. On the night of the big dance when the dead unexpectedly rise to eat the living, polar opposite groups will be forced to unite in their final chance to save the town from the zombies.
8.
Rock 'n' Roll Nightmare (1987)
1h 32m Horror
People who dial 976-EVIL receive supernatural powers and turn into satanic killers. When Spike dialed 976-EVIL, he knew it was an expensive toll call, but he didn't know that he'd have to pay for it with his soul.
1h 42m Comedy Music
In the 1980s, a drummer is abandoned by his band just before they become rock superstars. Twenty years later, the drummer sees his second chance at stardom arise when he is asked to perform with his teenage nephew's high school rock band.
11.
Jennifer's Body (2009)
1h 40m Comedy Horror
Jennifer, a gorgeous, seductive cheerleader who takes evil to a whole new level after she's possessed by a sinister demon. Now it's up to her best friend to stop Jennifer's reign of terror before it's too late.
12.
Hard Rock Zombies (1985)
1h 38m Comedy Horror Music
A hard rock band travels to the tiny and remote town of Grand Guignol to perform. Peopled by hicks, rubes, werewolves, murderous dwarves, sex perverts, and Hitler, the town is a strange place but that doesn't stop the band's lead singer from falling in love with a local girl named Cassie. After Nazi sex perverts kill the band to satisfy their lusts, Cassie calls the rockers back from the grave to save her, the town, and maybe the world.
13.
What We Do in the Shadows (2014)
1h 26m Comedy Horror
Vampire housemates try to cope with the complexities of modern life and show a newly turned hipster some of the perks of being undead.
1h 43m Comedy Horror
Two Japanese friends accidentally kill their boss and dump his remains in Black Fuji, a mountain/landfill hybrid. This leads to poor results when the chemicals of the landfill mix with the corpse (and many other corpses) to give rise to a zombie infestation in Tokyo.
1h 24m Horror Comedy Fantasy
Ash Williams and his girlfriend Linda find a log cabin in the woods with a voice recording from an archeologist who had recorded himself reciting ancient chants from "The Book of the Dead." As they play the recording an evil power is unleashed taking over Linda's body.
1h 45m Horror Action Thriller
Two doctors find their graveyard shift inundated with townspeople ravaged by sores. Among the wounded is Cherry, a dancer whose leg was ripped from her body. As the invalids quickly become enraged aggressors, Cherry and her ex-boyfriend Wray lead a team of accidental warriors into the night.
17.
I Sell the Dead (2008)
1h 25m Comedy Drama Horror
18th century justice catches up with a pair of grave robbers. With only a few hours to go before his date with the guillotine, Arthur Blake (Monaghan) tells his life story to Father Francis Duffy (Ron Perlman). Before long, Arthur spills the beans on how he got started in the grim corpse peddling business with seasoned ghoul Willie Grimes.
18.
Slumber Party Massacre II (1987)
1h 15m Horror Comedy Music
Courtney, the sister of a survivor from the 1st movie and the members of her rock band go to a condo for the weekend to play music and have fun with their boyfriends. Courtney's dreams are of her sister, who is in a mental institution, warning her of having sex, and the dreams begin to spill into real life, threatening Courtney and her friends as they begin experiencing an attrition problem.
19.
This Is Spinal Tap (1984)
1h 22m Music Comedy
"This Is Spinal Tap" shines a light on the self-contained universe of a metal band struggling to get back on the charts, including everything from its complicated history of ups and downs, gold albums, name changes and undersold concert dates, along with the full host of requisite groupies, promoters, hangers-on and historians, sessions, release events and those special behind-the-scenes moments that keep it all real.
1h 31m Horror
Mia, a young woman struggling with sobriety, heads to a remote cabin with a group of friends where the discovery of a Book of the Dead unwittingly summon up dormant demons which possess the youngsters one-by-one.
22.
The Texas Chainsaw Massacre 2 (1986)
1h 41m Comedy Horror
Chainsaw-wielding maniac Leatherface is up to his cannibalistic ways once again, along with the rest of his twisted clan, including the equally disturbed Chop-Top. This time, the masked killer has set his sights on pretty disc jockey Vanita "Stretch" Brock, who teams up with Texas lawman Lefty Enright to battle the psychopath and his family deep within their lair, a macabre abandoned amusement park.
1h 28m Comedy Horror
A mysterious virus hits an isolated elementary school, transforming the kids into a feral swarm of mass savages. An unlikely hero must lead a motley band of teachers in the fight of their lives.
1h 40m Comedy Drama Horror
A Beverly Hills teen (Billy Warlock) discovers his parents are part of a gruesome orgy cult for the social elite.
25.
Freddy vs. Jason (2003)
1h 37m Horror
In an attempt to free himself from a state of forgotten limbo, evil dream-demon Freddy Krueger devises a plan to manipulate un-dead mass murderer Jason Voorhees into slicing-and-dicing his way through the teenage population of Springwood. But when the master of dreams loses control of his monster, a brutal fight to the death is the only way out.
26.
Wyrmwood: Road of the Dead (2014)
1h 38m Horror Action Comedy
Barry is a talented mechanic and family man whose life is torn apart on the eve of a zombie apocalypse. His sister, Brooke, is kidnapped by a sinister team of gas-mask wearing soldiers & experimented on by a psychotic doctor. While Brooke plans her escape Barry goes out on the road to find her & teams up with Benny, a fellow survivor - together they must arm themselves and prepare to battle their way through hordes of flesh-eating monsters in a harsh Australian bushland.
27.
Wayne's World (1992)
1h 35m Comedy Music
Based on the Saturday Night Live sketch of the same name, Wayne's World is a wacky, irreverent pop-culture comedy about the adventures of two amiably aimless metal-head friends, Wayne (Mike Myers) and Garth (Dana Carvey). From Wayne's basement, the pair broadcast a talk-show called "Wayne's World" on local public access television. The show comes to the attention of a sleazy network executive (Rob Lowe) who wants to produce a big-budget version of "Wayne's World"—and he also wants Wayne's girlfriend, a rock singer named Cassandra (Tia Carrere). Wayne and Garth have to battle the executive not only to save their show, but also Cassandra. Director Penelope Spheeris, Myers and Carvey hang a lot of silly, but funny, jokes on this thin plot, and the energy of the cast—as well as the wild pop-culture references—make Wayne's World a cut above the average Saturday Night Live spin-off movie.
28.
Bride of Chucky (1998)
1h 29m Horror Comedy
Chucky hooks up with another murderous doll, the bridal gown-clad Tiffany, for a Route 66 murder spree with their unwitting hosts.
1h 37m Horror Comedy
A werewolf loose in Los Angeles changes the lives of three young adults, who, after being mauled by the beast, learn they must kill their attacker if they hope to change their fate to avoid becoming werewolves too.
1h 46m Horror Comedy
A teenager suspects his new neighbour is a vampire. Unable to convince anyone, he tries to enlist the help of a self-proclaimed vampire hunter and magician in this remake of the 1985 comedy-horror classic.
explore
Check out more list from our community