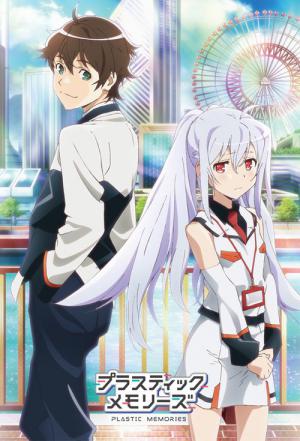 10 Best Anime Like Plastic Memories ...
If you liked this movie , you will probably love these too! In this collection we highlight some of the best films that share a very similar premise to 'Plastic Memories', and are worth checking out.
1.
Rent-a-Girlfriend (2020)
24m Comedy Animation
In today's Japan, "rental" services can deliver an afternoon with a "friend," a "parent," even a fake girlfriend! Kinoshita Kazuya is a 20-year-old failure of a college student. He managed to kiss his girlfriend once, but was dumped after a month. Completely spiteful, Kazuya gets just desperate enough to give it a try. But he quickly discovers how complicated it can be to "rent" an emotional connection… and his new "girlfriend," Mizuhara Chizuru, who's trying to keep her side hustle secret, will panic when she finds out her real life and Kazuya's are intertwined in surprising ways! A reckless rom-com filled with love and excitement is about to begin!
24m Animation Comedy Drama
Ryūji Takasu is a gentle high school student with a love for housework; but in contrast to his kind nature, he has an intimidating face that often gets him labeled as a delinquent. On the other hand is Taiga Aisaka, a small, doll-like student who is anything but a cute and fragile girl. Equipped with a wooden katana and feisty personality, Taiga is known throughout the school as the "Palmtop Tiger." One day, an embarrassing mistake causes the two students to cross paths. Ryūji discovers that Taiga actually has a sweet side: she has a crush on the popular vice president, Yūsaku Kitamura, who happens to be his best friend. But things only get crazier when Ryūji reveals that he has a crush on Minori Kushieda—Taiga's best friend! Toradora! is a romantic comedy that follows this odd duo as they embark on a quest to help each other with their respective crushes, forming an unlikely alliance in the process.
1h 3m Drama Animation Romance Science Fiction
Twenty-six-year-old Hiroto Suwa; his wife, Naho; and their old high school classmates—Takako Chino, Azusa Murasaka, and Saku Hagita—visit Mt. Koubou to view the cherry blossoms together. While watching the setting sun, they reminisce about Kakeru Naruse, their friend who died 10 years ago. Mourning for him, they decide to visit Kakeru's old home, where they learn the secret of his death from his grandmother.
4.
Violet Evergarden (2018)
25m Animation Sci-Fi & Fantasy Drama
The Great War finally came to an end after four long years of conflict; fractured in two, the continent of Telesis slowly began to flourish once again. Caught up in the bloodshed was Violet Evergarden, a young girl raised for the sole purpose of decimating enemy lines. Hospitalized and maimed in a bloody skirmish during the War's final leg, she was left with only words from the person she held dearest, but with no understanding of their meaning.Recovering from her wounds, Violet starts a new life working at CH Postal Services after a falling out with her new intended guardian family. There, she witnesses by pure chance the work of an "Auto Memoir Doll," amanuenses that transcribe people's thoughts and feelings into words on paper. Moved by the notion, Violet begins work as an Auto Memoir Doll, a trade that will take her on an adventure, one that will reshape the lives of her clients and hopefully lead to self-discovery.
24m Animation Comedy Drama Sci-Fi & Fantasy
Tokyo is abuzz with persocoms – humanoid computers that are virtually perfect. The socially and technologically inept Hideki is dying to get his hands on one. When he finds Chii abandoned in the trash, she's cuter than any current model he's ever seen before. But when he gets her home and turns her on, she has no data and only a single learning program installed. While Hideki puts his whole heart into teaching Chii the ins and outs of humanity, a mystery unfolds as a dark secret within her awakens.
6.
Rascal Does Not Dream of Bunny Girl Senpai (2018)
24m Animation Comedy Mystery
Puberty Syndrome—a rumored, mysterious syndrome that only affects those in their puberty. For example, a bunny girl suddenly appeared in front of Sakuta Azusagawa. The bunny girl's real identity is Mai Sakurajima, a teenage celebrity who is currently an inactive high school senior. For some reason, her charming figure does not reflect in the eyes of others. In the course of revealing the mystery behind this phenomenon, Sakuta begins to explore his feelings towards Mai. Set in a city where the skies and seas shine, Sakuta unfolds the meaning behind his bizarre encounters on women with the said syndrome.
1h 46m Animation Science Fiction Drama
In the not-too-distant future, androids have come into common usage. However, treating androids on the same level as humans is frowned upon, and there is constant paranoia surrounding the possibility of robots defying humans, their masters. Those who appear too trustworthy of their androids are chided and labeled as "android-holics." Rikuo Sakisaka, who has taken robots for granted for his entire life, one day discovers that Sammy, his home android, has been acting independently and coming and going on her own. He finds a strange phrase recorded in her activity log, "Are you enjoying the Time of Eve?". He, along with his friend Masakazu Masaki, traces Sammy's movements and finds an unusual cafe. Nagi, the barista, informs them that the cafe's main rule is to not discriminate between humans and androids. While Rikuo tries to reveal Sammy's intentions, he begins to question the legitimacy of the fear that drives humans to regard androids as nothing more than mere tools.
8.
Your Lie in April (2014)
23m Animation Comedy Drama
Kousei Arima was a genius pianist until his mother's sudden death took away his ability to play. Each day was dull for Kousei. But, then he meets a violinist named Kaori Miyazono who has an eccentric playing style. Can the heartfelt sounds of the girl's violin lead the boy to play the piano again?
9.
As the Moon, So Beautiful (2017)
24m Animation Drama
Kotarou Azumi and Akane Mizuno became third year students at junior high school and are classmates for the first time. These two, along with fellow classmates, Chinatsu Nishio and Takumi Hira, relate to their peers through mutual understandings and feelings. As their final year at junior high school progresses, the group overcome their challenges to mature and become aware of changes in themselves.
10.
The Irregular at Magic High School (2014)
24m Action & Adventure Animation Sci-Fi & Fantasy
In a world where magic is not a fairy tale but has existed for one hundred years siblings Tatsuya and Miyuki Shiba prepare to begin their studies at the elite Private Magic University Affiliated High School (Magic High School for short). Entering on different levels of the academic spectrum the two turn the once peaceful campus into a chaotic one.
explore
Check out more list from our community