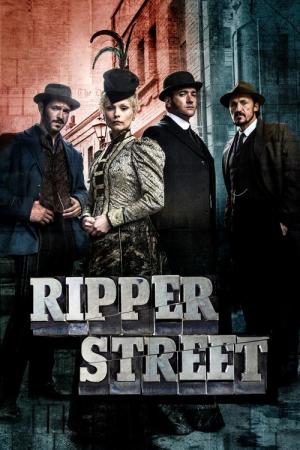 24 Best Shows Like Ripper Street ...
If you liked this film , you will definitely love these too! In this list we highlight some of the best films that share a very similar mood to '', and are worth checking out.
1.
The Frankenstein Chronicles (2015)
2.
Murdoch Mysteries (2008)
1h Drama Mystery
A Victorian-era Toronto detective uses then-cutting edge forensic techniques to solve crimes, with the assistance of a female coroner who is also struggling for recognition in the face of tradition, based on the books by Maureen Jennings.
3.
Jack the Ripper (1988)
3h 3m Drama Mystery Crime
Jack the Ripper is a 1988 two-part television film/miniseries portraying a fictionalized account of the hunt for Jack the Ripper, the unidentified serial killer responsible for the Whitechapel murders of 1888. The series coincided with the 100th anniversary of the murders.
48m Drama Crime Mystery
New York, 1896. Police commissioner Theodore Roosevelt brings together criminal psychologist Dr. Laszlo Kreizler, newspaper illustrator John Moore and secretary Sara Howard to investigate several murders of male prostitutes.
1h 30m Mystery Thriller TV Movie
Eve Duncan is contacted, 10 years after the disappearance and murder of her 7-year-old daughter Bonnie, by a man claiming to be her killer. Taunted by his clues about Bonnie's case and his threats to kill again, she throws herself into her career as a forensic sculptor and works to close the case.
46m Crime Drama Mystery
In 1953 at the hamlet of Grantchester, Sidney Chambers—a charismatic, charming clergyman—turns investigative vicar when one of his parishioners dies in suspicious circumstances.
7.
The Suspicions of Mr Whicher: The Murder at Road Hill House (2011)
1h 34m Drama Mystery TV Movie Crime
In 1860, Inspector Jack Whicher of Scotland Yard is sent to rural Wiltshire to investigate the murder of the three-year-old boy Saville Kent, who was snatched from his bed at night and murdered.
46m Crime Drama Mystery
The murder of a young boy in a small coastal town brings a media frenzy, which threatens to tear the community apart.
9.
Midsomer Murders (1997)
1h 30m Crime Drama Mystery
The peacefulness of the Midsomer community is shattered by violent crimes, suspects are placed under suspicion, and it is up to a veteran DCI and his young sergeant to calmly and diligently eliminate the innocent and ruthlessly pursue the guilty.
10.
Peaky Blinders (2013)
1h Crime Drama
A gangster family epic set in 1919 Birmingham, England and centered on a gang who sew razor blades in the peaks of their caps, and their fierce boss Tommy Shelby, who means to move up in the world.
1h Crime Mystery
When a body is found on the bridge between Denmark and Sweden, right on the border, Danish inspector Martin Rohde and Swedish Saga Norén have to share jurisdiction and work together to find the killer.
12.
Agatha Christie's Poirot (1989)
50m Crime Drama Mystery
From England to Egypt, accompanied by his elegant and trustworthy sidekicks, the intelligent yet eccentrically-refined Belgian detective Hercule Poirot pits his wits against a collection of first class deceptions.
1h 35m Fantasy Thriller Drama
A single mother is swept into a dark underworld, while her teenage son discovers a road that leads him to a secret underwater town.
42m Action & Adventure Crime Drama Mystery
The plot follows detectives Karl Roebuck and Elise Wasserman working together to find a serial killer who left the upper-half body of a French politician and the lower-half of a British prostitute in the Channel Tunnel, at the midpoint between France and the UK. They later learn that the killer—who comes to be nicknamed the "Truth Terrorist"—is on a moral crusade to highlight many social problems, terrorising both countries in the process
1h Crime Mystery Drama
The Killing is a Danish police procedural set in the Copenhagen main police department and revolves around Detective Inspector Sarah Lund and her team, with each season series following a different murder case day-by-day and a one-hour episode covering twenty-four hours of the investigation. The series is noted for its plot twists, season-long storylines, dark tone and for giving equal emphasis to the story of the murdered victim's family alongside the police investigation. It has also been singled out for the photography of its Danish setting, and for the acting ability of its cast.
2h 2m Horror Mystery Thriller
Frederick Abberline is an opium-huffing inspector from Scotland Yard who falls for one of Jack the Ripper's prostitute targets in this Hughes brothers adaption of a graphic novel that posits the Ripper's true identity.
1h Crime Drama Mystery
Created from the novels by award winning crime writer Ann Cleeves, Shetland follows DI Jimmy Perez and his team as they investigate crime within the close knit island community. In this isolated and sometimes inhospitable environment, the team have to rely on a uniquely resourceful style of policing.
19.
Inspector Morse (1987)
20.
Agatha Christie's Marple (2004)
1h 28m Drama Crime Mystery
The adventures of Miss Jane Marple, an elderly spinster living in the quiet little village of St Mary Mead. During her many visits to friends and relatives in other villages, Miss Marple often stumbles upon mysterious murders which she helps solve. Although the police are sometimes reluctant to accept Miss Marple's help, her reputation and unparalleled powers of observation eventually win them over.
21.
The Bletchley Circle (2012)
45m Drama Mystery
The Bletchley Circle follows the journey of four ordinary women with extraordinary skills that helped to end World War II. Set in 1952, Susan, Millie, Lucy and Jean have returned to their normal lives, modestly setting aside the part they played in producing crucial intelligence, which helped the Allies to victory and shortened the war. When Susan discovers a hidden code behind an unsolved murder she is met by skepticism from the police. She quickly realises she can only begin to crack the murders and bring the culprit to justice with her former friends. The Bletchley Circle paints a vivid portrait of post-war Britain in this fictional tale of unsung heroes.
1h Crime Drama Mystery
A dark psychological crime drama starring Idris Elba as Luther, a man struggling with his own terrible demons, who might be as dangerous as the depraved murderers he hunts.
23.
Chasing Shadows (2014)
1h Crime Drama
Chasing Shadows' follows a team of special operatives who are tracking down serial killers.
explore
Check out more list from our community