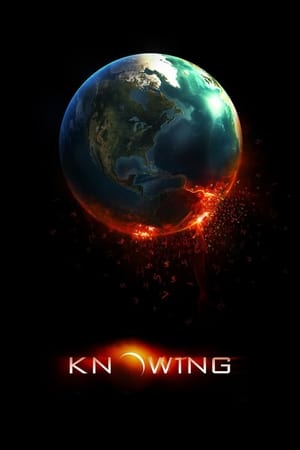 28 Best Movies Like Knowing ...
If you liked this film , you will probably love these too! In this selection we highlight some of the best films that share a very similar premise to '', and are worth checking out.
2h 38m Action Adventure Science Fiction
Dr. Adrian Helmsley, part of a worldwide geophysical team investigating the effect on the earth of radiation from unprecedented solar storms, learns that the earth's core is heating up. He warns U.S. President Thomas Wilson that the crust of the earth is becoming unstable and that without proper preparations for saving a fraction of the world's population, the entire race is doomed. Meanwhile, writer Jackson Curtis stumbles on the same information. While the world's leaders race to build "arks" to escape the impending cataclysm, Curtis struggles to find a way to save his family. Meanwhile, volcanic eruptions and earthquakes of unprecedented strength wreak havoc around the world.
1h 46m Drama Thriller Science Fiction Mystery
A family living on a farm finds mysterious crop circles in their fields which suggests something more frightening to come.
1h 50m Thriller Action Science Fiction
A small group of survivors are left behind after millions of people suddenly vanish during the rapture and the world is plunged into chaos and destruction.
1h 36m Action Science Fiction Thriller
Las Vegas showroom magician Cris Johnson has a secret which torments him: he can see a few minutes into the future. Sick of the examinations he underwent as a child and the interest of the government and medical establishment in his power, he lies low under an assumed name in Vegas, performing cheap tricks and living off small-time gambling "winnings." But when a terrorist group threatens to detonate a nuclear device in Los Angeles, government agent Callie Ferris must use all her wiles to capture Cris and convince him to help her stop the cataclysm.
1h 41m Drama Science Fiction Thriller
Robert Neville is a scientist who was unable to stop the spread of the terrible virus that was incurable and man-made. Immune, Neville is now the last human survivor in what is left of New York City and perhaps the world. For three years, Neville has faithfully sent out daily radio messages, desperate to find any other survivors who might be out there. But he is not alone.
1h 31m Thriller Science Fiction
When a deadly airborne virus threatens to wipe out the northeastern United States, teacher Elliott Moore and his wife Alma flee from contaminated cities into the countryside in a fight to discover the truth. Is it terrorism, the accidental release of some toxic military bio weapon -- or something even more sinister?
2h Action Drama Science Fiction
A seven-mile-wide space rock is hurtling toward Earth, threatening to obliterate the planet. Now, it's up to the president of the United States to save the world. He appoints a tough-as-nails veteran astronaut to lead a joint American-Russian crew into space to destroy the comet before impact. Meanwhile, an enterprising reporter uses her smarts to uncover the scoop of the century.
2h 31m Action Thriller Science Fiction Adventure
When an asteroid threatens to collide with Earth, NASA honcho Dan Truman determines the only way to stop it is to drill into its surface and detonate a nuclear bomb. This leads him to renowned driller Harry Stamper, who agrees to helm the dangerous space mission provided he can bring along his own hotshot crew. Among them is the cocksure A.J. who Harry thinks isn't good enough for his daughter, until the mission proves otherwise.
1h 47m Science Fiction Thriller
Fifty years into the future, the sun is dying, and Earth is threatened by arctic temperatures. A team of astronauts is sent to revive the Sun — but the mission fails. Seven years later, a new team is sent to finish the mission as mankind's last hope.
1h 28m Thriller Horror
When a group of close-knit friends assemble for the marriage of Skylar and Dan, they have no idea they will witness The Rapture and face a series of catastrophic events turning the celebration into a life-or-death struggle.
11.
The Day After Tomorrow (2004)
2h 4m Action Adventure Science Fiction Thriller
After years of increases in the greenhouse effect, havoc is wreaked globally in the form of catastrophic hurricanes, tornadoes, tidal waves, floods and the beginning of a new Ice Age. Paleoclimatologist, Jack Hall tries to warn the world while also shepherding to safety his son, trapped in New York after the city is overwhelmed by the start of the new big freeze.
2h 16m Action Thriller Adventure Science Fiction
Geophysicist Dr. Josh Keyes discovers that an unknown force has caused the earth's inner core to stop rotating. With the planet's magnetic field rapidly deteriorating, our atmosphere literally starts to come apart at the seams with catastrophic consequences. To resolve the crisis, Keyes, along with a team of the world's most gifted scientists, travel into the earth's core. Their mission: detonate a device that will reactivate the core.
13.
War of the Worlds (2005)
1h 57m Adventure Thriller Science Fiction
Ray Ferrier is a divorced dockworker and less-than-perfect father. Soon after his ex-wife and her new husband drop off his teenage son and young daughter for a rare weekend visit, a strange and powerful lightning storm touches down.
1h 56m Action Drama Horror Science Fiction Thriller
Life for former United Nations investigator Gerry Lane and his family seems content. Suddenly, the world is plagued by a mysterious infection turning whole human populations into rampaging mindless zombies. After barely escaping the chaos, Lane is persuaded to go on a mission to investigate this disease. What follows is a perilous trek around the world where Lane must brave horrific dangers and long odds to find answers before human civilization falls.
15.
Midnight Special (2016)
1h 52m Adventure Drama Science Fiction
A father and son go on the run after the dad learns his child possesses special powers.
1h 56m Drama Science Fiction Mystery
Taking place after alien crafts land around the world, an expert linguist is recruited by the military to determine whether they come in peace or are a threat.
17.
The Da Vinci Code (2006)
2h 29m Thriller Mystery
A murder in Paris' Louvre Museum and cryptic clues in some of Leonardo da Vinci's most famous paintings lead to the discovery of a religious mystery. For 2,000 years a secret society closely guards information that — should it come to light — could rock the very foundations of Christianity.
1h 33m Thriller Science Fiction Mystery
Decorated soldier Captain Colter Stevens wakes up in the body of an unknown man, discovering he's involved in a mission to find the bomber of a Chicago commuter train. He learns he's part of a top-secret experimental program that enables him to experience the final 8 minutes of another person's life. Colter re-lives the train incident over and over again, gathering more clues each time.
19.
The Darkest Hour (2011)
1h 29m Horror Action Thriller Science Fiction
In Moscow, five young people lead the charge against an alien race which has attacked Earth via our power supply.
1h 30m TV Movie Action Adventure Science Fiction
When miner Charley 'Boomer' Baxter sets off a series of massive mining detonations in West Virginia, a gigantic earthquake is soon rocking the North Atlantic, exposing a deep seismic fault that runs the length of the North American continent. Joining forces with government seismology expert Dr Amy Lane, Boomer must now race against time to stop the chasm that is threatening to tear America - and the entire world - in half.
21.
Quantum Apocalypse (2010)
1h 33m Science Fiction TV Movie Mystery Drama
A group of talented but rebellious 'rock-star scientists' find themselves in a race against time to save Earth when a comet makes an unexpected turn towards our blue planet where all life may cease to exist within days if our small town heroes fail to find a solution.
22.
The Day the Earth Stood Still (2008)
1h 44m Drama Science Fiction Thriller
A representative of an alien race that went through drastic evolution to survive its own climate change, Klaatu comes to Earth to assess whether humanity can prevent the environmental damage they have inflicted on their own planet. When barred from speaking to the United Nations, he decides humankind shall be exterminated so the planet can survive.
1h 52m Science Fiction Adventure Action
16-year-old Cassie Sullivan tries to survive in a world devastated by the waves of an alien invasion that has already decimated the population and knocked mankind back to the Stone Age.
1h 25m Action Adventure Fantasy Horror Science Fiction Thriller
On December 21, 2012 four strangers on a journey of faith are drawn to an ancient temple in the heart of Mexico. For the Mayans it is the last recorded day. For NASA scientists it is a cataclysmic polar shift. For the rest of us, it is Doomsday.
2h Action
John Garrity, his estranged wife and their young son embark on a perilous journey to find sanctuary as a planet-killing comet hurtles toward Earth. Amid terrifying accounts of cities getting levelled, the Garrity's experience the best and worst in humanity. As the countdown to the global apocalypse approaches zero, their incredible trek culminates in a desperate and last-minute flight to a possible safe haven.
26.
Into the Storm (2014)
1h 29m Action Thriller
As a new day begins in the town of Silverton, its residents have little reason to believe it will be anything other than ordinary. Mother Nature, however has other plans. In the span of just a few hours, an unprecedented onslaught of powerful tornadoes ravages Silverton. Storm trackers predict that the worst is still to come, as terrified residents seek shelter, and professional storm-chasers run toward the danger, hoping to study the phenomenon close up and get a once-in-a-lifetime shot.
1h 44m Science Fiction Action Drama Thriller
An earthquake shatters a peaceful Los Angeles morning and opens a fissure deep into the earth, causing lava to start bubbling up. As a volcano begins forming in the La Brea Tar Pits, the director of the city's emergency management service, working with a geologist, must then use every resource in the city to try and stop the volcano from consuming LA.
explore
Check out more list from our community