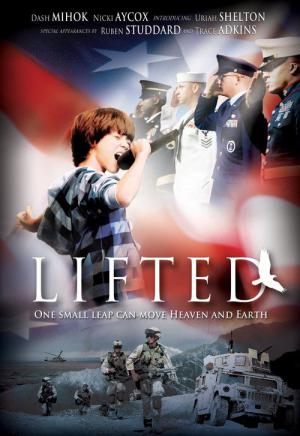 15 Best Movies Like Lifted ...
If you liked this film , you will definitely love these too! In this list we highlight some of the best films that share a very similar premise to '', and are worth checking out.
1.
Like Dandelion Dust (2009)
1h 40m Drama
A compelling drama that explores the different meanings of being a parent through the gritty, realistic lives of a struggling family, and a privileged family. Their lives intersect, intertwine and collide, all for the love of a little boy. This film bravely exposes the humanity in each character reminding us that we each have the potential to be the best and worst versions of ourselves at any time.
Carmen is a good student with a bad attitude who lives for dancing in the underground clubs of Chicago. She yearns to be 'somebody' but is afraid to believe in herself. Her immigrant Mexican, working-class parents want her to stay in school and get an education, so she attends junior college while working at a grocery store. Carmen's professor catches her performing one day in the neighborhood and challenges her to audition to a formal dance school in California. She gets into a fight with her chaotic family and runs away to her best friend Gina's place only to find out Gina's been getting beat up by her boyfriend. Meanwhile, Carmen's boyfriend, Jared wants her to commit and move in with him. Pulled apart in every direction, her dream of dancing fades. Can Carmen overcome her fears and take the biggest chance of her life, or will she succumb to her self-doubt?
4.
The Mighty Celt (2005)
5.
White Irish Drinkers (2010)
6.
Imperial Dreams (2014)
7.
Call Me Crazy: A Five Film (2013)
1h 30m Drama
A psychotherapist helps a law student cope with schizophrenia in one of five interconnected tales dealing with mental illness.
In the vein of Good Will Hunting and Garden State, POPE DREAMS is a coming of age tale about a young man at a crossroads in life. Filled with heart, music, life, and loss. And a set of drums. Oh, and the Pope. POPE DREAMS is about a directionless nineteen-year old boy, Andy Venable, who works for his hard-case dad in a store warehouse during the day and plays drums in a loud heavy-metal band at night. His only clear goal at the moment is to get his sick mother, a devout Catholic, to meet the Pope before she dies. While he's busy with that, he falls for a girl who's totally out of his league and gets discovered by two Broadway producers for a musical talent that just might be his true calling. Andy's a dreamer. But dreaming is easy. It's reality that's hard.
1h 30m Drama
A Fine Step is an uplifting family drama centering on Cal Masterson (Luke Perry, Beverly Hills 90210) an award winning horseman whose relationship with his beloved horse Fandango allows him to achieve multiple championship wins. However tragedy strikes when Cal and Fandango are involved in a serious accident, ending Cal's horse riding days forever. Cal's devastation is slowly overcome when his new neighbour, 14 year old Claire Mason (Anna Claire Sneed, Glee) takes an interest in Fandango and convinces him that Fandango's competing days might not be over.
An inspirational true story about how a rural community rallied around a distraught family to search for their missing two year-old boy and through doing so changed the lives of many of those involved.
11.
Louder Than Words (2013)
1h 35m Drama
After the unexpected death of their daughter, a couple work to build a state of the art children's hospital where families are welcomed into the healing process.
12.
The End of Love (2012)
Off the grid and miles from civilization, Little Otter Family Camp has summer fun for everyone. Parents decompress over gin and tonics while their kids run wild, and teenage counselors fall in and out of love.Mackenzie Granger is the camp owner and director. Still reeling from her recent divorce, Mackenzie is ready for a fresh start. She is running things on her own for the first time and scrambling to keep the cash-strapped Little Otter from going under.
explore
Check out more list from our community