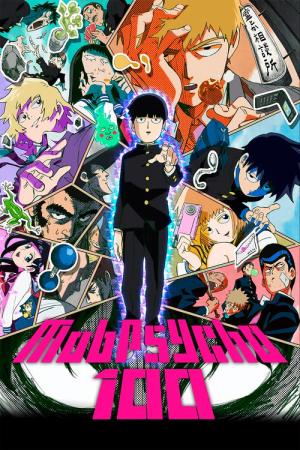 13 Best Shows Like Saiki K ...
If you liked this one , you will for sure love these too! In this selection we highlight some of the best films that share a very similar premise to '', and are worth checking out.
1.
Tanaka-kun is Always Listless (2016)
24m Animation Comedy
This unconventional, surrealist comedy follows an exhausted high school boy who, despite multiple attempts from his friends, still manages to spectacularly... sleep. Much to the chagrin of the energetic (at times bossy) Oota, Tanaka is often found in a blissful state of lethargy, possessing the ability to doze off in any situation, especially in mid-sentence!
24m Action & Adventure Animation Comedy
Saitama is a hero who only became a hero for fun. After three years of "special" training, though, he's become so strong that he's practically invincible. In fact, he's too strong — even his mightiest opponents are taken out with a single punch, and it turns out that being devastatingly powerful is actually kind of a bore. With his passion for being a hero lost along with his hair, yet still faced with new enemies every day, how much longer can he keep it going?
3.
A Destructive God Sits Next to Me (2020)
24m Animation Comedy
Koyuki Seri is just trying to have a normal school life, but instead he ends up acting as the straight man to his odd classmate, Hanatori Kabuto. Kabuto is is a delusional high school student, whose fantasies range from believing he is a knight on a journey, to claiming that removing his eyepatch will release a darker alter-ego who he refers to as Michael Offenbarung Dunkelheit. Seri is determined not to let himself get pushed around by Kabuto, but it seems that this will be easier said than done!
24m Animation Comedy Drama
Tohru Honda is 16 year old orphaned girl who gets invited to live in the house of her classmate, the handsome boy Sohma Yuki, and his cousins, 16 year old Kyo and 27 year old Shigure. However, these young men and parts of the rest of their family (both close and distant) hold a curse; if they are hugged by the opposite gender, they transform into animals of the Chinese Zodiac. Everyday is an adventure for sweet Tohru, as she gets to know everyone in the large family better (especially Yuki and Kyo), in both common and bizarre situations. But, the Sohma Family curse is certainly no laughing matter... it also holds horrible cruelty and heartbreak.
5.
Hozuki's Coolheadedness (2014)
6.
Himouto! Umaru-chan (2015)
24m Animation Comedy
People are not always who they appear to be, as is the case with Umaru Doma, the perfect high school girl—that is, until she gets home! Once the front door closes, the real fun begins. When she dons her hamster hoodie, she transforms from a refined, over-achieving student into a lazy, junk food-eating otaku, leaving all the housework to her responsible older brother Taihei. Whether she's hanging out with her friends Nana Ebina and Kirie Motoba, or competing with her self-proclaimed "rival" Sylphinford Tachibana, Umaru knows how to kick back and have some fun!Himouto! Umaru-chan is a cute story that follows the daily adventures of Umaru and Taihei, as they take care of—and put up with—each other the best they can, as well as the unbreakable bonds between friends and siblings.
23m Animation Comedy Family
After punching a famous curator in the face for criticizing his work as "textbook and lifeless," Handa Seishuu is sent to Gotō Island to calm his nerves and find new inspiration for his calligraphy. Growing up in the city all his life, though, Handa must adapt to country life while meeting an assortment of quirky people during his tenure.
8.
Toilet-Bound Hanako-kun (2020)
24m Animation Mystery Comedy
The famous "Seven Wonders" that every school seems to have are a staple of Japanese urban legends. One of the most well-known of these tales is that of Hanako-san: the ghost of a young girl who haunts the school's bathrooms.Kamome Academy has its own version of Hanako-san's legend. Rumors claim that if one successfully manages to summon Hanako-san, she will grant her summoner any wish. Lured by the gossip, many people have tried to call upon her, yet every attempt has failed. However, when Nene Yashiro, a girl hoping for romantic fortune, dares to summon Hanako-san, she discovers that the rumored "girl" is actually a boy!After a series of unfortunate events involving Nene's romantic desires, she is unwillingly entangled in the world of the supernatural, becoming Hanako-kun's assistant. Soon, she finds out about Hanako-kun's lesser-known duty: maintaining the fragile balance between mortals and apparitions.
9.
Gabriel DropOut (2017)
24m Animation Comedy Sci-Fi & Fantasy
Gabriel White graduated at the top of the class at angel school and attends a human school on earth in pursuit of knowledge, but then gets engrossed in an MMO and decides it's too much trouble to go anywhere. Based on the manga by Ukami.
10.
Nichijou: My Ordinary Life (2011)
25m Animation Comedy
Follow the adventures of three ordinary girls as they make life's awkward moments a thousand times worse. Along with a colorful bunch of classmates, they learn their most important lessons the hard way. Meanwhile down the street, a pocket-sized professor makes life difficult for a robot who just wants to be normal. But normal is the last thing you can expect in a town where salmon falls from the sky. In fact, the only thing you can count on is your friends, but even they are totally weird.
24m Animation Comedy
Tamako is just a normal young girl whose family has been making mochi for generations. As her birthday approaches, she happens to meet a talking bird who claims to be a royal court attendant looking for a bride for his master. After the encounter, Dera the bird decides to stay around her and becomes a part of Tamako's life and the neighborhood that she lives in.
12.
Akashic Records of Bastard Magic Instructor (2017)
24m Animation Sci-Fi & Fantasy Action & Adventure
The Alzano Imperial Magic Academy is located in the southern part of the Alzano Empire and is among most prominent magic schools in the world, where students can learn the highest forms of magic. All those who strive to learn magic dream of studying at this academy, and its students as well as its teachers are proud to be a part of its 400-year history. Glenn Radars is a new instructor who has suddenly been appointed to teach part-time at this highly respected academy. The previously unheard-of lessons of this man known as a good-for-nothing bastard are about to begin.
explore
Check out more list from our community