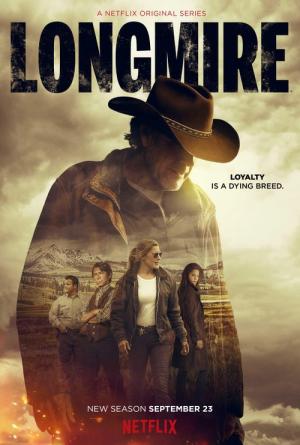 22 Best Shows Like Longmire ...
If you liked this film , you will definitely love these too! In this collection we highlight some of the best films that share a very similar premise to '', and are worth checking out.
1h Crime Drama
A character drama based on the 2001 Elmore Leonard short story "Fire in the Hole." Leonard's tale centers around U.S. Marshal Raylan Givens of Kentucky, a quiet but strong-willed official of the law. The tale covers his high-stakes job, as well as his strained relationships with his ex-wife and father.
2.
Jesse Stone: Night Passage (2006)
1h 29m TV Movie Drama Thriller Crime
In this prequel to 'Stone Cold,' LA cop, Jesse Stone relocates to a small town only to find himself immersed in one mystery after the other.
42m Western Drama
Follow the violent world of the Dutton family, who controls the largest contiguous ranch in the United States. Led by their patriarch John Dutton, the family defends their property against constant attack by land developers, an Indian reservation, and America's first National Park.
55m Western Crime
The story of the early days of Deadwood, South Dakota; woven around actual historic events with most of the main characters based on real people. Deadwood starts as a gold mining camp and gradually turns from a lawless wild-west community into an organized wild-west civilized town. The story focuses on the real-life characters Seth Bullock and Al Swearengen.
50m Crime Drama
Banshee is an American drama television series set in a small town in Pennsylvania Amish country and features an enigmatic ex-con posing as a murdered sheriff who imposes his own brand of justice while also cooking up plans that serve his own interests.
42m Crime Drama
A riveting police drama about the men and women of the Chicago Police Department's District 21 who put it all on the line to serve and protect their community. District 21 is made up of two distinctly different groups: the uniformed cops who patrol the beat and go head-to-head with the city's street crimes and the Intelligence Unit that combats the city's major offenses - organized crime, drug trafficking, high profile murders and beyond.
45m Action & Adventure Drama
Kevin Corcoran is a rugged young Irish immigrant policeman trying to keep the peace in the historical Five Points neighborhood in 1860s New York City while searching for information on the disappearance of his wife and death of his daughter.
45m Western Drama
Of all the notorious lawmen that ever patrolled the violent frontier, none are more storied than ballsy and badass Molly Parker, one of the first women to join the Texas Rangers.
50m Crime Drama
A close-knit anthology series dealing with stories involving malice, violence and murder based in and around Minnesota.
11.
Walker, Texas Ranger (1993)
45m Action & Adventure Drama
Modern-day Texas Ranger, Cordell Walker's independent crime-solving methods have their roots in the rugged traditions of the Old West. Walker's closest friend is former Ranger, C.D. Parker, who retired after a knee injury, and now owns "C.D.'s," a Country/Western saloon/restaurant. Rookie Ranger, James "Jimmy" Trivette is an ex-football player who bases his crime-solving methods on reason and uses computers and cellular phones. Alex Cahill is the Assistant DA who shares a mutual attraction with Walker, but often disagrees with his unorthodox approach to law enforcement.
1h Comedy Drama
In this mismatched buddy cop dramedy, an amazingly handsome, happy-go-lucky FBI agent is paired with a local, hard scrabble Michigan homicide detective. As they solve crimes together, their polar opposite methods only slightly outweigh their disdain for each other.
43m Western Drama Crime
When the Los Angeles County's Sheriff dies, an arcane rule forged back in the Wild West thrusts the most unlikely man into the job: a fifth-generation lawman, more comfortable taking down bad guys than navigating a sea of politics, who won't rest until justice is served.
15.
The Chicago Code (2011)
43m Crime Drama
The series follows officers of the Chicago Police Department as they fight crime on the streets and try to expose political corruption within the city.
43m Action & Adventure Drama
King is a Canadian police drama which premiered April 17, 2011 on Showcase. The series stars Amy Price-Francis as Jessica King, a veteran police officer who gets promoted to head of the Major Crimes Task Force in Toronto after her predecessor has a breakdown on television. Season 2 began production in September 2011 and premiered 29 February 2012.On June 2, 2012, it was reported that King had been cancelled after 2 seasons.
17.
Jesse Stone: Benefit of the Doubt (2012)
1h 27m Drama Thriller Crime Mystery
Jesse finds himself struggling to get his job back as the Paradise police chief, and he is forced to rely on his cop intuition to sort through a maze of misleading clues and hidden meanings as he attempts to solve a shocking and horrifying mob-related double homicide.
18.
Secrets and Lies (2015)
45m Drama Crime
Detective Andrea Cornell is a tough, thorough Homicide Detective who leaves no stone unturned. Her unwavering dedication to her job makes her the most formidable opponent - or a highly valuable ally.
44m Drama
NYC 22 follows six diverse NYPD rookies as they patrol the gritty streets of upper Manhattan. With unique backgrounds, personalities and reasons for being on the force, the new cops will make their share of rookie mistakes while they figure out how to relate to their boss, each other and the people they swore to protect.
42m Crime Drama Action & Adventure
In Southern California, a beachfront property was seized and turned into a residence for undercover cops. They are all top agents of the DEA, FBI, and Customs and they are living in this house unofficially known as "Graceland". Coming of a new graduating at the top of his class, FBI rookie, Mike Warren, could make the life of a legendary FBI agent Paul Briggs and the others, more complicated or it could reveal the truth. It is based upon actual events.
21.
The Last Panthers (2015)
45m Crime Drama
The six-part series opens with a daring diamond heist before quickly delving into the dark heart of Europe where a shadowy alliance of gangsters and 'banksters' now rules. Naomi is the British loss adjustor charged with recovering the stolen diamonds whatever the cost. Also in pursuit is French-Algerian policeman Khalil.
explore
Check out more list from our community