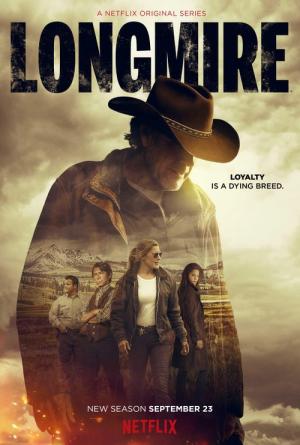 12 Best Shows Like Longmire ...
If you liked this film , you will probably love these too! In this selection we highlight some of the best films that share a very similar mood to 'Longmire', and are worth checking out.
42m Western Drama
Follow the violent world of the Dutton family, who controls the largest contiguous ranch in the United States. Led by their patriarch John Dutton, the family defends their property against constant attack by land developers, an Indian reservation, and America's first National Park.
2.
The Chicago Code (2011)
43m Crime Drama
The series follows officers of the Chicago Police Department as they fight crime on the streets and try to expose political corruption within the city.
1h Comedy Drama
In this mismatched buddy cop dramedy, an amazingly handsome, happy-go-lucky FBI agent is paired with a local, hard scrabble Michigan homicide detective. As they solve crimes together, their polar opposite methods only slightly outweigh their disdain for each other.
50m Crime Drama
A close-knit anthology series dealing with stories involving malice, violence and murder based in and around Minnesota.
43m Action & Adventure Drama
King is a Canadian police drama which premiered April 17, 2011 on Showcase. The series stars Amy Price-Francis as Jessica King, a veteran police officer who gets promoted to head of the Major Crimes Task Force in Toronto after her predecessor has a breakdown on television. Season 2 began production in September 2011 and premiered 29 February 2012.On June 2, 2012, it was reported that King had been cancelled after 2 seasons.
7.
Jesse Stone: Night Passage (2006)
1h 29m TV Movie Drama Thriller Crime
In this prequel to 'Stone Cold,' LA cop, Jesse Stone relocates to a small town only to find himself immersed in one mystery after the other.
45m Western Drama
Of all the notorious lawmen that ever patrolled the violent frontier, none are more storied than ballsy and badass Molly Parker, one of the first women to join the Texas Rangers.
1h Crime Drama
A character drama based on the 2001 Elmore Leonard short story "Fire in the Hole." Leonard's tale centers around U.S. Marshal Raylan Givens of Kentucky, a quiet but strong-willed official of the law. The tale covers his high-stakes job, as well as his strained relationships with his ex-wife and father.
10.
Walker, Texas Ranger (1993)
45m Action & Adventure Drama
Modern-day Texas Ranger, Cordell Walker's independent crime-solving methods have their roots in the rugged traditions of the Old West. Walker's closest friend is former Ranger, C.D. Parker, who retired after a knee injury, and now owns "C.D.'s," a Country/Western saloon/restaurant. Rookie Ranger, James "Jimmy" Trivette is an ex-football player who bases his crime-solving methods on reason and uses computers and cellular phones. Alex Cahill is the Assistant DA who shares a mutual attraction with Walker, but often disagrees with his unorthodox approach to law enforcement.
50m Crime Drama
Banshee is an American drama television series set in a small town in Pennsylvania Amish country and features an enigmatic ex-con posing as a murdered sheriff who imposes his own brand of justice while also cooking up plans that serve his own interests.
55m Western Crime
The story of the early days of Deadwood, South Dakota; woven around actual historic events with most of the main characters based on real people. Deadwood starts as a gold mining camp and gradually turns from a lawless wild-west community into an organized wild-west civilized town. The story focuses on the real-life characters Seth Bullock and Al Swearengen.
explore
Check out more list from our community