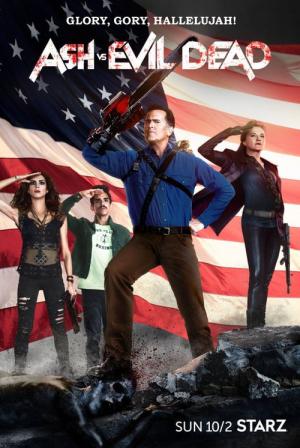 28 Best Shows Like Ash Vs Evil Dead ...
If you liked this one , you will definitely love these too! In this collection we highlight some of the best films that share a very similar premise to '', and are worth checking out.
1h 24m Horror Comedy Fantasy
Ash Williams and his girlfriend Linda find a log cabin in the woods with a voice recording from an archeologist who had recorded himself reciting ancient chants from "The Book of the Dead." As they play the recording an evil power is unleashed taking over Linda's body.
1h 25m Horror
When a group of college students finds a mysterious book and recording in the old wilderness cabin they've rented for the weekend, they unwittingly unleash a demonic force from the surrounding forest.
4.
Army of Darkness (1992)
1h 21m Fantasy Horror Comedy
Ash is transported back to medieval days, where he is captured by the dreaded Lord Arthur. Aided by the deadly chainsaw that has become his only friend, Ash is sent on a perilous mission to recover the Book of the Dead, a powerful tome that gives its owner the power to summon an army of ghouls.
5.
Stan Against Evil (2016)
23m Comedy Sci-Fi & Fantasy
An aging police sheriff who has recently lost his position due to an angry outburst begrudgingly joins an alliance with new sheriff, Evie Barret to battle angry demons haunting their small New Hampshire town.
6.
Return of the Living Dead II (1988)
1h 29m Comedy Horror
A group of kids discover one of the drums containing a rotting corpse and release the 2-4-5 Trioxin gas into the air, causing the dead to once again rise from the grave and seek out brains.
7.
My Name Is Bruce (2007)
1h 26m Comedy Horror Fantasy
B Movie Legend Bruce Campbell is mistaken for his character Ash from the Evil Dead trilogy and forced to fight a real monster in a small town in Oregon.
1h 20m Comedy Action Horror Science Fiction
A couple's vacation to Ireland transforms into a nightmare as a virus spreads from slaughtered animals to humans, causing the dead to rise and feast on the living.
1h 20m Action Horror
Faced with extinction, two park rangers are forced to defend the national park against hordes of rampaging orcs. Ancient and long forgotten, these orcs are unleashed from the depths of the mountains, and they won't stop until we're all dead.
1h 37m Horror Action Comedy Science Fiction
A quaint Australian fishing village is overcome by meteorites that turn its residents into the ravenous undead, leaving a small group of those unharmed to find a way out.
44m Mystery Action & Adventure Drama
Three years after the zombie virus has gutted the country, a team of everyday heroes must transport the only known survivor of the plague from New York to California, where the last functioning viral lab waits for his blood.
12.
Jack Brooks: Monster Slayer (2007)
1h 25m Action Comedy Horror
As a child Jack Brooks witnessed the brutal murder of his family. Now a young man he struggles with a pestering girlfriend, therapy sessions that resolve nothing, and night classes that barely hold his interest. After unleashing an ancient curse, Jack's Professor undergoes a transformation into something not-quite- human, and Jack is forced to confront some old demons... along with a few new ones.
1h 21m Comedy Horror Fantasy
A young man and his girlfriend move into the man's old mansion home, where he becomes possessed by a need to control ancient demons.
14.
Dead Before Dawn (2012)
1h 28m Adventure Comedy Horror
A bunch of college kids accidentally unleash an evil curse that causes people to kill themselves and turn into Zombie Demons, aka ZEMONS!
1h 31m Horror
Mia, a young woman struggling with sobriety, heads to a remote cabin with a group of friends where the discovery of a Book of the Dead unwittingly summon up dormant demons which possess the youngsters one-by-one.
16.
Redneck Zombies (1989)
1h 24m Horror Comedy
A barrel of radioactive waste is lost out in the woods. Some demented rednecks find it and use it as part of their still. Everybody who drinks from the liquor they produced turns into a zombie.
17.
Knight of the Dead (2013)
1h 18m Fantasy Action Horror
Hunted by raiders, a band of crusading knights escort the holy grail through a valley of black death where they must hack and slash their way to freedom.
18.
Return of the Living Dead: Necropolis (2005)
1h 28m Horror Comedy
A group of teenagers who, in an attempt to rescue their friend from an evil corporation, end up releasing a horde of blood thirsty zombies.
19.
Hide and Creep (2004)
1h 25m Comedy Horror Science Fiction
Residents of a small Southern town contend with bloodthirsty zombies, a mysterious flying saucer, and bad television reception.
1h 45m Science Fiction Horror Fantasy
Two thieves (Rodney Rowland, Kevin Patrick Walls) compete with a madman in their search for an ancient relic which can create an army of evil souls.
21.
Dead Moon Rising (2007)
1h 33m Action Adventure Comedy Horror
A mysterious disease overtakes the world, and the infected develop a hankering for human flesh. Jim and his fellow Cheapskate Car Rental clerks are oblivious to the changes going on right outside their door, until it literally gets right in their faces. Jim struggles with disgruntled customers, hordes of cannibals, the barely legal April, his certifiable ex-girlfriend Vix (the sexy "Terminatrix"), reconciling issues with his brother, an aversion to guns, and the "pants thing." Can Jim pull it together and rally Louisville's remaining bike gangs and defeat the infected hordes? Maybe with the help of 1000 rounds a minute minigun...
1h 19m Horror Thriller Comedy
A group of college students break into an abandoned convent and become possessed by demonic spirits.
23.
Dead & Deader (2006)
2h 31m Adventure Fantasy Action
Captain Jack Sparrow works his way out of a blood debt with the ghostly Davy Jones to avoid eternal damnation.
24.
Humans vs Zombies (2011)
1h 45m Comedy Horror Science Fiction Thriller
Students on summer break are exposed to a deadly virus that is spread rapidly through direct human contact. The infected become enslaved by the invading "swarm" intelligence and driven by an insatiable appetite to consume human flesh. Returning home, the students spread the infection to their fellow classmates and other unsuspecting townspeople.
25.
Bong of the Dead (2011)
1h 31m Action Comedy Horror
When the world is taken over by flesh eating zombies, best friends Tommy and Edwin figure out a way to benefit from it by turning zombies into fertilizer for growing potent weed! There will be bud.
26.
Osombie: The Axis of Evil Dead (2012)
1h 29m Horror Thriller Comedy Action
A search and recovery team heads into the haunted swamp to pick up the pieces and Marybeth learns the secret to ending the voodoo curse that has left Victor Crowley haunting and terrorizing Honey Island Swamp for decades.
explore
Check out more list from our community