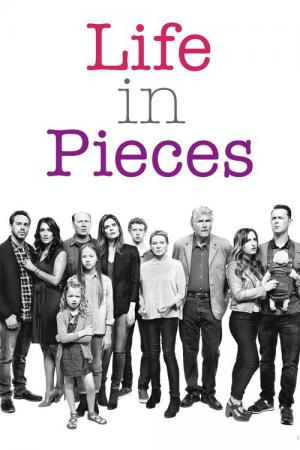 18 Best Shows Like Life In Pieces ...
If you liked this film , you will probably love these too! In this collection we highlight some of the best films that share a very similar premise to '', and are worth checking out.
1.
American Housewife (2016)
21m Comedy
A family comedy narrated by Katie, a strong-willed mother, raising her flawed family in a wealthy town filled with perfect wives and their perfect offspring.
23m Comedy
Mackenzie "Mickey" Murphy is a hard-living, foul-mouthed, cigarette-smoking woman who moves to affluent Greenwich, CT to raise the spoiled kids of her wealthy sister who fled the country to avoid a federal indictment. She quickly learns what the rest of us already know - other people's children are awful.
30m Comedy Drama
Three Latinx cousins navigate their differences as they work to keep their grandfather's taco shop afloat in their rapidly gentrifying L.A. neighborhood.
22m Comedy
A time in Mark Feuerstein's adult life when he lived in apartment 9K in the building he grew up in, sandwiched between his parents' apartment, 9J; and his brother, sister-in-law and their baby's apartment, 9L and his attempts to set boundaries with his intrusive but well-meaning family.
21m Comedy
Television lawyer Dean Sanderson moves back to his small home town after his hit series, "The Grinder," is canceled thinking his time on TV qualifies him to run his family's law firm.
6.
Wendell and Vinnie (2013)
22m Comedy Family
The series follows Vinnie Bassett, proprietor of a pop culture memorabilia store who only takes breaks to read comic books and play video games. His bachelor life comes to a halt when he assumes guardianship of his incredibly intelligent and mature nephew, Wendell. They soon find that 12-year-old Wendell may be just the parent Vinnie needs.
30m Family Comedy Drama
The story of David Hobbs, who has spent the last decade playing the perfect father on one of TV's biggest sitcoms. But when the series ends and his wife resumes her own television career, he finds himself cast in his most challenging role to date: handling the day-to-day needs of three kids who've grown accustomed to not having him around. David soon learns that playing a dad on TV is child's play compared to the real thing.
8.
The Expanding Universe of Ashley Garcia (2020)
30m Comedy
15-year-old scientist Ashley Garcia explores the great unknown of modern teendom after moving across the country to pursue a career in robotics.
22m Comedy
A disgraced New York politician who was the city's youngest city councilman in history until he was brought down by a public intoxication incident gets an opportunity to rebuild his life when he is hired by a group of immigrants who hope to become American citizens.
10.
Better With You (2010)
22m Comedy
Maddie and Ben have been dating for nine years and they know each other inside and out. Maddie's younger sister, Mia, has been dating Casey for seven weeks. With a shared c'est la vie attitude, Mia and Casey announce they're getting married and having a baby. It's news that throws Maddie for a loop. Surprisingly, the girls' parents, who have recently adopted a carpe diem sort of philosophy, couldn't be more pleased.
11.
Growing Up Fisher (2014)
22m Comedy
It's not every family that's brought closer together by divorce, but then again, the Fishers are anything but typical.
12.
Me, Myself & I (2017)
22m Comedy
A comedy examines one man's life over a 50-year span. It explores three distinct periods in his life - as a 14-year-old in 1991, a 40-year-old in present day and a 65-year-old in 2042.
13.
The Jim Gaffigan Show (2015)
23m Comedy
Comedy about a husband and wife trying to raise their five kids in a New York two-bedroom apartment.
22m Comedy
The daily mishaps of a married woman and her semi-dysfunctional family and their attempts to survive life in general in the city of Orson, Indiana.
16.
Happy Anniversary (2018)
1h 18m Romance Comedy
A quirky couple spends their three-year dating anniversary looking back at their relationship and contemplating whether they should break up.
17.
The Great Indoors (2016)
21m Comedy
An adventure reporter must adapt to the times when he becomes the boss to a group of millennials in the digital department of the magazine.
explore
Check out more list from our community