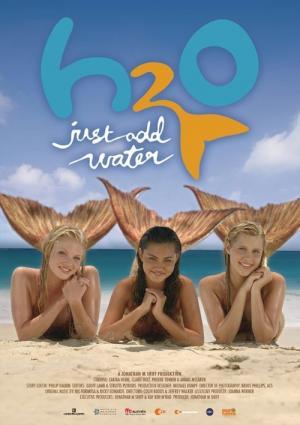 11 Best Shows Like H ...
If you liked this film , you will for sure love these too! In this selection we highlight some of the best films that share a very similar mood to 'H2O: Just Add Water', and are worth checking out.
1.
The Thirteenth Year (1999)
1h 35m TV Movie Adventure Comedy Family
A teen learns that his birth mother is a mermaid after he begins to grow fins and slimy scales on his thirteenth birthday.
2.
Every Witch Way (2014)
30m Comedy Sci-Fi & Fantasy
The series follows 14-year-old Emma Alonso, as she moves to Miami and her life turns upside-down. Not only does she discover that she is a witch, she also has a crush on the boy next door, Daniel. But Daniel's ex-girlfriend Maddie, who is an 'evil witch' and leader of the school clique the 'Panthers', is still willing to fight for the boy she loves.
15m Drama Fantasy Thriller
A fishing crew lands the ultimate catch: A mermaid. Captive and sold to the highest bidder, she is left in the care of a boy who takes it upon himself to return her to sea. Throughout her journey, we are exposed to the best and worst of the human condition.
1h 44m Fantasy Romance Family Comedy
Two teenage girls discover that mermaids really do exist after a violent storm washes one ashore. The mermaid, a sassy creature named Aquamarine, is determined to prove to her father that real love exists, and enlists the girls' help in winning the heart of a handsome lifeguard.
1h 30m Fantasy Drama Family
The story about Abby Jensen, a girl who's been eager to reach her 16th birthday and has kept a secret wish list since she was a little girl. When the Big Day actually arrives, utter disaster strikes, leaving Abby to think her birthday is ruined. But when a mysterious box of magical birthday candles arrives to turn things around, Abby's 16 Wishes start to come true. Her day gets better and better...until she makes one wish that threatens to change everything.
7.
The Secret Circle (2011)
42m Drama Sci-Fi & Fantasy
After her mother dies in a fire, Cassie Blake moves in with her grandmother in the small town of Chance Harbor, Washington. As she gets to know her high school classmates, strange and frightening things begin to happen. They are all descended from powerful witches, and they've been waiting for Cassie to join them and complete a new generation of the Secret Circle. What they don't yet know is that darker powers are at play and that Cassie's mother's death might not have been an accident.
8.
Vampire Academy (2014)
1h 44m Comedy Action Fantasy
Rose, a rebellious half-vampire/half-human guardian-in-training and her best friend, Lissa -- a mortal, royal vampire Princess - have been on the run when they are captured and returned to St. Vladamirs Academy, the very place where they believe their lives may be in most jeopardy. Rose will sacrifice everything to protect Lissa from those who intend to exploit her from within the Academy walls and the Strigoi (immortal, evil vampires) who hunt her kind from outside its sanctuary.
9.
Scales: Mermaids Are Real (2017)
1h 32m Fantasy Adventure Family
Siren has lived her life thinking she's an ordinary girl, in an ordinary town. On her 12th birthday, she learns that she's far from ordinary.
10.
Vampire Sisters (2012)
1h 37m Family Fantasy
Keeping secrets can be difficult, especially when you're a twelve-year-old half-vampire moving from Transylvania to a new life in Germany. Going to school, making new friends and fitting in — it's all tough when you can't just be yourself. With a vampire father and a human mother, sisters Dakaria (Daka) and Silvania don't live in your typical blended family. Each girl embraces a different side of her genetic makeup: Daka wishes she was 100% vampire; Silvania wishes she was 100% human; and both believe they can finally realize their hearts' desires when the opportunity to change presents itself. Will Daka and Silvania realize that, sometimes, your uniqueness is your greatest strength?
30m Action & Adventure Sci-Fi & Fantasy
Four teenage boys get lost in the forest and discover, when they return home, that they are in an alternate world identical to theirs except for one startling difference - they were never born.
explore
Check out more list from our community