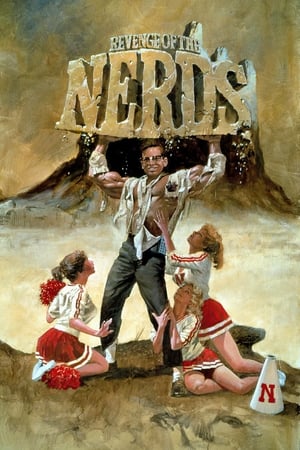 30 Best Movies Like Revenge Of The Nerds ...
If you liked this movie , you will definitely love these too! In this list we highlight some of the best films that share a very similar mood to '', and are worth checking out.
1.
Revenge of the Nerds II: Nerds in Paradise (1987)
1h 38m Comedy
The members of the Lambda Lambda Lambda fraternity travel to Fort Lauderdale for a fraternity conference. They'll have to beat off the attacks of their rival frat, the Alphas, if they want to maintain their self-respect -- and, of course, if they want to get anywhere with the pretty girls!
2.
Revenge of the Nerds III: The Next Generation (1992)
1h 33m Comedy
The nerds are now in control of the university, as a result of Lewis Skolnick and the rest's actions in the two previous movies. A new generation of sportsmen arrive, however, determined on winning the school back. The principle, himself an ex-nerd fighter, helps them, and the nerds return to suppression. Harold Skolnick needs help from his uncle Lewis, the hero of the first two movies. Lewis, however, are not too proud of his nerd past, and won't reveal any of it, much less help his nephew. However, his wife makes him change his mind, and with help from his friends from the first two movies, they start the fight to win the school back, using classic nerd tricks.
1h 49m Comedy
At a 1962 College, Dean Vernon Wormer is determined to expel the entire Delta Tau Chi Fraternity, but those troublemakers have other plans for him.
1h 28m Comedy Family
Nerdy high school senior Dizzy Harrison has finally gotten lucky -- after purposely getting expelled, he takes lessons in 'badass cool' from a convict and enrolls at a new school. But can he keep up the ruse?
1h 25m Comedy
Erik, Ryan, and Cooze start college and pledge the Beta House fraternity, presided over by none other than legendary Dwight Stifler. But chaos ensues when a fraternity of geeks threatens to stop the debauchery and the Betas have to make a stand for their right to party.
1h 33m Comedy
After being falsely accused of stealing the budget for their annual cocktail cruise, three very different fraternity brothers are kicked out of their dorm. In order to clear their name and to secure their future careers, the three dress up in drag and pledge the sorority next door where they learn a few valuable - and hilarious - lessons about themselves and the female species.
1h 36m Comedy
Bob McGraw is in his 12th year of college, goofing his way through life. Bob, Irwing, Gonzer and Max are the four losers forced and bribed to represent their university in an intercollegiate raft race. Forced and bribed into this role, they make some friends, the lovely Heather Merriweather, but mostly enemies, among others a whole team of marines, and preppy IVY-leaguers determined to win.
1h 34m Comedy
Everyone has 'moved on', except for Sherman and Jim Levenstein's still understanding father. Little Matt Stiffler wants to join his older brother Steve's business and, after everything Matt has heard from Jim's band-geek wife, he plans to go back to band camp and make a video of his own.
1h 33m Comedy
When Scott learns that his longtime cyber-buddy from Berlin is a gorgeous young woman, he and his friends embark on a trip across Europe.
1h 37m Comedy
A couple with a newborn baby face unexpected difficulties after they are forced to live next to a fraternity house.
1h 34m Comedy
A wild weekend is in store for three high school seniors who visit a local college campus as prospective freshmen.
13.
The Naked Mile (2006)
1h 37m Comedy
When Erik Stifler realizes that he's the only Stifler family member who might graduate high school a virgin, he decides to live up to his legacy. After some well-meaning advice from Jim's dad, Erik's ready to take his chances at the annual and infamous Naked Mile race, where his devoted friends and some uninhibited sorority girls will create the most outrageous weekend ever.
14.
Fraternity Vacation (1985)
1h 34m Comedy Romance
A nerd gains the friendship of two of his frat brothers when his dad offers them his condo for the week in Palm Springs, and also offers the fraternity a hot tub and jacuzzi if they can help his son find a girl. They meet two guys from a rival fraternity, and make a bet on who can nail the Designated Babe first.
15.
Porky's II: The Next Day (1983)
1h 38m Comedy
When the students of Angel Beach High decide to stage "An Evening With Shakespeare," their efforts are threatened by Miss Balbricker, who views the works of Shakespeare as obscene. She enlists the help of Reverend Bubba Flavel, a religious fanatic who brings along his flock of followers to pressure the school into shutting down the production.
16.
Everybody Wants Some!! (2016)
1h 56m Comedy
A comedy that follows a group of friends as they navigate their way through the freedoms and responsibilities of unsupervised adulthood.
1h 33m Comedy Adventure
From the director of the Hangover trilogy and Joker, Road Trip is a raunchy college comedy classic. After an Ithaca college student films his one-night stand with a beautiful sorority girl, he discovers one of his friends has accidentally mailed the homemade porn tape to his girlfriend. In a frenzy, he must borrow a car and hit the road in a desperate bid to intercept the tape. Featuring a talented cast that includes Breckin Meyer, Rachel Blanchard, Seann William Scott, Amy Smart, Fred Ward, Tom Green, Anthony Rapp, Andy Dick, and Ethan Suplee.
1h 24m Comedy
Ricky is the hottest water-ski instructor around and has just been rehired by his former employer/camp to whip up attendance. Unfortunately, the camp is in serious financial trouble. The owner of a rival, more popular camp wants to buy them out. Therefore they will have to engage in a mean, winner-takes-all competition that will settle the score once and for all.
19.
The Pom Pom Girls (1976)
20.
American Pie 2 (2001)
1h 48m Comedy Romance
After a year apart - attending different schools, meeting different people - the guys rent a beach house and vow to make this the best summer ever. As it turns out, whether that will happen or not has a lot to do with the girls. Between the wild parties, outrageous revelations and yes, a trip to band camp, they discover that times change and people change, but in the end, it's all about sticking together.
21.
Fraternity House (2008)
1h 22m Comedy
Fraternity House is a 24 hour look inside fraternity life. Set on the last day of the school year graduating seniors Jake and Evan have one day to figure out how to stay on campus for a fifth year. With the help of 8th year senior and fraternity legend Greg "Fossil" Karanowski they constantly get themselves into more and more trouble.
1h 35m Comedy Romance
At a high-school party, four friends find that losing their collective virginity isn't as easy as they had thought. But they still believe that they need to do so before college. To motivate themselves, they enter a pact to all "score" by their senior prom.
1h 32m Comedy
Tripper is the head counselor at a budget summer camp called Camp Northstar. In truth, he's young at heart and only marginally more mature than the campers themselves. Tripper befriends Rudy, a loner camper who has trouble fitting in. As Tripper inspires his young charges to defeat rival Camp Mohawk in the annual Olympiad competition, Rudy plays matchmaker between Tripper and Roxanne, a female counselor at Northstar.
24.
Private Resort (1985)
1h 22m Comedy
Jack and his buddy Ben check in at a posh Florida resort, planning to spend every hour in hot pursuit of gorgeous babes. But their plans hit a major detour when they try to bed the wife of a conniving jewel thief. They'll have to outsmart him, a nasty security guard and an obnoxious jock if they're ever going to get a moment alone with the girls of their dreams!
25.
Assault of the Party Nerds (1989)
26.
American Pie Presents the Book of Love (2009)
1h 33m Comedy
Ten years after the first American Pie movie, three new hapless virgins discover the Bible hidden in the school library at East Great Falls High. Unfortunately for them, the book is ruined, and with incomplete advice, the Bible leads them on a hilarious journey to lose their virginity.
27.
Private School (1983)
1h 29m Comedy Romance
Private-school student Christine loves Jim. But her classmate, Jordan, is also vying for Jim's attention and trying to end his relationship with Christine. Meanwhile, Jim's friend Bubba embarks on a series of sexual escapades, including dressing up as a woman to access the girls' locker room. Despite Jim and Christine's efforts to spend some time alone, various shenanigans and schemes interfere.
1h 33m Comedy
A high school slacker who's rejected by every school he applies to opts to create his own institution of higher learning, the South Harmon Institute of Technology, on a rundown piece of property near his hometown.
1h 28m Comedy
When two freshmen pledges are accepted into the biggest party frat on campus, they think they have it all. That is, until the assistant dean forces the Alphas to share their house with a sorority or face expulsion from school. Not wanting to see their lifelong dream of becoming Alphas destroyed, the pledges convince the other members of the house to take back what's theirs, waging an epic battle of the sexes to fight for their right to party.
explore
Check out more list from our community