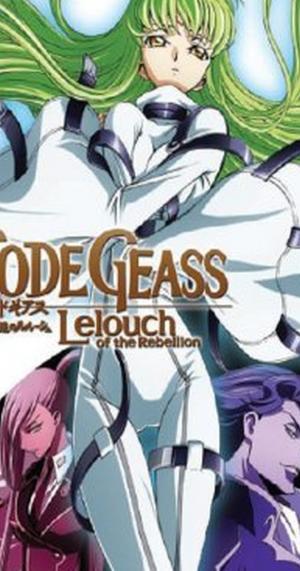 14 Best Shows Like Code Geass ...
If you liked this movie , you will definitely love these too! In this collection we highlight some of the best films that share a very similar mood to '', and are worth checking out.
24m Animation Sci-Fi & Fantasy Action & Adventure
The story revolves around Shu Ouma, a high school boy who inadvertently obtains an ability called "The Power of the Kings" that enables him to draw out items called "Voids" from other people. He is then thrown into the conflict between a resistance group called Funeral Parlor which aims to restore Japan's independence from a quasi-governmental organization known as the GHQ. In the process, Shu has to deal with the burden his ability puts on his shoulders and the horrific mystery of his past.
3.
Neon Genesis Evangelion (1995)
25m Sci-Fi & Fantasy Animation Drama
At the turn of the century, the Angels returned to Earth, seeking to wipe out humanity in an apocalyptic fury. Devastated, mankind's last remnants moved underground to wait for the day when the Angels would come back to finish the job. Fifteen years later, that day has come... but this time, humanity is ready to fight back with terrifying bio-mechanical weapons known as the Evangelions. Watch as Shinji, Rei, Asuka and the rest of the mysterious shadow agency Nerv battle to save earth from total annihilation.
25m Animation Action & Adventure Sci-Fi & Fantasy
In 1972, the Apollo 17 mission discovered a hypergate to Mars on the surface of the moon. Soon a war breaks out between Earth and Mars, and Martian soldiers begin to descend from the sky, riding steel giants, intent on exterminating humanity.
5.
The Irregular at Magic High School (2014)
24m Action & Adventure Animation Sci-Fi & Fantasy
In a world where magic is not a fairy tale but has existed for one hundred years siblings Tatsuya and Miyuki Shiba prepare to begin their studies at the elite Private Magic University Affiliated High School (Magic High School for short). Entering on different levels of the academic spectrum the two turn the once peaceful campus into a chaotic one.
6.
Darker Than Black (2007)
25m Action & Adventure Animation Mystery Sci-Fi & Fantasy
Ten years ago, a mysterious spatial anomaly now known as "Heaven's Gate" appeared in South America, shortly followed by the opening of "Hell's Gate" in Tokyo altering the sky and wreaking havoc on the landscape. The real stars disappeared, replaced by false stars. During this time, people possessing various special abilities — called "Contractors" — emerged, each capable of different supernatural feats. Following the disastrous Heaven's War, the United States lost its dominant position as a superpower to a mysterious organization named the Syndicate. The story revolves around a Chinese contractor codenamed "Hei" as he undertakes various espionage and assassination missions in Tokyo.
7.
The Count of Monte Cristo (2004)
8.
Fullmetal Alchemist: Brotherhood (2009)
25m Action & Adventure Animation Sci-Fi & Fantasy
Edward and Alphonse Elric's reckless disregard for alchemy's fun­damental laws ripped half of Ed's limbs from his body and left Al's soul clinging to a cold suit of armor. To restore what was lost, the brothers scour a war-torn land for the Philosopher's Sto­ne, a fabled relic which grants the ability to perform alchemy in impossible ways.The Elrics are not alone in their search; the corrupt State Military is also eager to harness the artifact's power. So too are the strange Homunculi and their shadowy creator. The mythical gem lures exotic alchemists from distant kingdoms, scarring some deeply enough to inspire murder. As the Elrics find their course altered by these enemies and allies, their purpose remains unchanged – and their bond unbreakable.
9.
Spirit Devourer: Zero (2008)
10.
Gunslinger Girl (2003)
25m Action & Adventure Animation Drama
The Social Welfare Agency saves the lives of terminal patients using cybernetic implants. Then it teaches them to kill. After surviving the slaughter of her family, young Henrietta awakens to her new life at the Agency with a rebuilt body and no memory. Teamed with Jose, who is responsible for turning her into the perfect assassin, Henrietta's been given a second chance—but at what cost?
11.
Karas: The Revelation (2007)
1h 25m Animation Fantasy Action
Karas: The Revelation is about the battle between supernatural forces on the streets of modern-day Japan. The Revelation covers the true identity of newly-minted Karas (spiritual protector of humanity from demonic forces) Otaha, who returns to his hometown to rescue a friend from gangsters. Meanwhile, evil Karas Eko continues his campaign of terror against mankind with the aid of a multi-headed dragon summoned by the powers of rogue demon Nue.
12.
Evangelion: 3.0 You Can (2012)
1h 36m Animation Science Fiction Action Drama
Fourteen years after Third Impact, Shinji Ikari awakens to a world he does not remember. He hasn't aged. Much of Earth is laid in ruins, NERV has been dismantled, and people who he once protected have turned against him. Befriending the enigmatic Kaworu Nagisa, Shinji continues the fight against the angels and realizes the fighting is far from over, even when it could be against his former allies. The characters' struggles continue amidst the battles against the angels and each other, spiraling down to what could inevitably be the end of the world.
24m Animation Action & Adventure Sci-Fi & Fantasy
In the distant future, mankind has lived quietly and restlessly underground for hundreds of years, subject to earthquakes and cave-ins. Living in one such village are 2 young men: one named Simon who is shy and naïve, and the other named Kamina who believes in the existence of a "surface" world above their heads.
explore
Check out more list from our community