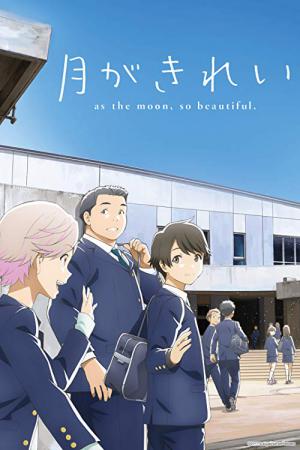 14 Best Anime Like Wallflower ...
If you liked this film , you will definitely love these too! In this collection we highlight some of the best films that share a very similar mood to 'As the Moon, So Beautiful', and are worth checking out.
25m Animation Comedy Romance
Sakamachi Kinjiro discovers that the most popular student in their school, Subaru Konoe—the butler of the headmaster's daughter, Kanade Suzutsuki—is actually a girl.
2.
My Love Story!! (2015)
24m Animation Comedy
Takeo Godau is a giant guy with a giant heart. Too bad the girls don't want him! (They always go for his good-looking best friend, Makoto Sunakawa.) Used to being on the sidelines, Takeo simply stands tall and accepts his fate. But one day when he saves a girl named Rinko Yamato from a harasser on the train, his (love!) life suddenly takes an incredible turn! Takeo can hardly believe it when he crosses paths with Rinko again, and he finds himself falling in love with her... But with handsome Suna around, does Takeo even stand a chance?
24m Comedy Drama Animation
After a family tragedy turns her life upside down, 16-year-old high school student Tohru Honda takes matters into her own hands and moves out… into a tent! Unfortunately for her, she pitches her new home on private land belonging to the mysterious Soma clan, and it isn't long before the owners discover her secret. But, as Tohru quickly finds out when the family offers to take her in, the Somas have a secret of their own—when hugged by the opposite sex, they turn into the animals of the Chinese Zodiac!
25m Animation Comedy Drama
Maiku Kamishiro grew up in an orphanage with no history of his family or of his past. Left with only a childhood picture of himself and another person in front of a house, he believes that the other person in the picture is his long lost twin sister. Upon discovering his old home, two young girls show up on his doorstep one day both claiming to be his long lost sister.
5.
The Quintessential Quintuplets (2019)
24m Animation Comedy Drama
Fuutarou Uesugi is a poor, antisocial ace student who one day meets the rich transfer student Itsuki Nakano. They argue but when Uesugi realizes he is to be her tutor, he tries to get on better terms. While trying to do so he meets four other girls.
6.
Love, Chunibyo & Other Delusions (2012)
24m Animation Comedy Drama
As one of the thousands of Japanese students afflicted with "chunibyo," a state where they're so desperate to stand out that they've convinced themselves that they have secret knowledge and hidden powers, Yuta spent most of his middle school years living in a complete fantasy world. He's finally managing to overcome his delusions but his chunibyo have attracted the attentions of another sufferer, and she's decided that this makes him her soul mate.
7.
Kanon at the End of the Dream (2006)
24m Animation Comedy Drama
Tohru Honda is 16 year old orphaned girl who gets invited to live in the house of her classmate, the handsome boy Sohma Yuki, and his cousins, 16 year old Kyo and 27 year old Shigure. However, these young men and parts of the rest of their family (both close and distant) hold a curse; if they are hugged by the opposite gender, they transform into animals of the Chinese Zodiac. Everyday is an adventure for sweet Tohru, as she gets to know everyone in the large family better (especially Yuki and Kyo), in both common and bizarre situations. But, the Sohma Family curse is certainly no laughing matter... it also holds horrible cruelty and heartbreak.
24m Animation Comedy Drama Sci-Fi & Fantasy
Tokyo is abuzz with persocoms – humanoid computers that are virtually perfect. The socially and technologically inept Hideki is dying to get his hands on one. When he finds Chii abandoned in the trash, she's cuter than any current model he's ever seen before. But when he gets her home and turns her on, she has no data and only a single learning program installed. While Hideki puts his whole heart into teaching Chii the ins and outs of humanity, a mystery unfolds as a dark secret within her awakens.
10.
Heaven and Earth (2004)
25m Animation Action & Adventure Comedy
The story primarily focuses on the members of the Juken Club and their opposition, the Executive Council, which is the ruling student body of a high school that educates its students in the art of combat. As the story unfolds, both groups become increasingly involved with an ongoing battle that has been left unresolved for four hundred years.
11.
O Maidens In Your Savage Season (2019)
24m Animation Comedy Drama
The girls in a high school literature club do a little icebreaker to get to know each other: answering the question, "What's one thing you want to do before you die?" One of the girls blurts out, "Sex." Little do they know, the whirlwind unleashed by that word pushes each of these girls, with different backgrounds and personalities, onto their own clumsy, funny, painful, and emotional paths toward adulthood.
24m Comedy Animation Action & Adventure
The year is 1991 and 6th grader Yaguchi Haruo only has video games to live for. He's not popular in school and he's neither handsome, funny, nice nor even friendly. The only thing he has going for him is that he is good at video games. One day at the local arcade, he plays Oono Akira, a fellow classmate but who's popular, smart, pretty and a rich girl that absolutely destroys him at Street Fighter II. Not only does he lose to her 30 times in a row, he can't beat her at any game. Haruo can't seem to shake Akira off as she follows him from arcade to arcade everyday after school and beats him every time. As weird as it sounds, the odd couple begins a strange bond and friendship.
22m Animation Comedy Drama
Keitaro and his childhood sweetheart make a promise to be accepted at and to meet each other at the prestigous Toudai University before she moved out of his life. About a decade later, Keitaro has become an artist and a daydreamer, having ranked 27th from the last in the national practice exam. When his grandmother leaves the all-girls dormitory, he becomes the residential manager and soon meets up with two Todai applicants who may have been that sweetheart, since he`s forgotten her name. Then there the other tenants like young Shinobu who was in despair until Keitaro helped her, Motoko the swordsmaster who sees men as evil distractions, Su Kaolo the genius child inventor and the sneaky Kitsune.
explore
Check out more list from our community