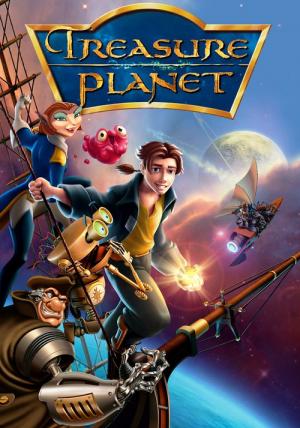 28 Best Movies Like Treasure Planet ...
If you liked this film , you will probably love these too! In this collection we highlight some of the best films that share a very similar premise to '', and are worth checking out.
1.
Atlantis: The Lost Empire (2001)
1h 35m Animation Family Adventure Science Fiction
The world's most highly qualified crew of archaeologists and explorers is led by historian Milo Thatch as they board the incredible 1,000-foot submarine Ulysses and head deep into the mysteries of the sea. The underwater expedition takes an unexpected turn when the team's mission must switch from exploring Atlantis to protecting it.
1h 34m Animation Action Science Fiction Family Adventure
A young man finds out that he holds the key to restoring hope and ensuring survival for the human race, while an alien species called the Drej are bent on mankind's destruction.
3.
Sinbad: Legend of the Seven Seas (2003)
1h 30m Family Animation Adventure Comedy Fantasy Action
The sailor of legend is framed by the goddess Eris for the theft of the Book of Peace, and must travel to her realm at the end of the world to retrieve it and save the life of his childhood friend Prince Proteus.
1h 26m Animation Family Adventure Action Science Fiction Comedy
In the small town of Rockwell, Maine in October 1957, a giant metal machine befriends a nine-year-old boy and ultimately finds its humanity by unselfishly saving people from their own fears and prejudices.
5.
The Road to El Dorado (2000)
1h 29m Family Adventure Animation Comedy Action
After a failed swindle, two con-men end up with a map to El Dorado, the fabled "city of gold," and an unintended trip to the New World. Much to their surprise, the map does lead the pair to the mythical city, where the startled inhabitants promptly begin to worship them as gods. The only question is, do they take the worshipful natives for all they're worth, or is there a bit more to El Dorado than riches?
6.
Harlock: Space Pirate (2013)
1h 55m Animation Science Fiction
Space Pirate Captain Harlock and his fearless crew face off against the space invaders who seek to conquer the planet Earth.
7.
Castle in the Sky (1986)
2h 5m Adventure Fantasy Animation Action Family Romance
A young boy and a girl with a magic crystal must race against pirates and foreign agents in a search for a legendary floating castle.
8.
Atlantis: Milo's Return (2003)
1h 10m Fantasy Animation Science Fiction Family Action
Milo and Kida reunite with their friends to investigate strange occurances around the world that seem to have links to the secrets of Atlantis.
1h 42m Adventure Family Animation Action Comedy
The special bond that develops between plus-sized inflatable robot Baymax, and prodigy Hiro Hamada, who team up with a group of friends to form a band of high-tech heroes.
10.
Star Wars: The Clone Wars (2008)
25m Action & Adventure Animation Sci-Fi & Fantasy
Yoda, Obi-Wan Kenobi, Anakin Skywalker, Mace Windu and other Jedi Knights lead the Grand Army of the Republic against the droid army of the Separatists.
11.
The Adventures of Tintin (2011)
1h 47m Adventure Animation Mystery
From Academy Award® ,winning filmmakers Steven Spielberg and Peter Jackson comes the epic adventures of Tintin. Racing to uncover the secrets of a sunken ship that may hold a vast fortune, but also an ancient curse ,Tintin and his loyal dog Snowy embark on an action-packed journey around the world that critics are calling.
1h 38m Animation Family Science Fiction
WALL·E is the last robot left on an Earth that has been overrun with garbage and all humans have fled to outer space. For 700 years he has continued to try and clean up the mess, but has developed some rather interesting human-like qualities. When a ship arrives with a sleek new type of robot, WALL·E thinks he's finally found a friend and stows away on the ship when it leaves.
13.
Meet the Robinsons (2007)
1h 35m Animation Comedy Family
Lewis, a brilliant young inventor, is keen on creating a time machine to find his mother, who abandoned him in an orphanage. Things take a turn when he meets Wilbur Robinson and his family.
14.
Star Wars Rebels (2014)
22m Action & Adventure Animation
Set between the events of Star Wars: Episodes III and IV, the story unfolds during a dark time when the evil Galactic Empire is tightening its grip of power on the galaxy. Imperial forces have occupied a remote planet and are ruining the lives of its people. The motley but clever crew of the starship Ghost — cowboy Jedi Kanan, ace pilot Hera, street-smart teenager Ezra, the "muscle" Zeb, warrior firebrand Sabine, and cantankerous old astromech droid Chopper — is among a select few who are brave enough to stand against the Empire. Together, they will face threatening new villains, encounter colorful adversaries, embark on thrilling adventures, and become heroes with the power to ignite a rebellion.
1h 36m Animation Comedy Family Adventure
Carl Fredricksen spent his entire life dreaming of exploring the globe and experiencing life to its fullest. But at age 78, life seems to have passed him by, until a twist of fate (and a persistent 8-year old Wilderness Explorer named Russell) gives him a new lease on life.
16.
The Incredibles (2004)
1h 55m Action Adventure Animation Family
Bob Parr has given up his superhero days to log in time as an insurance adjuster and raise his three children with his formerly heroic wife in suburbia. But when he receives a mysterious assignment, it's time to get back into costume.
17.
Rise of the Guardians (2012)
1h 37m Family Animation Fantasy Action Adventure
When an evil spirit known as Pitch lays down the gauntlet to take over the world, the immortal Guardians must join forces for the first time to protect the hopes, beliefs and imagination of children all over the world.
1h 42m Animation Adventure Family Fantasy
A teenager finds herself transported to a deep forest setting where a battle between the forces of good and the forces of evil is taking place. She bands together with a rag-tag group characters in order to save their world—and ours.
1h 47m Adventure Comedy Family Animation
In Ancient Polynesia, when a terrible curse incurred by Maui reaches an impetuous Chieftain's daughter's island, she answers the Ocean's call to seek out the demigod to set things right.
1h 30m Animation Science Fiction Adventure Fantasy Music
The embodiment of ultimate evil, a glowing orb terrorizes a young girl with bizarre stories of dark fantasy, eroticism and horror.
21.
Wander Over Yonder (2013)
11m Family Comedy Sci-Fi & Fantasy Animation
The adventures of Wander, an eternally-optimistic intergalactic traveler and constant do-gooder, and his quick-tempered but loyal steed and best friend, Sylvia. The friendliest face in outer space, Wander journeys across the galaxies to spread good cheer and to help anyone he can — much to his overly pragmatic stallion's chagrin. Their fun-loving escapades often lead them to clash with the evil villain Lord Hater and his army of Watchdogs, who travel from planet to planet trying to make hate the order of the day. Together, the best friends travel through the cosmos, happening upon one freewheeling adventure after another and making new friends and foes.
22.
Buzz Lightyear of Star Command: The Adventure Begins (2000)
1h 10m Animation Family Comedy Science Fiction Adventure
Buzz Lightyear must battle Emperor Zurg with the help of three hopefuls who insist on being his partners.
23.
Kaena: The Prophecy (2003)
1h 25m Animation Adventure
Compelled by a mysterious force, Kaena, a rebellious, high-spirited teenage girl will defy the High Priest and her people's ancestral beliefs to take the perilous journey through the Axis and discover what dark secrets lie beyond the clouds.
24.
Tom and Jerry Blast Off to Mars! (2005)
1h 10m Animation Family
While carrying on their usual hi-jinks, they inadvertantly stow-away on a spaceship bound for Mars. They meet up with the local Martian residents and cause them to invade the Earth, aided by the "Invincitron", a vacuum-wielding giant robot. Tom, Jerry and their Martian ally, Peep, save the day.
1h 15m Animation Drama Family Science Fiction Mystery
On planet Perdide, an attack of giant hornets leaves Piel – a young boy – alone in a wrecked car with his dying father. A mayday message reaches their friend Jaffar, an adventurer travelling through space. On board Jaffar's shuttle are the renegade Prince Matton, his fiancée, and Silbad who knows the planet Perdide well. Thus begins an incredible race across space to save Piel.
26.
Monsters vs. Aliens (2009)
1h 34m Animation Family Adventure Science Fiction
When Susan Murphy is unwittingly clobbered by a meteor full of outer space gunk on her wedding day, she mysteriously grows to 49-feet-11-inches. The military jumps into action and captures Susan, secreting her away to a covert government compound. She is renamed Ginormica and placed in confinement with a ragtag group of Monsters...
27.
Return to Never Land (2002)
1h 12m Adventure Fantasy Animation Family
In 1940, the world is besieged by World War II. Wendy, all grown up, has two children; including Jane, who does not believe Wendy's stories about Peter Pan.
explore
Check out more list from our community