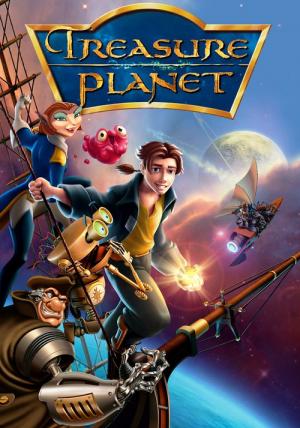 10 Best Movies Like Treasure Planet ...
If you liked this film , you will probably love these too! In this collection we highlight some of the best films that share a very similar mood to 'Treasure Planet', and are worth checking out.
1.
Atlantis: The Lost Empire (2001)
1h 35m Animation Family Adventure Science Fiction
The world's most highly qualified crew of archaeologists and explorers is led by historian Milo Thatch as they board the incredible 1,000-foot submarine Ulysses and head deep into the mysteries of the sea. The underwater expedition takes an unexpected turn when the team's mission must switch from exploring Atlantis to protecting it.
1h 34m Animation Action Science Fiction Family Adventure
A young man finds out that he holds the key to restoring hope and ensuring survival for the human race, while an alien species called the Drej are bent on mankind's destruction.
3.
Wander Over Yonder (2013)
11m Family Comedy Sci-Fi & Fantasy Animation
The adventures of Wander, an eternally-optimistic intergalactic traveler and constant do-gooder, and his quick-tempered but loyal steed and best friend, Sylvia. The friendliest face in outer space, Wander journeys across the galaxies to spread good cheer and to help anyone he can — much to his overly pragmatic stallion's chagrin. Their fun-loving escapades often lead them to clash with the evil villain Lord Hater and his army of Watchdogs, who travel from planet to planet trying to make hate the order of the day. Together, the best friends travel through the cosmos, happening upon one freewheeling adventure after another and making new friends and foes.
4.
Meet the Robinsons (2007)
1h 35m Animation Comedy Family
Lewis, a brilliant young inventor, is keen on creating a time machine to find his mother, who abandoned him in an orphanage. Things take a turn when he meets Wilbur Robinson and his family.
5.
Star Wars: The Clone Wars (2008)
25m Action & Adventure Animation Sci-Fi & Fantasy
Yoda, Obi-Wan Kenobi, Anakin Skywalker, Mace Windu and other Jedi Knights lead the Grand Army of the Republic against the droid army of the Separatists.
1h 26m Animation Family Adventure Action Science Fiction Comedy
In the small town of Rockwell, Maine in October 1957, a giant metal machine befriends a nine-year-old boy and ultimately finds its humanity by unselfishly saving people from their own fears and prejudices.
7.
Harlock: Space Pirate (2013)
1h 55m Animation Science Fiction
Space Pirate Captain Harlock and his fearless crew face off against the space invaders who seek to conquer the planet Earth.
1h 38m Animation Family Science Fiction
WALL·E is the last robot left on an Earth that has been overrun with garbage and all humans have fled to outer space. For 700 years he has continued to try and clean up the mess, but has developed some rather interesting human-like qualities. When a ship arrives with a sleek new type of robot, WALL·E thinks he's finally found a friend and stows away on the ship when it leaves.
1h 15m Animation Drama Family Science Fiction Mystery
On planet Perdide, an attack of giant hornets leaves Piel – a young boy – alone in a wrecked car with his dying father. A mayday message reaches their friend Jaffar, an adventurer travelling through space. On board Jaffar's shuttle are the renegade Prince Matton, his fiancée, and Silbad who knows the planet Perdide well. Thus begins an incredible race across space to save Piel.
10.
The Adventures of Tintin (2011)
1h 47m Adventure Animation Mystery
From Academy Award® ,winning filmmakers Steven Spielberg and Peter Jackson comes the epic adventures of Tintin. Racing to uncover the secrets of a sunken ship that may hold a vast fortune, but also an ancient curse ,Tintin and his loyal dog Snowy embark on an action-packed journey around the world that critics are calling.
explore
Check out more list from our community