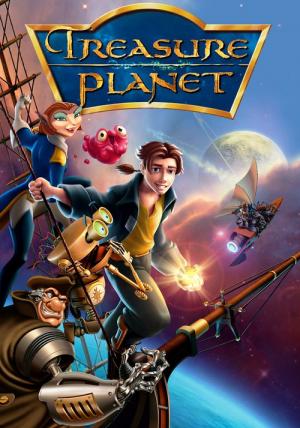 13 Best Movies Like Treasure Planet ...
If you liked this film , you will definitely love these too! In this list we highlight some of the best films that share a very similar mood to 'Treasure Planet', and are worth checking out.
1h 38m Animation Family Science Fiction
WALL·E is the last robot left on an Earth that has been overrun with garbage and all humans have fled to outer space. For 700 years he has continued to try and clean up the mess, but has developed some rather interesting human-like qualities. When a ship arrives with a sleek new type of robot, WALL·E thinks he's finally found a friend and stows away on the ship when it leaves.
1h 36m Animation Comedy Family Adventure
Carl Fredricksen spent his entire life dreaming of exploring the globe and experiencing life to its fullest. But at age 78, life seems to have passed him by, until a twist of fate (and a persistent 8-year old Wilderness Explorer named Russell) gives him a new lease on life.
1h 34m Animation Action Science Fiction Family Adventure
A young man finds out that he holds the key to restoring hope and ensuring survival for the human race, while an alien species called the Drej are bent on mankind's destruction.
4.
The Incredibles (2004)
1h 55m Action Adventure Animation Family
Bob Parr has given up his superhero days to log in time as an insurance adjuster and raise his three children with his formerly heroic wife in suburbia. But when he receives a mysterious assignment, it's time to get back into costume.
1h 30m Animation Science Fiction Adventure Fantasy Music
The embodiment of ultimate evil, a glowing orb terrorizes a young girl with bizarre stories of dark fantasy, eroticism and horror.
6.
The Road to El Dorado (2000)
1h 29m Family Adventure Animation Comedy Action
After a failed swindle, two con-men end up with a map to El Dorado, the fabled "city of gold," and an unintended trip to the New World. Much to their surprise, the map does lead the pair to the mythical city, where the startled inhabitants promptly begin to worship them as gods. The only question is, do they take the worshipful natives for all they're worth, or is there a bit more to El Dorado than riches?
1h 42m Animation Adventure Family Fantasy
A teenager finds herself transported to a deep forest setting where a battle between the forces of good and the forces of evil is taking place. She bands together with a rag-tag group characters in order to save their world—and ours.
8.
Rise of the Guardians (2012)
1h 37m Family Animation Fantasy Action Adventure
When an evil spirit known as Pitch lays down the gauntlet to take over the world, the immortal Guardians must join forces for the first time to protect the hopes, beliefs and imagination of children all over the world.
9.
Atlantis: The Lost Empire (2001)
1h 35m Animation Family Adventure Science Fiction
The world's most highly qualified crew of archaeologists and explorers is led by historian Milo Thatch as they board the incredible 1,000-foot submarine Ulysses and head deep into the mysteries of the sea. The underwater expedition takes an unexpected turn when the team's mission must switch from exploring Atlantis to protecting it.
1h 15m Animation Drama Family Science Fiction Mystery
On planet Perdide, an attack of giant hornets leaves Piel – a young boy – alone in a wrecked car with his dying father. A mayday message reaches their friend Jaffar, an adventurer travelling through space. On board Jaffar's shuttle are the renegade Prince Matton, his fiancée, and Silbad who knows the planet Perdide well. Thus begins an incredible race across space to save Piel.
1h 47m Adventure Comedy Family Animation
In Ancient Polynesia, when a terrible curse incurred by Maui reaches an impetuous Chieftain's daughter's island, she answers the Ocean's call to seek out the demigod to set things right.
12.
Star Wars Rebels (2014)
22m Action & Adventure Animation
Set between the events of Star Wars: Episodes III and IV, the story unfolds during a dark time when the evil Galactic Empire is tightening its grip of power on the galaxy. Imperial forces have occupied a remote planet and are ruining the lives of its people. The motley but clever crew of the starship Ghost — cowboy Jedi Kanan, ace pilot Hera, street-smart teenager Ezra, the "muscle" Zeb, warrior firebrand Sabine, and cantankerous old astromech droid Chopper — is among a select few who are brave enough to stand against the Empire. Together, they will face threatening new villains, encounter colorful adversaries, embark on thrilling adventures, and become heroes with the power to ignite a rebellion.
13.
Sinbad: Legend of the Seven Seas (2003)
1h 30m Family Animation Adventure Comedy Fantasy Action
The sailor of legend is framed by the goddess Eris for the theft of the Book of Peace, and must travel to her realm at the end of the world to retrieve it and save the life of his childhood friend Prince Proteus.
explore
Check out more list from our community