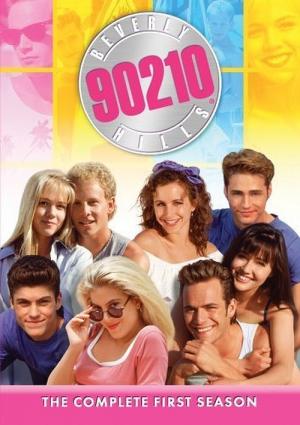 14 Best Shows Like Beverly Hills ...
If you liked this one , you will probably love these too! In this collection we highlight some of the best films that share a very similar premise to 'Beverly Hills, 90210', and are worth checking out.
40m Drama
90210 revolves around several students at the fictional West Beverly Hills High School, including new Beverly Hills residents Annie Wilson and Dixon Wilson. Their father, Harry Wilson, has returned from Kansas to his Beverly Hills childhood home with his family to care for his mother, former television and theater actress Tabitha Wilson, who has a drinking problem and clashes with his wife Debbie Wilson. Annie and Dixon struggle to adjust to their new lives while making friends and yet adhering to their parents' wishes.
30m Documentary Comedy
Keith Lemon's Very Brilliant World Tour is a travel-style comedy series hosted by Keith Lemon, a character portrayed by comedian Leigh Francis. The series was first announced during an appearance by Lemon on the Big Brother companion show Big Brother's Big Mouth in 2007. The series featured Lemon travelling around the world on a shark-shaped flight plan, visiting six different countries, and meeting various celebrity guests, including Spice Girls Mel B and Mel C, along the way.During the series, Paddy McGuinness played the role of Lemon's cousin Gary. The show premiered on 11 March 2008, attracting 565,000 viewers, and concluded on 15 April 2008.In May 2008, Francis announced that he would not be filming a second series in the near future, as he would be busy filming his panel show Celebrity Juice commencing in August 2008. The show was released on DVD on 3 November 2008. Francis announced in May 2011 that he would like to write and record a second series, but said he would struggle to find the time to do so.
42m Drama Mystery Comedy
An exclusive group of privileged teens from a posh prep school on Manhattan's Upper East Side whose lives revolve around the blog of the all-knowing albeit ultra-secretive Gossip Girl.
4.
The Perks of Being a Wallflower (2012)
1h 43m Drama
Pittsburgh, Pennsylvania, 1991. High school freshman Charlie is a wallflower, always watching life from the sidelines, until two senior students, Sam and her stepbrother Patrick, become his mentors, helping him discover the joys of friendship, music and love.
5.
The Spectacular Now (2013)
1h 35m Comedy Drama Romance
Sutter, a popular party animal, unexpectedly meets the introverted Aimee after waking up on a stranger's lawn. As Sutter deals with the problems in his life and Aimee plans for her future beyond school, an unexpected romance blossoms between them.
6.
High School Musical 3: Senior Year (2008)
1h 57m Comedy Drama Family Music Romance
It's almost graduation day for high school seniors Troy, Gabriella, Sharpay, Chad, Ryan and Taylor ― and the thought of heading off in separate directions after leaving East High has these Wildcats thinking they need to do something they'll remember forever. Together with the rest of the Wildcats, they stage a spring musical reflecting their hopes and fears about the future and their unforgettable experiences growing up together. Will their final show break them apart or bring them together for the greatest moment in Wildcat history?
1h 43m Drama Romance
A girl dying of leukemia compiles a list of things she'd like to do before passing away. Topping the list is her desire to lose her virginity.
8.
You'll Get Over It (2002)
2h 21m Drama Crime
A true story about Frank Abagnale Jr. who, before his 19th birthday, successfully conned millions of dollars worth of checks as a Pan Am pilot, doctor, and legal prosecutor. An FBI agent makes it his mission to put him behind bars. But Frank not only eludes capture, he revels in the pursuit.
42m Drama
In Tree Hill, North Carolina two half brothers share a last name and nothing else. Brooding, blue-collar Lucas is a talented street-side basketball player, but his skills are appreciated only by his friends at the river court. Popular, affluent Nathan basks in the hero-worship of the town, as the star of his high school team. And both boys are the son of former college ball player Dan Scott whose long ago choice to abandon Lucas and his mother Karen, will haunt him long into his life with wife Deb and their son Nathan.
10.
A Walk to Remember (2002)
1h 41m Drama Romance
When the popular, restless Landon Carter is forced to participate in the school drama production he falls in love with Jamie Sullivan, the daughter of the town's minister. Jamie has a "to-do" list for her life and also a very big secret she must keep from Landon.
44m Drama Soap
Melrose Place is an American primetime soap opera that aired on Fox from July 8, 1992, to May 24, 1999 for seven seasons. It follows the lives of a group of young adults living in a brownstone apartment complex on Melrose Place, in Los Angeles, California. The show was created by Darren Star for Fox and executive produced by Aaron Spelling for his company, Spelling Television. It is the second series in the Beverly Hills, 90210 franchise. Season one and season two were broadcast on Wednesday at 9pm, after Beverly Hills, 90210. In 1994, for its third season premiere, the show moved to Monday at 8pm.The show had many cast changes during the run. Thomas Calabro was the only original cast member to remain on the series throughout its entire run.The show earned several Golden Globe nominations and placed #51 on Entertainment Weekly's "New TV Classics" list.
44m Drama Comedy
Irreverent comedy drama which follows the messy lives, loves, delirious highs and inevitable lows of a group of raucous teenage friends in Bristol.
13.
The First Time (2012)
1h 35m Drama Comedy Romance
Dave, a high school senior, spends most of his time pining away over a girl he can't have. Aubrey, a junior with artistic aspirations, has a hot boyfriend who doesn't quite understand her or seem to care. Although they go to different schools, Dave and Aubrey find themselves at the same party. When both head outside to get some air, they meet. A casual conversation sparks an instant connection, and, over the course of a weekend, things turn magical, romantic, complicated, and funny as Aubrey and Dave discover what it's like to fall in love for the first time.
14.
Dawson's Creek (1998)
44m Drama
Dawson's Creek is an American teen drama that portrays the fictional lives of a close-knit group of teenagers through high school and college.
explore
Check out more list from our community