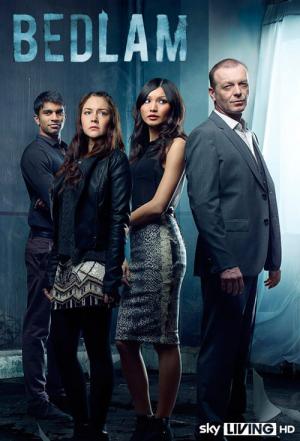 17 Best Beyond Reality Tv Series ...
If you liked this movie , you will definitely love these too! In this selection we highlight some of the best films that share a very similar premise to '', and are worth checking out.
1.
Kingdom Hospital (2004)
40m Drama Mystery Sci-Fi & Fantasy
Kingdom is a hospital whose bizarre population includes a brilliant surgeon who lives in the basement, a nearly blind security guard and a nurse who regularly faints at the sight of blood. But when patients and staff hear the voice of a girl crying through the halls and a patient destined for life as a paraplegic miraculously recovers, they are dismissive of any suggestion of mysticism or unseen powers... at their own peril.
2.
Beyond Belief: Fact or Fiction (1997)
3.
The Twilight Zone (1985)
30m Sci-Fi & Fantasy Drama
This 1980s revival of the classic sci-fi series features a similar style to the original anthology series. Each episode tells a tale (sometimes two or three) rooted in horror or suspense, often with a surprising twist at the end. Episodes usually feature elements of drama and comedy.
1h Drama
Carl Kolchak and his partner Perri investigate the mysterious death of Kolchak's wife and the paranormal phenomena plaguing their city.
45m Mystery Drama Sci-Fi & Fantasy
The exploits of FBI Special Agents Fox Mulder and Dana Scully who investigate X-Files: marginalized, unsolved cases involving paranormal phenomena. Mulder believes in the existence of aliens and the paranormal while Scully, a skeptic, is assigned to make scientific analyses of Mulder's discoveries that debunk Mulder's work and thus return him to mainstream cases.
42m Mystery Drama
After a rash of disappearances and a likely murder, an inquisitive, young female production assistant on a wildly popular television show called Cult joins a journalist blogger in investigating the rabid fans of the series who might be re-creating crimes seen on the program, in real life.
45m Drama Crime Mystery
A retired FBI serial-profiler joins the mysterious Millennium Group, a team of underground ex-law enforcement experts dedicated to fighting against the ever-growing forces of evil and darkness in the world.
9.
Poltergeist: The Legacy (1996)
1h Drama
Poltergeist: The Legacy is a Canadian horror television series which ran from 1996 to 1999. The series tells the story of the members of a secret society known as the Legacy and their efforts to protect humankind from occult dangers. Despite bearing the Poltergeist name, there is no real connection between the show and the Poltergeist trilogy aside from the title.Poltergeist: The Legacy debuted on Showtime, and all first-run episodes of the first three seasons premiered on that network, though they were later syndicated. After the third season, Showtime cancelled the show, and the rights were purchased by Sci Fi Channel which continued the series for another season. This same pattern was followed by Stargate SG-1, which also debuted on Showtime, was also sold into syndication, and was rescued from cancellation by Sci Fi.The fourth season of Poltergeist: The Legacy featured an episode starring WWE wrestler The Undertaker as a being from Hell who collected souls, a deliberate crossover with RAW, which was also airing on the USA Network at the time and earning the network some of the highest ratings on cable TV. It was hoped that this cameo would help boost awareness of the new show, and thus generate a larger audience.
43m Drama Mystery Sci-Fi & Fantasy
Imagine the perfect American town... beautiful homes, manicured lawns, children playing safely in the streets. Now imagine never being able to leave. You have no communication with the outside world. You think you're going insane. You must be in Wayward Pines.
11.
Voodoo Possession (2014)
13.
Kolchak: The Night Stalker (1974)
1h Drama Sci-Fi & Fantasy
Kolchak: The Night Stalker is an American television series that aired on ABC during the 1974–1975 season. It featured a fictional Chicago newspaper reporter who investigated mysterious crimes with unlikely causes, particularly those that law enforcement authorities would not follow up. These often involved the supernatural or even science fiction, including fantastic creatures.
42m Mystery Sci-Fi & Fantasy
Set in a remote Alaskan town that has been overrun by paranormal forces, the series focuses on local outcast Roman Mercer who must overcome the town's prejudices and his own personal demons if he's to harness his repressed psychic powers and save everyone from the mass haunting that's threatening to destroy them all.
15.
The Langoliers (1995)
3h Sci-Fi & Fantasy Mystery
A jet leaves on a red-eye flight from Los Angeles to Boston. But early in the flight, ten passengers awaken to a startling realization: All of the other passengers have vanished.
50m Mystery Drama Sci-Fi & Fantasy
Kyle Barnes has been plagued by possession since he was a child. Now an adult, he embarks on a spiritual journey to find answers, but what he uncovers could mean the end of life on Earth as we know it.
explore
Check out more list from our community