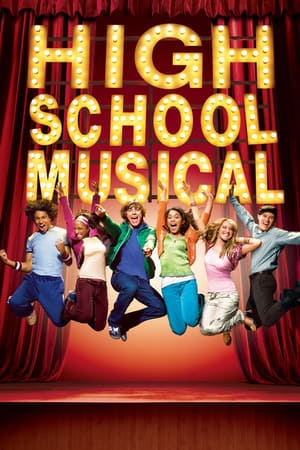 14 Best Movies Similar To High School Musical ...
If you liked this film , you will for sure love these too! In this list we highlight some of the best films that share a very similar premise to 'High School Musical', and are worth checking out.
1h 46m Drama Comedy
The story follows five disparate high school students - Olivia, Mo, Charlie, Stella, and Wen who meet in detention. They realize they are destined to rock, and ultimately form a band that becomes a champion for students sidelined by the high school elite.
2.
The Princess Diaries (2001)
1h 55m Comedy Family Romance
A socially awkward but very bright 15-year-old girl being raised by a single mom discovers that she is the princess of a small European country because of the recent death of her long-absent father, who, unknown to her, was the crown prince of Genovia. She must make a choice between continuing the life of a San Francisco teen or stepping up to the throne.
3.
Princess Protection Program (2009)
1h 29m TV Movie Comedy Drama Family
When an evil dictator threatens to take over the kingdom, Princess Rosalinda gets put into the Princess Protection Program. She is taken under the wing of General Joe Mason, an agent from the agency, and his daughter, Carter, who works after school at a nearby bait shop. Rosalinda goes undercover as a regular teen named, Rosie with the help of Carter. In turn, Rosalinda helps Carter overcome insecurities with herself and her crush on Donny who also likes her but can't tell or get shy.
4.
The American Mall (2008)
1h 40m Romance Comedy Drama Music
The executive producers of High School Musical keep the good times rolling with this upbeat musical comedy set in the one place every American teenager's home away from home - the local shopping mall. Ally (Nina Dobrev) is an optimistic adolescent singer/songwriter whose hard working mother owns the mall music shop frequented by every teen in town. When Ally shares her music with Joey (Rob Mayes), a janitor in the mall who harbors rock star ambitions, she is thrilled to find someone who can truly relate to her songs as well as her heart. Trouble looms on the horizon, however, in the form of the mall owner's spoiled rotten daughter Madison (Autumn Reeser). Madison is the kind of girl who's used to getting whatever she wants, and what she wants now could prove disastrous for both Ally's ambitions, and her mother's popular music store.
5.
High School Musical 2 (2007)
1h 51m Comedy Drama Family Music Romance TV Movie
The East High Wildcats are gearing up for big fun as they land the coolest summer jobs imaginable. Troy, Gabriella, Chad, and Taylor have scored sweet gigs at the Lava Springs Country Club owned by Sharpay and Ryan's family. Sharpay's first rule of business: Get Troy. As Troy experiences a life of privilege he's never known, will he give up the Wildcats and Gabriella to rise to the top?
6.
Camp Rock 2: The Final Jam (2010)
1h 44m Comedy Music TV Movie
Mitchie can't wait to go back to Camp Rock and spend the summer making new music with her friends and superstar Shane Gray. But the slick new camp across the lake, Camp Star, has drummed up some serious competition — featuring newcomers Luke and Dana. In a sensational battle of the bands, with Camp Rock's future at stake, will Camp Star's flashy production and over-the-top antics win out, or will Camp Rockers prove that music, teamwork, and spirit are what truly matter?
1h 32m Comedy
Bookish and unpopular Mandy finds her luck finally changing when Drew, the school hottie, invites her to the year's biggest party. But with being grounded and Drew's ex-girlfriend bent on thwarting her, Mandy may be destined to remain a geek. Can a little ingenuity and some help from her friends save the day?
1h 40m Romance Comedy
Bianca's universe turns upside down when she learns that her high school refers to her as a 'DUFF' (Designated Ugly Fat Friend). Hoping to erase that label, she enlists the help of a charming jock and her favorite teacher. Together they'll face the school's mean girl and remind everyone that we are all someone's DUFF… and that's totally fine.
9.
Raise Your Voice (2004)
1h 43m Music Drama Romance
A coming-of-age story centered around a small-town singer brokenhearted by the death of her brother in a car crash, who had secretly submitted her for a summer session at a performing arts academy in Los Angeles. In the academy, she experiences a whole new way of life in the big city, far from the small town lifestyle she's used to.
10.
A Cinderella Story (2004)
1h 35m Comedy
Routinely exploited by her wicked stepmother, the downtrodden Samantha Montgomery is excited about the prospect of meeting her Internet beau at the school's Halloween dance.
11.
High School Musical: The Musical: The Series (2019)
30m Family Comedy Drama
A group of East High students countdown to the opening night of their school's first-ever production of "High School Musical." Showmances blossom; friendships are tested while new ones are made; rivalries flare and lives are changed forever as these young people discover the transformative power that only a high school drama club can provide.
12.
Sharpay's Fabulous Adventure (2011)
1h 30m Family Music
After a talent scout spots her performing with her dog Boi at a charity gala, Sharpay Evans sets off for the bright lights of NYC, convinced instant fame and fortune are in the bag. But theatre's a dog-eat-dog world. Fortunately, Sharpay also meets Peyton, a handsome student filmmaker who finds Sharpay nearly as fascinating as she finds herself.
13.
The Cheetah Girls (2003)
1h 33m Comedy Drama Family Music TV Movie
A four-member teen girl group named the Cheetah Girls go to a Manhattan High School for the Performing Arts and try to become the first freshmen to win the talent show in the school's history. During the talent show auditions, they meet a big-time producer named Jackal Johnson, who tries to make the group into superstars, but the girls run into many problems.
14.
High School Musical 3: Senior Year (2008)
1h 57m Comedy Drama Family Music Romance
It's almost graduation day for high school seniors Troy, Gabriella, Sharpay, Chad, Ryan and Taylor ― and the thought of heading off in separate directions after leaving East High has these Wildcats thinking they need to do something they'll remember forever. Together with the rest of the Wildcats, they stage a spring musical reflecting their hopes and fears about the future and their unforgettable experiences growing up together. Will their final show break them apart or bring them together for the greatest moment in Wildcat history?
explore
Check out more list from our community