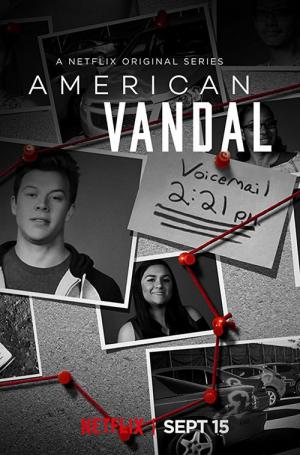 17 Best Shows Like American Vandal ...
If you liked this one , you will probably love these too! In this collection we highlight some of the best films that share a very similar premise to '', and are worth checking out.
1h 37m Comedy Crime Mystery Thriller
A group of former Encyclopedia Brown-style child-detectives struggle to solve an adult mystery.
Sam, an 18-year-old on the autism spectrum, takes a funny, yet painful, journey of self-discovery for love and independence and upends his family.
Three "good girl" suburban wives and mothers suddenly find themselves in desperate circumstances and decide to stop playing it safe and risk everything to take their power back.
42m Drama Mystery Crime Comedy
Adrian Monk was once a rising star with the San Francisco Police Department, legendary for using unconventional means to solve the department's most baffling cases. But after the tragic (and still unsolved) murder of his wife Trudy, he developed an extreme case of obsessive-compulsive disorder. Now working as a private consultant, Monk continues to investigate cases in the most unconventional ways.
Murphy is a flawed and irreverent woman who just happens to be blind and is the only "witness" to the murder of her drug-dealing friend, Tyson. When the police dismiss her story, she sets out with her dog, Pretzel, to find the killer while also managing her colorful dating life and the job she hates at Breaking Blind — the guide-dog school owned by her overprotective parents.
Keen Eddie is an American action, comedy-drama television series that aired in 2003 on the Fox Network. The series follows a brash NYPD detective who goes to London when one of his cases goes sour and remains to work with New Scotland Yard. The basic premise of the show bears a close resemblance to the popular 1980s British series Dempsey & Makepeace, the only notable difference being that the female partner has been replaced by a female housemate. Stylistically, the series derived inspiration from British feature films by Guy Ritchie, such as Lock, Stock and Two Smoking Barrels and Snatch. The soundtrack and incidental music for the first episode was provided by British techno duo Orbital. Daniel Ash of Love and Rockets scored the rest of the series.The series was scheduled to premiere during the 2002–2003 television season, but was postponed and premiered in summer 2003. The series was then moved to Thursdays with its seventh episode to help improve its ratings, but Fox canceled the series due to its low ratings of 5.1 million viewers.The American cable network Bravo picked up the series to begin airing in January 2004, including the six episodes never aired on Fox. All thirteen episodes of the series were released on DVD by Paramount Home Entertainment on September 7, 2004. Unfortunately, the original score was replaced due to music licensing issues.
42m Comedy
A pitch-black comedy anthology set in the present day, as our heroine Veronica Sawyer deals with a very different but equally vicious group of Heathers. Based on the 1988 cult classic film.
10.
Why Women Kill (2019)
Three women living in three different decades: a housewife in the '60s, a socialite in the '80s and a lawyer in 2018, deal with infidelity in their marriages.
11.
Bored to Death (2009)
Jonathan Ames, a young Brooklyn writer, is feeling lost. He's just gone through a painful break-up, thanks in part to his drinking, can't write his second novel, and carouses too much with his magazine editor. Rather than face reality, Jonathan turns instead to his fantasies — moonlighting as a private detective — because he wants to be a hero and a man of action.
12.
Franklin & Bash (2011)
Honest cop Tony Jr. gets advice from his unscrupulous father, retired NYPD officer Tony Sr., about everything from his job to his love life.
23m Comedy
Chip Baskets wants to follow his dream of being a French clown—however, reality keeps interfering. Saddled with financial difficulties and facing an impenetrable language barrier, he moves back home to Bakersfield with high hopes. There, he is forced to confront his past while working as a rodeo clown and competing with his siblings for his mother's approval and affection.
The Unusuals is a comedy-drama television series that aired on ABC from April 8 to June 17, 2009 in the U.S. and Global in Canada. The pilot and first episode were written by Noah Hawley, a former writer and producer for Fox's Bones. An ABC press release described The Unusuals as "like a modern-day M*A*S*H" that "explores both the grounded drama and comic insanity of the world of New York City police detectives, where every cop has a secret". Its premise elaborated:The initial series order was for 10 episodes. Show creator Noah Hawley announced via his Twitter account in mid-May 2009 that ABC would not be bringing the show back for a second season.
explore
Check out more list from our community