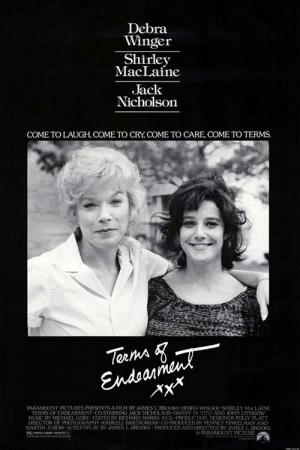 14 Best Movies Like Terms Of Endearment ...
If you liked this movie , you will definitely love these too! In this collection we highlight some of the best films that share a very similar premise to 'Terms of Endearment', and are worth checking out.
1h 54m Drama
A sister and brother face the realities of familial responsibility as they begin to care for their ailing father.
2.
The Evening Star (1996)
2h 9m Drama Romance Family Comedy
Continuing the story of Aurora Greenway in her latter years. After the death of her daughter, Aurora struggled to keep her family together, but has one grandson in jail, a rebellious granddaughter, and another grandson living just above the poverty line.
3.
The Jane Austen Book Club (2007)
1h 46m Comedy Romance
Six Californians start a club to discuss the works of Jane Austen. As they delve into Austen's literature, the club members find themselves dealing with life experiences that parallel the themes of the books they are reading.
1h 42m Comedy Drama Romance
No sooner does Italian-American widow Loretta accept a marriage proposal from her doltish boyfriend, Johnny, than she finds herself falling for his younger brother, Ronny. She tries to resist, but Ronny lost his hand in an accident he blames on his brother, and has no scruples about aggressively pursuing her while Johnny is out of the country. As Loretta falls deeper in love, she comes to learn that she's not the only one in her family with a secret romance.
5.
Something's Gotta Give (2003)
2h 8m Drama Comedy Romance
Harry Sanborn is an aged music industry exec with a fondness for younger women like Marin, his latest trophy girlfriend. Things get a little awkward when Harry suffers a heart attack at the home of Marin's mother, Erica. Left in the care of Erica and his doctor, a love triangle starts to take shape.
1h 48m Comedy Drama
The story of a unique young boy genius, Bruno, whose expression of his own individuality leads his family and community along an emotional journey.
7.
August: Osage County (2013)
2h 1m Comedy Drama
A look at the lives of the strong-willed women of the Weston family, whose paths have diverged until a family crisis brings them back to the Midwest house they grew up in, and to the dysfunctional woman who raised them.
1h 55m Comedy Drama
From Spike Lee comes this vibrant semi-autobiographical portrait of a school-teacher, her stubborn jazz-musician husband and their five kids living in '70s Brooklyn.
9.
The Upside of Anger (2005)
1h 58m Comedy Drama
After her husband runs off with his secretary, Terry Wolfmeyer is left to fend for herself -- and her four daughters. As she hits rock bottom, Terry finds a friend and drinking buddy in next-door neighbor Denny, a former baseball player. As the two grow closer, and her daughters increasingly rely on Denny, Terry starts to have reservations about where their relationship is headed.
10.
Hannah and Her Sisters (1986)
1h 47m Comedy Drama
Between two Thanksgivings, Hannah's husband falls in love with her sister Lee, while her hypochondriac ex-husband rekindles his relationship with her sister Holly.
11.
Steel Magnolias (1989)
1h 59m Comedy Drama Romance
This heart wrenching drama is about a beauty shop, in Louisana owned by Truvy, and the tragedies of all of her clients.
12.
The Private Lives of Pippa Lee (2009)
1h 38m Comedy Drama Romance
After her much older husband forces a move to a suburban retirement community, Pippa Lee engages in a period of reflection and finds herself heading toward a quiet nervous breakdown.
13.
How to Make an American Quilt (1995)
1h 56m Drama Romance
Soon-to-be-wed graduate student Finn Dodd develops cold feet when she suspects her fiancé is cheating on her. In order to clear her head, Finn visits her grandmother, Hy, and great aunt, Glady Joe Cleary, in Grasse, Calif. There, Finn learns that Hy and Glady Joe are members of a group of passionate quilters, and over the course of her visit she is regaled with tales of love and life by women who have collected rich experiences and much wisdom.
14.
Waiting to Exhale (1995)
2h 7m Comedy Drama Romance
Cheated on, mistreated and stepped on, the women are holding their breath, waiting for the elusive "good man" to break a string of less-than-stellar lovers. Friends and confidants Vannah, Bernie, Glo and Robin talk it all out, determined to find a better way to breathe.
explore
Check out more list from our community