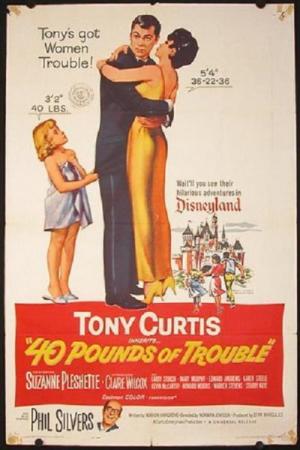 10 Best Operation Splitsville ...
If you liked this one , you will definitely love these too! In this collection we highlight some of the best films that share a very similar mood to '40 Pounds of Trouble', and are worth checking out.
1.
Who Gets the Dog? (2016)
1h 35m Comedy Romance
A couple going through a divorce squabble over custody of their beloved dog.
2.
Look Who's Talking (1989)
1h 33m Comedy Romance
Mollie is a single working mother who's out to find the perfect father for her child. Her baby, Mikey, prefers James, a cab driver turned babysitter who has what it takes to make them both happy. But Mollie won't even consider James. It's going to take all the tricks a baby can think of to bring them together before it's too late.
1h 30m Comedy
A scathing black comedy of embarrassment that charts the emotional breakdown and rebirth of a woman ripe for self-discovery.
4.
The Brady Bunch Movie (1995)
1h 24m Comedy
The original '70s TV family is now placed in the 1990s, where they're even more square and out of place than ever.
1h 36m Comedy
In this comedy, two women head for Reno to get simultaneous quicky divorces and end up becoming friends. Edie was married years ago, but her husband abandoned her two weeks after the wedding. Pen spent nine years married to an ice-cold businessman who neglected her.
6.
Divorce American Style (1967)
1h 49m Comedy
After 17 years of marriage in American suburbia, Richard and Barbara Harmon step into the new world of divorce.
1h 30m Comedy Romance
Determined not to turn into her parents, or be drawn into any relationship longer than a one night stand, Zoe constantly struggles with her failing business and love life. Then she falls in love for the first time with Paul. But there's one problem: Paul is married.
8.
School for Scoundrels (2006)
1h 40m Comedy Drama Romance
A young guy short on luck, enrolls in a class to build confidence to help win over the girl of his dreams, which becomes complicated when his teacher has the same agenda.
9.
Don't Drink the Water (1994)
1h
We don't have an overview translated in English. Help us expand our database by adding one.
10.
The Six Wives of Henry Lefay (2009)
1h 35m Comedy
A presumed-dead man's current wife and former wives squabble over his funeral arrangements.
explore
Check out more list from our community