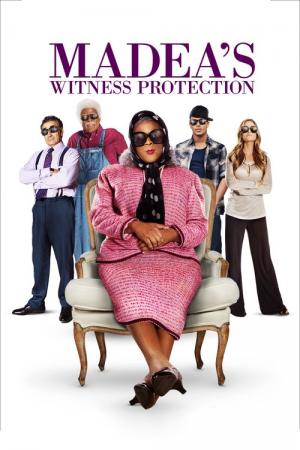 12 Best Movies Like Madea ...
If you liked this film , you will probably love these too! In this collection we highlight some of the best films that share a very similar premise to 'Madea's Witness Protection', and are worth checking out.
1.
A Madea Christmas (2013)
1h 40m Comedy Drama
Madea dispenses her unique form of holiday spirit on rural town when she's coaxed into helping a friend pay her daughter a surprise visit in the country for Christmas.
2.
Witless Protection (2008)
1h 37m Action Adventure Comedy Crime
The story centers on a small-town sheriff who witnesses what he believes is a kidnapping and rushes to rescue a woman. The kidnappers turn out to be FBI agents assigned to protect her and deliver her to a big Enron-type corruption trial in Chicago but are later found to be on the take and are villains who are bent on killing her
1h 27m Comedy Drama
Desperate to get out from under her overprotective mother, a home-schooled teen runs off to live with her dad, and forms a bond with his much-younger boyfriend.
4.
The Talent Given Us (2004)
5.
Why Did I Get Married? (2007)
1h 53m Comedy Drama
The film is about the difficulty of maintaining a solid relationship in modern times. Eight married college friends plus one other non-friend (all of whom have achieved middle to upper class economic status) go to Colorado for their annual week-long reunion, but the mood shifts when one couple's infidelity comes to light. Secrets are revealed and each couple begins to question their own marriage
6.
Father of Invention (2010)
8.
Madea's Big Happy Family (2011)
2h 32m Comedy
When a family meets for Christmas at their posh Cape Cod estate, family arguments and secrets cause a stir. It takes a real down-to-earth family - like Aunt Bam and the almighty Madea - to save this holiday.
9.
Cleaver Family Reunion (2013)
1h 31m Comedy
Members of a dysfunctional family settle their differences after a series of misadventures during their summer reunion
10.
I Can Do Bad All by Myself (2009)
1h 53m Drama Comedy
When Madea catches sixteen-year-old Jennifer and her two younger brothers looting her home, she decides to take matters into her own hands and delivers the young delinquents to the only relative they have: their aunt April. A heavy-drinking nightclub singer who lives off of Raymond, her married boyfriend, April wants nothing to do with the kids.
11.
Stuart Saves His Family (1995)
1h 35m Comedy Drama
Stuart Smalley, the Saturday Night Live character, comes to the big screen. Stuart, the disciple of the 12 step program, is challenged by lifes injustices.
12.
Madea Goes to Jail (2009)
1h 43m Comedy Crime Drama
After a high-speed car chase, Madea winds up behind bars because her quick temper gets the best of her. Meanwhile, Assistant District Attorney Josh Hardaway lands a case that's too personal to handle: that of a young prostitute and former drug addict named Candace. When Candace winds up in jail, Madea takes the young woman under her protective wing.
explore
Check out more list from our community