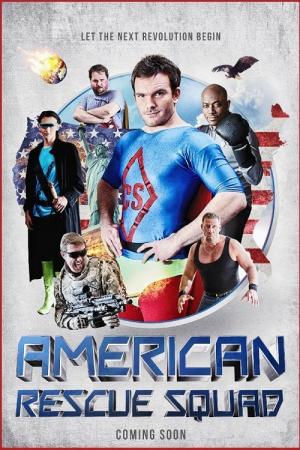 13 Best Now Hiring Movie ...
If you liked this one , you will for sure love these too! In this list we highlight some of the best films that share a very similar mood to 'American Rescue Squad', and are worth checking out.
1.
Torrente 4: Lethal crisis (2011)
1h 33m Action Comedy Crime
In Lethal Crisis, the world's most uncouth private eye is framed for a crime he didn't commit in the riotous fourth installment of the Torrente series.
1h 53m Animation Action Comedy
In this hilarious mockumentary, middle-aged Daisato-- a second-rate, third-generation superhero -- annoys his neighbors with the noise and destruction he causes on the job. But a heroic public image is the least of his concerns. Besides defending Japan from bizarre monsters, he must deal with an agent seeking to brand him with ads, a superhero grandfather with Alzheimer's and a family embarrassed by his incompetence.
1h 19m Action Science Fiction Comedy Fantasy Horror
When military experiments go haywire and trigger an atomic bomb, the consequences are of epic proportions. A monster arrives in the midst of the nuclear fallout, and Japan's defenses are helpless against it. Mankind's only savior is an irradiated water goblin from Japanese folklore called the "Death Kappa." The two rival monsters must go head-to-head in the ultimate battle between good and evil!
4.
A Modern Twain Story: The Prince and the Pauper (2007)
1h 32m Comedy Drama Family
A modern day telling of the Mark Twain classic, The Prince and the Pauper.
5.
Inspector Gadget 2 (2003)
1h 29m Action Adventure Comedy Family
After capturing Claw, all the criminals have gone into hiding until, Claw escapes! Gadget thinks he will get the case, but everyone else has other planes. A new version of the Gadget project is unveiled in the form of G2. Strict orders are given for Gadget to stay away from G2 and every crime scene, but Gadget feels he is needed more than anyone.
1h 43m Comedy Family Action
An ex-con on the run from his criminal past, hides out from those he ratted on by chaperoning a field trip to New Orleans.
1h 30m Comedy Family
Larry Guthrie, who loses his first love to the town hot shot, decides to win her back by volunteering with the children at her after-school program. When Larry accidentally tells the kids the Tooth Fairy is make-believe, he soon is transformed into a tutu-clad fairy with the "sentence" of collecting teeth.
1h 45m Action Fantasy
Given incredible power by an ancient Celtic Cross. Callan continues to fight evil... Now, joined by a team of weapons experts, Callan battles an unstoppable empire in Los Angeles.
9.
Cheerleader Ninjas (2002)
1h 31m Action Comedy
Four perky, clueless cheerleaders from the Happy Valley High Hamsters are mistakenly blamed by the meddling Church Ladies for the invasion of the "Internet smut" into their children's bedrooms. The Church Ladies hire Stephen, a sexually ambiguous teacher from the local Parochial Reform School, to teach the cheerleaders a lesson. But the cheerleaders have more than Stephen to worry about...lurking in the shadows is Mr. X, an evil mastermind who is using the cheerleaders as guinea pigs to test his Internet Zombie Domination software!
10.
New Kids Nitro (2011)
1h 18m Action Comedy
Gerrie, Richard, Rikkert, Robbie and Barry from Maaskantje are in a big fight with the village of Schijndel. When a zombie kills someone from Brabant, things get out of hand.
11.
Alone for Christmas (2013)
1h 22m Comedy Family
When a family visits Grandma's house on Christmas Eve, they leave their dog at home alone. And when burglars try to take the presents from under the tree, the dog must use every trick it knows to stop them.
11m Comedy Action & Adventure
Eagleheart is an action-comedy television series that premiered on February 3, 2011, on Adult Swim.
1h 21m Family Comedy
When the five puppies stumble upon the Five Power Rings of Inspiron (alien artifacts abandoned on Earth 16 years ago), they all develop super powers, and are enlisted in Captain Canine's battle against the evil Darkon alien Commander Drex. Captain Canine is commander of space ship Megasis and is from the planet Inspiron. He is the mortal enemy of the Commander Drex. In charge of protecting Princess Jorala and the Five Power Rings from Drex, Megasis places the rings in hiding on the planet Earth, and takes the form of a German Shepherd, intending to stay on earth in very deep cover. Adopted by aspiring young comic book artist Ian Shaeffer, and renamed Captain Canine, he spends 16 happy years on Earth, as Ian recounts the stories of his space adventures. But when the five Buddies discover the Power Rings and instantly develop superpowers, Captain Canine has to train them very quickly indeed - for Commander Drex is headed back to earth, and this time he's determined to succeed.
explore
Check out more list from our community