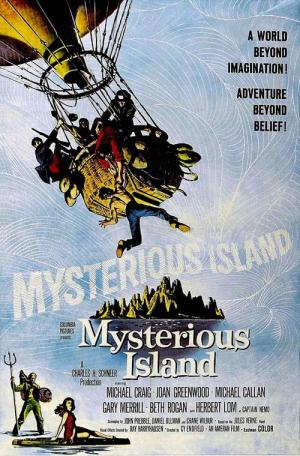 10 Best Mysterious Island ...
If you liked this movie , you will for sure love these too! In this list we highlight some of the best films that share a very similar mood to 'Mysterious Island', and are worth checking out.
42m Sci-Fi & Fantasy Drama
One day, electricity just stopped working and the world was suddenly thrust back into the dark ages. Now, 15 years later, a young woman's life is dramatically changed when a local militia arrives and kills her father, who mysteriously—and unbeknownst to her—had something to do with the blackout. An unlikely group sets out off on a daring journey to find answers about the past in the hopes of reclaiming the future.
1h 50m Drama Crime
The story of a gang of children growing up in a community of banished criminals, in a forgotten corner of the former Soviet Union. This community rejects the world outside. The only law it obeys… is its own. Against this backdrop two best friends, Kolyma and Gagarin, gradually become fierce enemies as they find themselves on opposite sides of the strict code of honour of the 'honest criminal' brotherhood.
1h 15m Action & Adventure Mystery Drama
A global cataclysm, caused by a fatal accident in Geneva (Switzerland) during the implementation of the particle accelerator will lead to the crew and students of the school-ship Polar Star to live the greatest adventure of their lives. Isolated and aware that we only have each other, the ship will become their only home.
5.
The Mysterious Island (1973)
1h Drama Action & Adventure
As the world's energy supplies dwindle, the Orpheus, a research submarine, delves into the deep of the Arctic Ocean searching for rare micro-organisms, but the crew soon find themselves in peril.
7.
Robinson Crusoe (1997)
1h 32m Action Adventure Drama
Robinson Crusoe flees Britain on a ship after killing his friend over the love of Mary. A fierce ocean storm wrecks his ship and leaves him stranded by himself on an uncharted island. Left to fend for himself, Crusoe seeks out a tentative survival on the island, until he meets Friday, a tribesman whom he saves from being sacrificed. Initially, Crusoe is thrilled to finally have a friend, but he has to defend himself against the tribe who uses the island to sacrifice tribesman to their gods. During time their relationship changes from master-slave to a mutual respected friendship despite their difference in culture and religion.
8.
Robinson Crusoe (2003)
3h 25m Adventure Drama Family
The classical story of Robinson Crusoe, a man who is dragged to a desert island after a shipwreck.
42m Drama Action & Adventure
Crusoe is a television adventure drama based loosely on the novel Robinson Crusoe by Daniel Defoe. The series' 13 episodes aired on NBC during the first half of the 2008–2009 television season. It follows the adventures of Robinson Crusoe: a man who has been shipwrecked on an island for six years and is desperate to return home to his wife and children. His lone companion is Friday, a native whom Crusoe rescued and taught English.
explore
Check out more list from our community