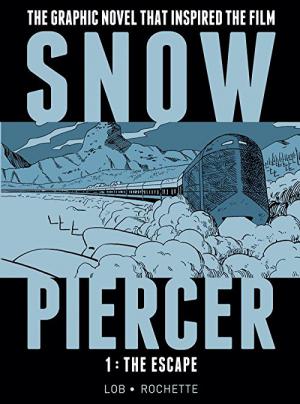 30 Best Movies Similar To Snowpiercer ...
If you liked this film , you will definitely love these too! In this collection we highlight some of the best films that share a very similar premise to '', and are worth checking out.
2h 7m Action Science Fiction Drama
In a future where a failed global-warming experiment kills off most life on the planet, a class system evolves aboard the Snowpiercer, a train that travels around the globe via a perpetual-motion engine.
1h 49m Science Fiction Action Drama Thriller
In the year 2159, two classes of people exist: the very wealthy who live on a pristine man-made space station called Elysium, and the rest, who live on an overpopulated, ruined Earth. Secretary Rhodes, a hard line government official, will stop at nothing to enforce anti-immigration laws and preserve the luxurious lifestyle of the citizens of Elysium. That doesn't stop the people of Earth from trying to get in, by any means they can. When unlucky Max is backed into a corner, he agrees to take on a daunting mission that, if successful, will not only save his life, but could bring equality to these polarized worlds.
4.
The Book of Eli (2010)
1h 58m Action Thriller Science Fiction
A post-apocalyptic tale, in which a lone man fights his way across America in order to protect a sacred book that holds the secrets to saving humankind.
5.
Children of Men (2006)
1h 49m Drama Action Thriller Science Fiction
In 2027, in a chaotic world in which humans can no longer procreate, a former activist agrees to help transport a miraculously pregnant woman to a sanctuary at sea, where her child's birth may help scientists save the future of humankind.
1h 47m Action Science Fiction Thriller
In a dystopian future, a totalitarian regime maintains peace by subduing the populace with a drug, and displays of emotion are punishable by death. A man in charge of enforcing the law rises to overthrow the system.
1h 41m Drama Science Fiction Thriller
Robert Neville is a scientist who was unable to stop the spread of the terrible virus that was incurable and man-made. Immune, Neville is now the last human survivor in what is left of New York City and perhaps the world. For three years, Neville has faithfully sent out daily radio messages, desperate to find any other survivors who might be out there. But he is not alone.
8.
The Hunger Games (2012)
2h 22m Science Fiction Adventure Fantasy
Every year in the ruins of what was once North America, the nation of Panem forces each of its twelve districts to send a teenage boy and girl to compete in the Hunger Games. Part twisted entertainment, part government intimidation tactic, the Hunger Games are a nationally televised event in which "Tributes" must fight with one another until one survivor remains. Pitted against highly-trained Tributes who have prepared for these Games their entire lives, Katniss is forced to rely upon her sharp instincts as well as the mentorship of drunken former victor Haymitch Abernathy. If she's ever to return home to District 12, Katniss must make impossible choices in the arena that weigh survival against humanity and life against love. The world will be watching.
1h 31m Adventure Action Thriller Science Fiction
Taking place in a dystopian Australia in the near future, Mad Max tells the story of a highway patrolman cruising the squalid back roads that have become the breeding ground of criminals foraging for gasoline and scraps. After some grisly events at the hands of a motorcycle gang, Max sets out across the barren wastelands in search of revenge.
1h 35m Action Science Fiction Horror
Forced underground by the next ice age, a struggling outpost of survivors must fight to preserve humanity against a threat even more savage than nature.
56m Documentary
Thomas Heise's documentary portrays the meeting of officials and citizens in the district office of Berlin-Mitte in 1984. The movie uniquely displays how socialist officals and citizens interact.
1h 46m Thriller Science Fiction Mystery Romance
In a future society in the era of indefinite eugenics, humans are set on a life course depending on their DNA. Young Vincent Freeman is born with a condition that would prevent him from space travel, yet is determined to infiltrate the GATTACA space program.
2h 4m Action Science Fiction Adventure Mystery
Jack Harper is one of the last few drone repairmen stationed on Earth. Part of a massive operation to extract vital resources after decades of war with a terrifying threat known as the Scavs, Jack's mission is nearly complete. His existence is brought crashing down when he rescues a beautiful stranger from a downed spacecraft. Her arrival triggers a chain of events that forces him to question everything he knows and puts the fate of humanity in his hands.
1h 51m Adventure Drama
A father and his son walk alone through burned America. Nothing moves in the ravaged landscape save the ash on the wind and water. It is cold enough to crack stones, and, when the snow falls it is gray. The sky is dark. Their destination is the warmer south, although they don't know what, if anything, awaits them there.
1h 40m Western Action Drama Science Fiction
In a future where water is scarce, a farmer defends his land and hopes to rejuvenate his parched soil. However, his daughter's boyfriend schemes to steal the land for himself.
2h 57m Adventure Science Fiction Action War
In 2013 there are no highways, no I-ways, no dreams of a better tomorrow, only scattered survivors across what was once the Unites States. Into this apocalyptic wasteland comes an enigmatic drifter with a mule, a knack for Shakespeare and something yet undiscovered: the power to inspire hope.
1h 37m Drama Science Fiction
In a seemingly perfect community, without war, pain, suffering, differences or choice, a young boy is chosen to learn from an elderly man about the true pain and pleasure of the "real" world.
18.
Resident Evil: The Final Chapter (2016)
1h 47m Action Horror Science Fiction
Picking up immediately after the events in Resident Evil: Retribution, Alice is the only survivor of what was meant to be humanity's final stand against the undead. Now, she must return to where the nightmare began - The Hive in Raccoon City, where the Umbrella Corporation is gathering its forces for a final strike against the only remaining survivors of the apocalypse.
1h 54m Science Fiction Action Drama Thriller
Two cops, R and Noma, hunt down renegade cyborgs. Cyborgs are used as commandos by the military, as lust objects and for companionship. Normaly they have a limited lifespan of three years but black market technology is being developed to be able to transfer a cyborg's artificial intelligence into human host. This drives R to find a suitable host for his expiring cyborg Ria.
20.
Blade Runner 2049 (2017)
2h 44m Science Fiction Drama
Thirty years after the events of the first film, a new blade runner, LAPD Officer K, unearths a long-buried secret that has the potential to plunge what's left of society into chaos. K's discovery leads him on a quest to find Rick Deckard, a former LAPD blade runner who has been missing for 30 years.
1h 35m Action Science Fiction
In the future, America is a dystopian wasteland. The latest scourge is Ma-Ma, a prostitute-turned-drug pusher with a dangerous new drug and aims to take over the city. The only possibility of stopping her is an elite group of urban police called Judges, who combine the duties of judge, jury and executioner to deliver a brutal brand of swift justice. But even the top-ranking Judge, Dredd, discovers that taking down Ma-Ma isn't as easy as it seems in this explosive adaptation of the hugely popular comic series.
22.
Dawn of the Planet of the Apes (2014)
2h 10m Science Fiction Action Drama Thriller
A group of scientists in San Francisco struggle to stay alive in the aftermath of a plague that is wiping out humanity, while Caesar tries to maintain dominance over his community of intelligent apes.
1h 51m Action Science Fiction Thriller Crime
In the future, medical technology has advanced to the point where people can buy artificial organs to extend their lives. But if they default on payments, an organization known as the Union sends agents to repossess the organs. Remy is one of the best agents in the business, but when he becomes the recipient of an artificial heart, he finds himself in the same dire straits as his many victims.
24.
2019: After the Fall of New York (1983)
1h 36m Action Horror Science Fiction
After a nuclear war, society breaks down into two groups, the evil Euraks and the rebel Federation. A mercenary named Parsifal is hired by the Federation to infiltrate New York City, which is controlled by the Euraks, to rescue the only fertile woman left on Earth.
25.
Fahrenheit 451 (1966)
1h 53m Drama Science Fiction
In the future, the government maintains control of public opinion by outlawing literature and maintaining a group of enforcers, known as "firemen," to perform the necessary book burnings. Fireman Montag begins to question the morality of his vocation…
26.
Terminator 3: Rise of the Machines (2003)
1h 49m Action Thriller Science Fiction
It's been 10 years since John Connor saved Earth from Judgment Day, and he's now living under the radar, steering clear of using anything Skynet can trace. That is, until he encounters T-X, a robotic assassin ordered to finish what T-1000 started. Good thing Connor's former nemesis, the Terminator, is back to aid the now-adult Connor … just like he promised.
1h 32m Science Fiction Thriller
Already deep into a second Cold War, Britain's Ministry of Defense seeks a game-changing weapon. Programmer Vincent McCarthy unwittingly provides an answer in The Machine, a super-strong human cyborg. When a programming bug causes the prototype to decimate his lab, McCarthy takes his obsessive efforts underground, far away from inquisitive eyes.
28.
Mad Max: Fury Road (2015)
2h 1m Action Adventure Science Fiction
An apocalyptic story set in the furthest reaches of our planet, in a stark desert landscape where humanity is broken, and most everyone is crazed fighting for the necessities of life. Within this world exist two rebels on the run who just might be able to restore order.
1h 58m Action Thriller Science Fiction
In the futuristic action thriller Looper, time travel will be invented but it will be illegal and only available on the black market. When the mob wants to get rid of someone, they will send their target 30 years into the past where a looper, a hired gun, like Joe is waiting to mop up. Joe is getting rich and life is good until the day the mob decides to close the loop, sending back Joe's future self for assassination.
explore
Check out more list from our community