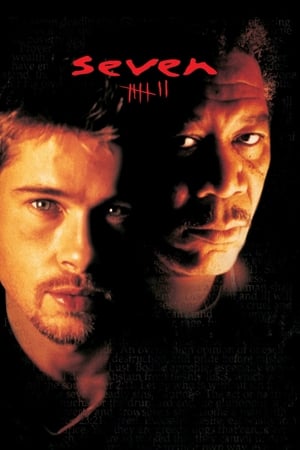 31 Best Movies Like Seven ...
If you liked this film , you will definitely love these too! In this list we highlight some of the best films that share a very similar mood to '', and are worth checking out.
1.
The Silence of the Lambs (1991)
1h 59m Crime Drama Thriller Horror
Clarice Starling is a top student at the FBI's training academy. Jack Crawford wants Clarice to interview Dr. Hannibal Lecter, a brilliant psychiatrist who is also a violent psychopath, serving life behind bars for various acts of murder and cannibalism. Crawford believes that Lecter may have insight into a case and that Starling, as an attractive young woman, may be just the bait to draw him out.
2h 33m Drama Thriller Crime
Keller Dover faces a parent's worst nightmare when his 6-year-old daughter, Anna, and her friend go missing. The only lead is an old motorhome that had been parked on their street. The head of the investigation, Detective Loki, arrests the driver, but a lack of evidence forces Loki to release his only suspect. Dover, knowing that his daughter's life is at stake, decides that he has no choice but to take matters into his own hands.
2h 37m Crime Drama Mystery Thriller
The true story of the investigation of the "Zodiac Killer", a serial killer who terrified the San Francisco Bay Area, taunting police with his ciphers and letters. The case becomes an obsession for three men as their lives and careers are built and destroyed by the endless trail of clues.
4.
The Bone Collector (1999)
1h 58m Drama Mystery Thriller Crime
Rookie cop, Amelia Donaghy reluctantly teams with Lincoln Rhyme – formerly the department's top homicide detective but now paralyzed as a result of a spinal injury – to catch a grisly serial killer dubbed 'The Bone Collector'. The murderer's special signature is to leave tantalizing clues based on the grim remains of his crimes.
1h Drama
An American anthology police detective series utilizing multiple timelines in which investigations seem to unearth personal and professional secrets of those involved, both within or outside the law.
6.
Memories of Murder (2003)
2h 11m Crime Drama Thriller
1986 Gyunggi Province. The body of a young woman is found brutally raped and murdered. Two months later, a series of rapes and murders commences under similar circumstances. And in a country that had never known such crimes, the dark whispers about a serial murderer grow louder. A special task force is set up in the area, with two local detectives Park Doo-Man and Jo Young-Goo joined by a detective from Seoul who requested to be assigned to the case.
7.
The Girl with the Dragon Tattoo (2011)
2h 38m Thriller Crime Mystery Drama
This English-language adaptation of the Swedish novel by Stieg Larsson follows a disgraced journalist, Mikael Blomkvist, as he investigates the disappearance of a weary patriarch's niece from 40 years ago. He is aided by the pierced, tattooed, punk computer hacker named Lisbeth Salander. As they work together in the investigation, Blomkvist and Salander uncover immense corruption beyond anything they have ever imagined.
1h 43m Horror Thriller
A seasoned police detective and his partner have just uncovered a string of unusual murders that lead them to a serial killer, who believes that he is the descendant of Judas.
2h 9m Drama Thriller Mystery
In honor of his birthday, San Francisco banker Nicholas Van Orton, a financial genius and a cold-hearted loner, receives an unusual present from his younger brother, Conrad: a gift certificate to play a unique kind of game. In nary a nanosecond, Nicholas finds himself consumed by a dangerous set of ever-changing rules, unable to distinguish where the charade ends and reality begins.
2h 11m Crime Drama Thriller Horror
After having successfully eluded the authorities for years, Hannibal peacefully lives in Italy in disguise as an art scholar. Trouble strikes again when he's discovered leaving a deserving few dead in the process. He returns to America to make contact with now disgraced Agent Clarice Starling, who is suffering the wrath of a malicious FBI rival as well as the media.
1h 58m Crime Mystery Thriller
Two Los Angeles homicide detectives are dispatched to a northern town where the sun doesn't set to investigate the methodical murder of a local teen.
2h 4m Thriller Crime
An agoraphobic psychologist and a female detective must work together to take down a serial killer who copies serial killers from the past.
1h 30m Crime Drama Horror Mystery Thriller
A recently widowed detective still grieving over his wife's death discovers a shocking connection between himself and the suspects in a serial killing spree linked to the Four Horsemen of the Apocalypse.
2h 2m Crime Horror Thriller
FBI Agent Will Graham, who retired after catching Hannibal Lecktor, returns to duty to engage in a risky cat-and-mouse game with Lecktor to capture a new killer.
2h 4m Crime Thriller Mystery Horror
Former FBI Agent Will Graham, who was once almost killed by the savage Hannibal 'The Cannibal' Lecter, now has no choice but to face him again, as it seems Lecter is the only one who can help Graham track down a new serial killer.
16.
Kiss the Girls (1997)
1h 55m Drama Mystery Thriller Crime
Forensic psychologist Alex Cross travels to North Carolina and teams with escaped kidnap victim Kate McTiernan to hunt down "Casanova," a serial killer who abducts strong-willed women and forces them to submit to his demands. The trail leads to Los Angeles, where the duo discovers that the psychopath may not be working alone.
2h 9m Crime Drama Mystery Thriller
An arrogant, high-powered attorney takes on the case of a poor altar boy found running away from the scene of the grisly murder of the bishop who has taken him in. The case gets a lot more complex when the accused reveals that there may or may not have been a third person in the room. The intensity builds when a surprise twist alters everyone's perception of the crime.
18.
The Crimson Rivers (2000)
1h 46m Crime Mystery Thriller
Two French policemen, one investigating a grisly murder at a remote mountain college, the other working on the desecration of a young girl's grave by skinheads, are brought together by the clues from their respective cases. Soon after they start working together, more murders are committed, and the pair begin to discover just what dark secrets are behind the killings.
2h 29m Mystery Thriller Drama
With his wife's disappearance having become the focus of an intense media circus, a man sees the spotlight turned on him when it's suspected that he may not be innocent.
2h 18m Thriller Crime Drama Mystery
The lives of three men who were childhood friends are shattered when one of them has a family tragedy.
21.
Along Came a Spider (2001)
1h 44m Crime Mystery Thriller Action
After the harrowing death of his partner, detective and best-selling author Alex Cross has retreated to the peace of retirement. But when a brilliant criminal kidnaps a senator's young daughter, Alex is lured back into action. Teamed with the Secret Service agent assigned to protect the missing girl, Alex follows a serpentine trail of clues that leads him to a stunning discovery - the kidnapper wants more than just ransom.
1h 30m Mystery Thriller
Complete strangers stranded at a remote desert motel during a raging storm soon find themselves the target of a deranged murderer. As their numbers thin out, the travelers begin to turn on each other, as each tries to figure out who the killer is.
2h 3m Thriller Crime Mystery
A small, seemingly innocuous plastic reel of film leads surveillance specialist Tom Welles down an increasingly dark and frightening path. With the help of the streetwise Max, he relentlessly follows a bizarre trail of evidence to determine the fate of a complete stranger. As his work turns into obsession, he drifts farther and farther away from his wife, family and simple life as a small-town PI.
50m Drama Crime
An agent in the FBI's Elite Serial Crime Unit develops profiling techniques as he pursues notorious serial killers and rapists.
1h 36m Mystery Thriller
Mort Rainey, a writer just emerging from a painful divorce with his ex-wife, is stalked at his remote lake house by a psychotic stranger and would-be scribe who claims Rainey swiped his best story idea. But as Rainey endeavors to prove his innocence, he begins to question his own sanity.
1h 41m Mystery Thriller
Special Agent Jennifer Marsh works in an elite division of the FBI dedicated to fighting cybercrime. She thinks she has seen it all, until a particularly sadistic criminal arises on the Internet. This tech-savvy killer posts live feeds of his crimes on his website; the more hits the site gets, the faster the victim dies. Marsh and her team must find the elusive killer before time runs out.
2h Crime Thriller
A psychological thriller about a man who is sometimes controlled by his murder-and-mayhem-loving alter ego.
28.
The Usual Suspects (1995)
1h 46m Drama Crime Thriller
Held in an L.A. interrogation room, Verbal Kint attempts to convince the feds that a mythic crime lord, Keyser Soze, not only exists, but was also responsible for drawing him and his four partners into a multi-million dollar heist that ended with an explosion in San Pedro harbor – leaving few survivors. Verbal lures his interrogators with an incredible story of the crime lord's almost supernatural prowess.
29.
No Country for Old Men (2007)
2h 2m Crime Drama Thriller
Llewelyn Moss stumbles upon dead bodies, $2 million and a hoard of heroin in a Texas desert, but methodical killer Anton Chigurh comes looking for it, with local sheriff Ed Tom Bell hot on his trail. The roles of prey and predator blur as the violent pursuit of money and justice collide.
1h 47m Crime Drama Mystery Thriller
An FBI agent teams with the town's veteran game tracker to investigate a murder that occurred on a Native American reservation.
explore
Check out more list from our community