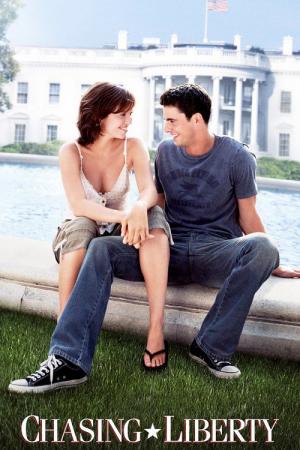 14 Best Movies Similar To Chasing Liberty ...
If you liked this film , you will probably love these too! In this list we highlight some of the best films that share a very similar premise to 'Chasing Liberty', and are worth checking out.
1h 37m Comedy
A high-school gym teacher has big plans for the summer, but is forced to cancel them to teach a "bonehead" English class for misfit goof-off students. Fortunately, his unconventional brand of teaching fun field trips begins to connect with them, and even inspires ardor in some.
2.
The Prince and Me (2004)
1h 51m Comedy Romance
A fairy tale love-story about pre-med student Paige who falls in love with a Danish Prince "Eddie" who refused to follow the traditions of his parents and has come to the US to quench his thirst for rebellion. Paige and Edward come from two different worlds, but there is an undeniable attraction between them.
1h 31m Comedy Fantasy Romance
After fishing out coins from a water fountain in Italy, cynical New Yorker Beth Harper finds herself being wooed by several ardent suitors. As she deals with the attention, Beth tries to figure out whether a charming reporter really loves her.
4.
The Wedding Date (2005)
1h 28m Comedy Romance
With the wedding of her younger sister fast approaching, Kat Ellis faces the undesirable prospect of traveling alone to London for the ceremony. While this is bad enough, Jeffrey, the man who left her as they moved closer to marriage, happens to be the groom's best man. Determined to show everyone -- most of all Jeffrey -- that her romantic life is as full and thrilling as ever, Kat hires a charming male escort as her date.
1h 42m Comedy Romance
Since the moment they met at age 5, Rosie and Alex have been best friends, facing the highs and lows of growing up side by side. A fleeting shared moment, one missed opportunity, and the decisions that follow send their lives in completely different directions. As each navigates the complexities of life, love, and everything in between, they always find their way back to each other - but is it just friendship, or something more?
1h 40m Romance Comedy
When yet another anniversary passes without a marriage proposal from her boyfriend, Anna decides to take action. Aware of a Celtic tradition that allows women to pop the question on Feb. 29, she plans to follow her lover to Dublin and ask him to marry her. Fate has other plans, however, and Anna winds up on the other side of the Emerald Isle with handsome, but surly, Declan -- an Irishman who may just lead Anna down the road to true love.
1h 40m Comedy Drama Romance
Albert Einstein helps a young man who's in love with Einstein's niece to catch her attention by pretending temporarily to be a great physicist.
8.
Can't Hardly Wait (1998)
1h 40m Comedy Romance
It's graduation day at Huntington Hills High, and you know what that means - time to party. And not just any party, either. This one will be a night to remember, as the nerds become studs, the jocks are humiliated, and freshman crushes blossom into grown-up romance.
9.
Overnight Delivery (1998)
1h 27m Comedy Romance
A man suspects his girlfriend of being unfaithful. So he sends her a letter, but than finds out that he was wrong. He has 24 hours to stop the package, prevent a disaster, and fall in love. The only problem is the delivery man will not stop until the package has been delivered.
10.
The Back-up Plan (2010)
1h 46m Comedy Romance
When Zoe tires of looking for Mr. Right, she decides to have a baby on her own. But on the day she's artificially inseminated, she meets Stan, who seems to be just who she's been searching for all her life. Now, Zoe has to figure out how to make her two life's dreams fit with each other.
11.
A Cinderella Story (2004)
1h 35m Comedy
Routinely exploited by her wicked stepmother, the downtrodden Samantha Montgomery is excited about the prospect of meeting her Internet beau at the school's Halloween dance.
12.
She's All That (1999)
1h 35m Comedy Romance
High school hotshot Zach Siler is the envy of his peers. But his popularity declines sharply when his cheerleader girlfriend, Taylor, leaves him for sleazy reality-television star Brock Hudson. Desperate to revive his fading reputation, Siler agrees to a seemingly impossible challenge. He has six weeks to gain the trust of nerdy outcast Laney Boggs -- and help her to become the school's next prom queen.
13.
First Daughter (2004)
1h 45m Comedy Drama Family Romance
Samantha MacKenzie, the daughter of the president of the United States, arrives at college with a group of Secret Service agents. Samantha, however, resents their presence and decides she wants to attend school just like a normal student. Her father agrees to recall the agents but secretly assigns James, an undercover agent, to pose as a student. They fall in love, but their romance is jeopardized when Samantha learns James' true identity.
14.
Breakin' All the Rules (2004)
1h 25m Comedy Romance
Inspired by his fiancée (who dumped him), a man publishes a break-up handbook for men, becoming a bestselling author in the process.
explore
Check out more list from our community