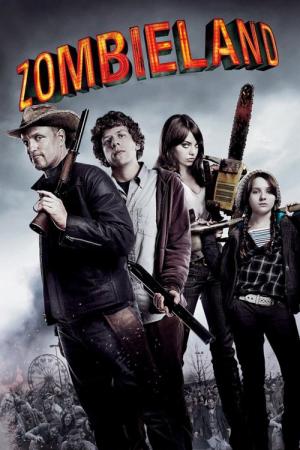 10 Best Movies Like Zombieland ...
If you liked this movie , you will for sure love these too! In this list we highlight some of the best films that share a very similar premise to 'Zombieland', and are worth checking out.
1.
Juan of the Dead (2011)
1h 32m Horror Comedy
While Havana is full of zombies hungry for human flesh, official media reported that the disturbances are caused by dissidents paid by the United States. Panic seizes all until Juan comes to the rescue: he discovers he can kill the undead destroying his brain, and decides to start a small business under the slogan "We kill your loved ones."
2.
Scouts Guide to the Zombie Apocalypse (2015)
1h 33m Comedy Horror
Three scouts and lifelong friends join forces with one badass cocktail waitress to become the world's most unlikely team of heroes. When their peaceful town is ravaged by a zombie invasion, they'll fight for the badge of a lifetime and put their scouting skills to the test to save mankind from the undead.
3.
Dead Snow 2: Red vs. Dead (2014)
1h 40m Horror Action Comedy
The gruesome Nazi Zombies are back to finish their mission, but our hero is not willing to die. He is gathering his own army to give them a final fight.
1h 56m Action Drama Horror Science Fiction Thriller
Life for former United Nations investigator Gerry Lane and his family seems content. Suddenly, the world is plagued by a mysterious infection turning whole human populations into rampaging mindless zombies. After barely escaping the chaos, Lane is persuaded to go on a mission to investigate this disease. What follows is a perilous trek around the world where Lane must brave horrific dangers and long odds to find answers before human civilization falls.
5.
Dawn of the Dead (2004)
1h 41m Action Horror
A group of survivors take refuge in a shopping mall after the world is taken over by aggressive, flesh-eating zombies.
1h 43m Horror Comedy
When a Sumatran rat-monkey bites Lionel Cosgrove's mother, she's transformed into a zombie and begins killing (and transforming) the entire town while Lionel races to keep things under control.
7.
Return of the Living Dead II (1988)
1h 29m Comedy Horror
A group of kids discover one of the drums containing a rotting corpse and release the 2-4-5 Trioxin gas into the air, causing the dead to once again rise from the grave and seek out brains.
8.
Resident Evil: Extinction (2007)
1h 34m Horror Action Science Fiction
Years after the Racoon City catastrophe, survivors travel across the Nevada desert, hoping to make it to Alaska. Alice joins the caravan and their fight against hordes of zombies and the evil Umbrella Corp.
1h 29m Comedy Horror
Six men with mid-life anxiety set out for a weekend in the country in an attempt to reconnect with their masculinity. What they find is a catastrophe so horrible and bizarre that a mid-life crisis turns out to be exactly what they need to survive it...
10.
Anna and the Apocalypse (2017)
explore
Check out more list from our community