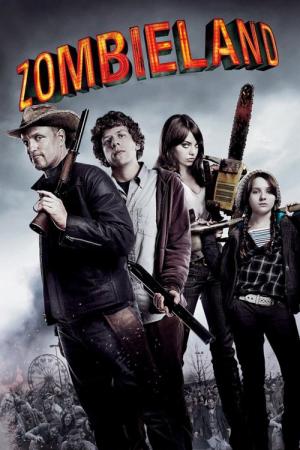 30 Best Movies Like Zombieland ...
If you liked this movie , you will definitely love these too! In this collection we highlight some of the best films that share a very similar premise to '', and are worth checking out.
1.
Zombieland: Double Tap (2019)
1h 39m Horror Action Comedy
Columbus, Tallahassee, Wichita, and Little Rock move to the American heartland as they face off against evolved zombies, fellow survivors, and the growing pains of the snarky makeshift family.
2.
Shaun of the Dead (2004)
1h 39m Horror Comedy
Shaun lives a supremely uneventful life, which revolves around his girlfriend, his mother, and, above all, his local pub. This gentle routine is threatened when the dead return to life and make strenuous attempts to snack on ordinary Londoners.
3.
Tucker and Dale vs Evil (2010)
1h 29m Comedy Horror
Two hillbillies are suspected of being killers by a group of paranoid college kids camping near the duo's West Virginian cabin. As the body count climbs, so does the fear and confusion as the college kids try to seek revenge against the pair.
1h 43m Horror Comedy
When a Sumatran rat-monkey bites Lionel Cosgrove's mother, she's transformed into a zombie and begins killing (and transforming) the entire town while Lionel races to keep things under control.
30m Comedy Action & Adventure
Four survivors are killin' zombies and searching for a place to call home.
1h 40m Horror Thriller Science Fiction
The inhabitants of the British Isles have lost their battle against the onslaught of disease, as the deadly rage virus has killed every citizen there. Six months later, a group of Americans dare to set foot on the isles, convinced the danger has come and gone. But it soon becomes all too clear that the scourge continues to live, waiting to pounce on its next victims.
7.
Freaks of Nature (2015)
1h 32m Science Fiction Comedy Horror
In the town of Dillford, humans, vampires and zombies were all living in peace - until the alien apocalypse arrived. Now three teenagers-one human, one vampire, and one zombie-have to team up to figure out how to get rid of the visitors.
8.
Scouts Guide to the Zombie Apocalypse (2015)
1h 33m Comedy Horror
Three scouts and lifelong friends join forces with one badass cocktail waitress to become the world's most unlikely team of heroes. When their peaceful town is ravaged by a zombie invasion, they'll fight for the badge of a lifetime and put their scouting skills to the test to save mankind from the undead.
1h 37m Horror Comedy Romance
After a zombie becomes involved with the girlfriend of one of his victims, their romance sets in motion a sequence of events that might transform the entire lifeless world.
1h 48m Action Adventure Comedy
Deadpool tells the origin story of former Special Forces operative turned mercenary Wade Wilson, who after being subjected to a rogue experiment that leaves him with accelerated healing powers, adopts the alter ego Deadpool. Armed with his new abilities and a dark, twisted sense of humor, Deadpool hunts down the man who nearly destroyed his life.
1h 56m Action Drama Horror Science Fiction Thriller
Life for former United Nations investigator Gerry Lane and his family seems content. Suddenly, the world is plagued by a mysterious infection turning whole human populations into rampaging mindless zombies. After barely escaping the chaos, Lane is persuaded to go on a mission to investigate this disease. What follows is a perilous trek around the world where Lane must brave horrific dangers and long odds to find answers before human civilization falls.
12.
Juan of the Dead (2011)
1h 32m Horror Comedy
While Havana is full of zombies hungry for human flesh, official media reported that the disturbances are caused by dissidents paid by the United States. Panic seizes all until Juan comes to the rescue: he discovers he can kill the undead destroying his brain, and decides to start a small business under the slogan "We kill your loved ones."
1h 30m Comedy Horror
The bizarre story takes place in Amsterdam-West, where a virus turns people into bloodthirsty zombies. Although much blood is flowing and many limbs chopped off, there is a lot to laugh at in this bizarre horror comedy.
14.
A Little Bit Zombie (2012)
1h 27m Science Fiction Comedy Horror
Infected by a virus, a mild mannered HR manager attempts to fulfill his overwhelming desire for brains, all while trying to keep it together so as not to incur the wrath of his bridezilla-to-be.
15.
Corona Zombies (2020)
1h 1m Horror Comedy
Ditsy damsels in distress, toilet paper famine, inept world leaders, mass-media gone wild, a virus from Hell and hordes of ghouls hungry for human flesh combine in Full Moon's maniacal horror comedy hybrid CORONA ZOMBIES!
16.
Anna and the Apocalypse (2017)
1h 24m Action Drama Horror Science Fiction Thriller
A deadly virus has spread across the globe. Contagion is everywhere, no one is safe, and no one can be trusted. Four friends race through the back roads of the American West on their way to a secluded utopian beach in the Gulf of Mexico where they could peacefully wait out the pandemic. Their plans take a grim turn when their car breaks down on an isolated road starting a chain of events that will seal their fates.
18.
Dance of the Dead (2008)
1h 27m Comedy Horror
With Prom only hours away, the usual suspects of Cosa High (Cheerleaders, geeks, bad boys and the happy-go-lucky student council alike) are preoccupied with the annual rituals of teendom. On the night of the big dance when the dead unexpectedly rise to eat the living, polar opposite groups will be forced to unite in their final chance to save the town from the zombies.
19.
Resident Evil: Extinction (2007)
1h 34m Horror Action Science Fiction
Years after the Racoon City catastrophe, survivors travel across the Nevada desert, hoping to make it to Alaska. Alice joins the caravan and their fight against hordes of zombies and the evil Umbrella Corp.
1h 31m Horror Comedy
Eight medical students on a ski trip to Norway discover that Hitler's horrors live on when they come face to face with a battalion of zombie Nazi soldiers intent on devouring anyone unfortunate enough to wander into the remote mountains where they were once sent to die.
44m Mystery Action & Adventure Drama
Three years after the zombie virus has gutted the country, a team of everyday heroes must transport the only known survivor of the plague from New York to California, where the last functioning viral lab waits for his blood.
1h 29m Comedy Horror
Six men with mid-life anxiety set out for a weekend in the country in an attempt to reconnect with their masculinity. What they find is a catastrophe so horrible and bizarre that a mid-life crisis turns out to be exactly what they need to survive it...
23.
Dawn of the Dead (2004)
1h 41m Action Horror
A group of survivors take refuge in a shopping mall after the world is taken over by aggressive, flesh-eating zombies.
24.
Dead Snow 2: Red vs. Dead (2014)
1h 40m Horror Action Comedy
The gruesome Nazi Zombies are back to finish their mission, but our hero is not willing to die. He is gathering his own army to give them a final fight.
25.
Dead Moon Rising (2007)
1h 33m Action Adventure Comedy Horror
A mysterious disease overtakes the world, and the infected develop a hankering for human flesh. Jim and his fellow Cheapskate Car Rental clerks are oblivious to the changes going on right outside their door, until it literally gets right in their faces. Jim struggles with disgruntled customers, hordes of cannibals, the barely legal April, his certifiable ex-girlfriend Vix (the sexy "Terminatrix"), reconciling issues with his brother, an aversion to guns, and the "pants thing." Can Jim pull it together and rally Louisville's remaining bike gangs and defeat the infected hordes? Maybe with the help of 1000 rounds a minute minigun...
1h 26m Horror
It has been over one year since the start of the outbreak. Our society has collapsed and the world has descended into chaos. Elvis and Tweeter are two of the last people left alive, and band together to flee the United States for a remote island somewhere in the Caribbean. On the island, they find a new community struggling to hold out against an army of corpses. They can join this band of survivors-- but only if they can do what must be done for the good of the group.
27.
Rise of the Animals (2011)
1h 35m Adventure Comedy Horror
Two inexplicably coherent zombies awake amidst a zombie attack and decide to take a road trip to find the one's lost love, unaware they are being chased by the agents of a ruthless company with its own agenda.
29.
Return of the Living Dead II (1988)
1h 29m Comedy Horror
A group of kids discover one of the drums containing a rotting corpse and release the 2-4-5 Trioxin gas into the air, causing the dead to once again rise from the grave and seek out brains.
explore
Check out more list from our community