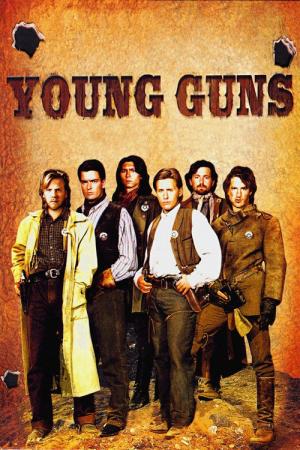 10 Best Movies Like Young Guns ...
If you liked this movie , you will probably love these too! In this selection we highlight some of the best films that share a very similar mood to 'Young Guns', and are worth checking out.
1.
Return of the Seven (1966)
1h 35m Western
Chico one of the remaining members of The Magnificent Seven now lives in the town that they (The Seven) helped. One day someone comes and takes most of the men prisoner. His wife seeks out Chris, the leader of The Seven for help. Chris also meets Vin another member of The Seven. They find four other men and they go to help Chico.
1h 39m Romance Western
Four former harlots try to leave the wild west (Colorado, to be exact) and head north to make a better life for themselves. Unfortunately someone from Cody's past won't let it happen that easily.
2h 2m Western
In Arizona in the late 1800s, infamous outlaw Ben Wade and his vicious gang of thieves and murderers have plagued the Southern Railroad. When Wade is captured, Civil War veteran Dan Evans, struggling to survive on his drought-plagued ranch, volunteers to deliver him alive to the "3:10 to Yuma", a train that will take the killer to trial.
1h 33m Action Western
A coffin-dragging gunslinger and a half-breed prostitute become embroiled in a bitter feud between a merciless masked clan and a band of Mexican revolutionaries.
2h 10m Western Action
Legendary marshal Wyatt Earp, now a weary gunfighter, joins his brothers Morgan and Virgil to pursue their collective fortune in the thriving mining town of Tombstone. But Earp is forced to don a badge again and get help from his notorious pal Doc Holliday when a gang of renegade brigands and rustlers begins terrorizing the town.
8.
The Sons of Katie Elder (1965)
2h 8m Action Western
Nevada Smith is the young son of an Indian mother and white father. When his father is killed by three men over gold, Nevada sets out to find them and kill them. The boy is taken in by a gun merchant. The gun merchant shows him how to shoot and to shoot on time and correct.
10.
The Legend of the Lone Ranger (1981)
1h 38m Action Adventure Romance Western
When the young Texas Ranger, John Reid, is the sole survivor of an ambush arranged by the militaristic outlaw leader, Butch Cavendich, he is rescued by an old childhood Comanche friend, Tonto. When he recovers from his wounds, he dedicates his life to fighting the evil that Cavendich represents. To this end, John Reid becomes the great masked western hero, The Lone Ranger. With the help of Tonto, the pair go to rescue President Grant when Cavendich takes him hostage.
explore
Check out more list from our community