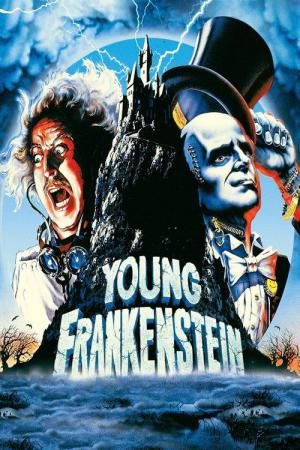 14 Best Movies Like Young Frankenstein ...
If you liked this one , you will for sure love these too! In this collection we highlight some of the best films that share a very similar mood to 'Young Frankenstein', and are worth checking out.
1.
Dracula: Dead and Loving It (1995)
1h 28m Comedy Horror Fantasy
When a lawyer shows up at the vampire's doorstep, he falls prey to his charms and joins him in his search for fresh blood. Enter Professor Van Helsing, who may be the only one able to vanquish the Count.
1h 34m Comedy
Brian Cohen is an average young Jewish man, but through a series of ridiculous events, he gains a reputation as the Messiah. When he's not dodging his followers or being scolded by his shrill mother, the hapless Brian has to contend with the pompous Pontius Pilate and acronym-obsessed members of a separatist movement. Rife with Monty Python's signature absurdity, the tale finds Brian's life paralleling Biblical lore, albeit with many more laughs.
3.
The Fearless Vampire Killers (1967)
1h 48m Comedy Horror
A noted professor and his dim-witted apprentice fall prey to their inquiring vampires, while on the trail of the ominous damsel in distress.
4.
Haunted Honeymoon (1986)
1h 22m Comedy Horror Music Drama Mystery
Larry Abbot, speaker in the radio horror shows of Manhattan Mystery Theater wants to marry. For the marriage he takes his fiancée home to the castle where he grew up among his eccentric relatives. His uncle decides that he needs to be cured from a neurotic speech defect and exaggerated bursts of fear: he gives him a shock therapy with palace ghosts.
5.
Blazing Saddles (1974)
1h 33m Western Comedy
A town—where everyone seems to be named Johnson—stands in the way of the railroad. In order to grab their land, robber baron Hedley Lemar sends his henchmen to make life in the town unbearable. After the sheriff is killed, the town demands a new sheriff from the Governor, so Hedley convinces him to send the town the first black sheriff in the west.
6.
30 Nights of Paranormal Activity with the Devil Inside the Girl with the Dragon Tattoo (2013)
1h 20m Comedy
After a stint in a psychiatric hospital, a young woman returns to the house where her father killed the entire cast of The Artist during his exorcism.
1h 27m Comedy
Aspiring filmmakers Mel Funn, Marty Eggs and Dom Bell go to a financially troubled studio with an idea for a silent movie. In an effort to make the movie more marketable, they attempt to recruit a number of big name stars to appear, while the studio's creditors attempt to thwart them.
10.
What's Up, Doc? (1972)
11.
The Onion Movie (2008)
1h 20m Comedy
Venerable newscaster Norm Archer reports the latest news in politics, health, culture and entertainment - such as an automotive recall of decapitation-inducing "Neckbelts" and a study finding that "depression hits losers hardest". This compilation of bogus news stories, celebrity profiles, movie trailers and skits come courtesy of the ace satirists at The Onion.
12.
Killer Tomatoes Eat France! (1992)
14.
Attack of the 50 Foot Cheerleader (2012)
explore
Check out more list from our community