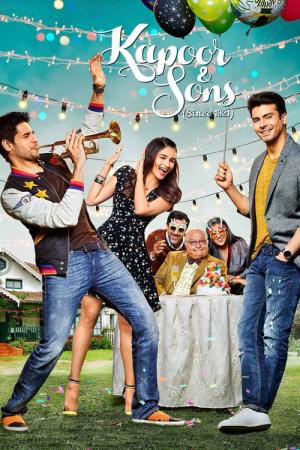 11 Best Movies Like Kapoor And Sons ...
If you liked this one , you will definitely love these too! In this selection we highlight some of the best films that share a very similar premise to 'Kapoor & Sons', and are worth checking out.
1h 43m Comedy Drama
Vada Sultenfuss is obsessed with death. Her mother is dead, and her father runs a funeral parlor. She is also in love with her English teacher, and joins a poetry class over the summer just to impress him. Thomas J., her best friend, is "allergic to everything", and sticks with Vada despite her hangups. When Vada's father hires Shelly, and begins to fall for her, things take a turn to the worse...
1h 35m Drama Romance
When 19-year-old gay-rights activist Tommy and 24-year-old Alan first meet in 1973, they find themselves on the opposite sides of the political coin...
4.
Our Souls at Night (2017)
1h 41m Romance Drama
Addie Moore and Louis Waters, a widow and widower, have lived next to each other for years. The pair have almost no relationship, but that all changes when Addie tries to make a connection with her neighbour.
5.
Make the Yuletide Gay (2009)
1h 29m Drama Comedy Romance
The holidays get overly festive as Olaf "Gunn" Gunnunderson, an out-and-proud gay college student, crawls back into the closet to survive the holidays with his parents. But when his boyfriend, Nathan, shows up at their doorstep unannounced, Gunn must put on a charade to keep the relationship a secret. With pressure mounting from all sides, will Gunn come out before the truth does?
6.
The Only Mother (2003)
1h 35m Family Comedy Drama
Desperate to provide a comfortable life for her children, Ina willingly takes all kinds of jobs available to her. But what happens when Ina's family continues to fall apart despite all her sacrifices?
1h 19m Comedy Drama Romance
A coming-of-age movie that tells a story unfolding in every high school around the country -- a story of kids hiding their true identities in plain sight, even as they feverishly pursue their hearts' desires.
8.
Short Term Shadi (2012)
1h 28m Comedy Drama
Dorian realizes he is gay in his final year of high school. He meets another gay youth locally, but remains confused. He starts therapy, then resorts to confession in the Church, and finally comes out to his brother. Dorian then decides to come out to his father; he gets kicked out of the house.
1h 48m Drama Romance
Steven spends his school days longing for all-star athlete John. But John has a gorgeous girlfriend, and Steven is still in the closet about being gay. The only one who knows the teenager's secret is his friend Linda. After a curious run-in with John in a public restroom, Steven starts to wonder if the jock is straight after all. When they start a romance, it threatens to expose the truth about both of them.
1h 57m Drama Romance
Henry Hart is a young gay artist living in New York City. When his grandfather has a stroke, Henry puts his career on hold and returns home to the small town of Big Eden, Montana, to care for him. While there, Henry hopes to strike up a romance with Dean Stewart, his high-school best friend for whom he still has feelings. But he's surprised when he finds that Pike, a quiet Native American who owns the local general store, may have a crush on him.
explore
Check out more list from our community