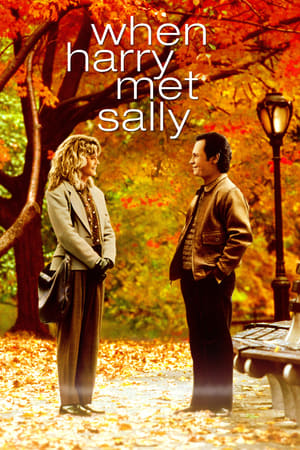 29 Best Movies Like When Harry Met Sally ...
If you liked this movie , you will probably love these too! In this collection we highlight some of the best films that share a very similar mood to '', and are worth checking out.
1.
Sleepless in Seattle (1993)
1h 45m Comedy Drama Romance
Desperate to find his dad Sam a date, a young boy calls into a radio show and catches the attention of Annie, a journalist who wants to meet Sam atop the Empire State Building.
2.
You've Got Mail (1998)
22m Comedy
What if mechanics told us the truth? What if Barbie and Ken really existed? What if hockey players were always polite with each other? These are the kinds of set-ups explored in this irreverent, absurd and nutty sketch comedy television show.
1h 47m Drama Romance
A romantic comedy centered on Dexter and Emma, who first meet during their graduation in 1988 and proceed to keep in touch regularly. The film follows what they do on July 15 annually, usually doing something together.
5.
He Said, She Said (1991)
1h 55m Comedy Drama Romance
Womanising, right-wing Dan Hanson and quiet, liberal Lorie Bryer work for the Baltimore Sun. Rivals for the job of new writer of a vacant column, the paper ends up instead printing their very different opinions alongside each other, which leads to a similarly combative local TV show. At the same time their initial indifference to each other looks like it may evolve into something more romantic.
6.
A Lot Like Love (2005)
1h 47m Comedy Drama Romance
On a flight from Los Angeles to New York, Oliver and Emily make a connection, only to decide that they are poorly suited to be together. Over the next seven years, however, they are reunited time and time again, they go from being acquaintances to close friends to ... lovers?
7.
My Best Friend's Wedding (1997)
1h 45m Comedy Romance
When she receives word that her longtime platonic pal Michael O'Neal is getting married to debutante Kimberly Wallace, food critic Julianne Potter realizes her true feelings for Michael -- and sets out to sabotage the wedding.
8.
Breakfast at Tiffany's (1961)
1h 54m Comedy Drama Romance
Holly Golightly is an eccentric New York City playgirl determined to marry a Brazilian millionaire. But when young writer Paul Varjak moves into her apartment building, her past threatens to get in their way.
9.
The Mirror Has Two Faces (1996)
2h 6m Comedy Drama Romance
Rose Morgan, who still lives with her mother, is a professor of Romantic Literature who desperately longs for passion in her life. Gregory Larkin, a mathematics professor, has been burned by passionate relationships and longs for a sexless union based on friendship and respect.
1h 30m Comedy Romance Drama
Although strangers Sara and Jonathan are both already in relationships, they realize they have genuine chemistry after a chance encounter – but part company soon after. Years later, they each yearn to reunite, despite being destined for the altar. But to give true love a chance, they have to find one another again.
11.
Frankie and Johnny (1991)
1h 58m Drama Romance Comedy
When Johnny is released from prison following a forgery charge, he quickly lands a job as a short-order cook at a New York diner. Following a brief fling with waitress Cora, Frankie develops an attraction for Cora's friend and fellow waitress Frankie. While Frankie resists Johnny's charms initially, she eventually relents when her best friend, Tim, persuades her to give Johnny a chance.
1h 55m Romance Comedy
It took a lot of cajoling to get Bob, a recently widowed architect, to go on a blind date at a quirky Irish-Italian eatery. Once there, he's smitten instantly not with his date but with the sharp-witted waitress. Everything seems to be going great until an unbelievable truth is revealed, one that could easily break both of their hearts for good.
13.
500 Days of Summer (2009)
1h 35m Comedy Drama Romance
Tom, greeting-card writer and hopeless romantic, is caught completely off-guard when his girlfriend, Summer, suddenly dumps him. He reflects on their 500 days together to try to figure out where their love affair went sour, and in doing so, Tom rediscovers his true passions in life.
1h 41m Comedy Romance
Tom and Hannah have been platonic friends for 10 years. He's a serial dater, while she wants marriage but hasn't found Mr. Right. Just as Tom is starting to think that he is relationship material after all, Hannah gets engaged. When she asks Tom to be her 'maid' of honor, he reluctantly agrees just so he can attempt to stop the wedding and woo her.
15.
While You Were Sleeping (1995)
1h 43m Comedy Romance
A transit worker pulls commuter Peter off railway tracks after he's mugged, but—while he's in a coma—his family mistakenly thinks she's Peter's fiancée, and she doesn't correct them. Things get more complicated when she falls for his brother, who's not quite sure that she's who she claims to be.
1h 41m Comedy Drama Romance
Mickey Gordon is a basketball referee who travels to France to bury his father. Ellen Andrews is an American living in Paris who works for the airline he flies on. They meet and fall in love, but their relationship goes through many difficult patches.
17.
Friends with Benefits (2011)
18.
The Wedding Date (2005)
1h 28m Comedy Romance
With the wedding of her younger sister fast approaching, Kat Ellis faces the undesirable prospect of traveling alone to London for the ceremony. While this is bad enough, Jeffrey, the man who left her as they moved closer to marriage, happens to be the groom's best man. Determined to show everyone -- most of all Jeffrey -- that her romantic life is as full and thrilling as ever, Kat hires a charming male escort as her date.
19.
Someone Like You... (2001)
1h 37m Comedy Romance
Jane Goodale has everything going for her. She's a producer on a popular daytime talk show, and is in a hot romance with the show's dashing executive producer Ray. But when the relationship goes terribly awry, Jane begins an extensive study of the male animal, including her womanizing roommate Eddie. Jane puts her studies and romantic misadventure to use as a pseudonymous sex columnist -- and becomes a sensation.
2h 1m Comedy Drama Romance
Emma Woodhouse is a congenial young lady who delights in meddling in other people's affairs. She is perpetually trying to unite men and women who are utterly wrong for each other. Despite her interest in romance, Emma is clueless about her own feelings, and her relationship with gentle Mr. Knightly.
21.
Life as We Know It (2010)
1h 54m Comedy Romance Drama
After a distastrous first date for caterer Holly and network sports director Messer, all they have is common is a dislike for each other and their love for their goddaughter Sophie. But when they suddenly become all Sophie has in this world, Holly and Messer must set their differences aside. Juggling careers and social calendars, they'll have to find common ground while living under the same roof.
22.
How to Be Single (2016)
1h 50m Comedy Romance
New York City is full of lonely hearts seeking the right match, and what Alice, Robin, Lucy, Meg, Tom and David all have in common is the need to learn how to be single in a world filled with ever-evolving definitions of love.
1h 51m Comedy Romance
Altruistic Jane finds herself facing her worst nightmare as her younger sister announces her engagement to the man Jane secretly adores.
24.
Celeste & Jesse Forever (2012)
1h 31m Comedy Drama Romance
Celeste and Jesse met in high school and got married young. They laugh at the same jokes and finish each other's sentences. They are forever linked in their friends' minds as the perfect couple – she, a high-powered businesswoman and budding novelist; he, a free spirit who keeps things from getting boring. Their only problem is that they have decided to get divorced. Can their perfect relationship withstand this minor setback?
25.
Bridget Jones's Diary (2001)
1h 37m Comedy Romance Drama
A chaotic Bridget Jones meets a snobbish lawyer, and he soon enters her world of imperfections.
1h 32m Comedy Romance
Joe and Lucy are roommates and best friends. Lucy, whose love life is embarrassingly dull, convinces Joe, who is infatuated with a neighbor he's never met, that if they don't have stable romances within a month, they must jump off the Brooklyn Bridge.
1h 37m Comedy Drama Romance
Four friends search for love and happiness while working at a California sandwich shop.
28.
Definitely, Maybe (2008)
1h 52m Comedy Romance
When Will decides to tell his daughter the story of how he met her mother, he discovers that a second look at the past might also give him a second chance at the future.
explore
Check out more list from our community