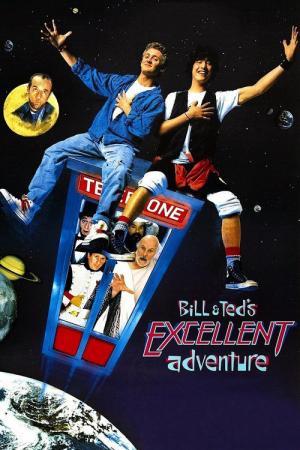 11 Best Movies Like Bill And Ted ...
If you liked this one , you will definitely love these too! In this selection we highlight some of the best films that share a very similar premise to 'Bill & Ted's Excellent Adventure', and are worth checking out.
1.
Back to the Future (1985)
1h 56m Adventure Comedy Science Fiction Family
Eighties teenager Marty McFly is accidentally sent back in time to 1955, inadvertently disrupting his parents' first meeting and attracting his mother's romantic interest. Marty must repair the damage to history by rekindling his parents' romance and - with the help of his eccentric inventor friend Doc Brown - return to 1985.
1h 40m Comedy Drama
Young Kid has been invited to a party at his friend Play's house. But after a fight at school, Kid's father grounds him. None the less, Kid sneaks out when his father falls asleep. But Kid doesn't know that three of the thugs at school have decided to give him a lesson in behavior.
3.
Frequently Asked Questions About Time Travel (2009)
4.
The Adventures of Buckaroo Banzai Across the 8th Dimension (1984)
1h 43m Comedy Science Fiction Adventure Romance
Adventurer/surgeon/rock musician Buckaroo Banzai and his band of men, the Hong Kong Cavaliers, take on evil alien invaders from the 8th dimension.
5.
Honey I Blew Up the Kid (1992)
1h 29m Adventure Comedy Family Science Fiction
Wayne Szalinski is at it again. But instead of shrinking things, he tries to make a machine that can make things grow. As in the first one, his machine isn't quite accurate. But when he brings Nick & his toddler son Adam to see his invention, the machine unexpectedly starts working. And when Adam comes right up to the machine, he gets zapped along with his stuffed bunny.
1h 24m Adventure Comedy Science Fiction
To test its top-secret Human Hibernation Project, the Pentagon picks the most average Americans it can find - an Army private and a prostitute - and sends them to the year 2505 after a series of freak events. But when they arrive, they find a civilization so dumbed-down that they're the smartest people around.
7.
Back to the Future Part II (1989)
1h 48m Adventure Comedy Family Science Fiction
Marty and Doc are at it again in this wacky sequel to the 1985 blockbuster as the time-traveling duo head to 2015 to nip some McFly family woes in the bud. But things go awry thanks to bully Biff Tannen and a pesky sports almanac. In a last-ditch attempt to set things straight, Marty finds himself bound for 1955 and face to face with his teenage parents -- again.
9.
Honey, I Shrunk the Kids (1989)
1h 33m Adventure Comedy Family Science Fiction
The scientist father of a teenage girl and boy accidentally shrinks his and two other neighborhood teens to the size of insects. Now the teens must fight diminutive dangers as the father searches for them.
10.
One Crazy Summer (1986)
1h 29m Drama Comedy Romance Family
An aspiring teenage cartoonist and his friends come to the aid of a singer trying to save her family property from developers.
11.
Mom and Dad Save the World (1992)
1h 28m Adventure Comedy Family Science Fiction
Emperor Spengo sees Marge Nelson and using a giant magnet, kidnaps her and her husband Dick, hoping to make Marge his before blowing up the Earth. The Emperor and other inhabitants of his planet are somewhat less than bright, and Dick begins reliving episodes of Flash Gordon and Buck Rogers in order to rescue Marge, save the Earth, and restore the rightful emperor to the throne.
explore
Check out more list from our community