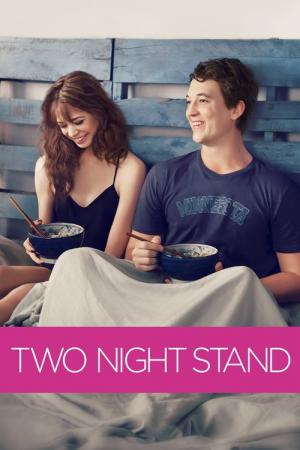 11 Best Movies Like Two Night Stand ...
If you liked this one , you will probably love these too! In this collection we highlight some of the best films that share a very similar premise to 'Two Night Stand', and are worth checking out.
1h 58m Comedy Romance
The lives of several couples and singles in New York intertwine over the course of New Year's Eve.
1h 58m Comedy Drama Romance
Dating coach Alex 'Hitch' Hitchens mentors a bumbling client, Albert, who hopes to win the heart of the glamorous Allegra Cole. While Albert makes progress, Hitch faces his own romantic setbacks when proven techniques fail to work on Sara Melas, a tabloid reporter digging for dirt on Allegra Cole's love life. When Sara discovers Hitch's connection to Albert – now Allegra's boyfriend – it threatens to destroy both relationships.
3.
40 Days and 40 Nights (2002)
1h 34m Comedy Romance
Matt Sullivan's last big relationship ended in disaster and ever since his heart's been aching and his commitment's been lacking. Then came Lent, that time of year when everybody gives something up. That's when Matt decides to go where no man's gone before and make a vow: No sex. Whatsoever. For 40 straight days. At first he has everything under control. That is until the woman of his dreams, Erica, walks into his life.
1h 36m Comedy Romance
A romantically challenged morning show producer is reluctantly embroiled in a series of outrageous tests by her chauvinistic correspondent to prove his theories on relationships and help her find love. His clever ploys, however, lead to an unexpected result.
5.
How to Lose a Guy in 10 Days (2003)
1h 56m Comedy Romance
It's the battle of wills, as Andie (Kate Hudson) needs to prove she can dump a guy in 10 days, whereas Ben (Matthew McConaughey) needs to prove he can win a girl in 10 days. Now, the clock is ticking - and the wildly entertaining comedy smash is off and running in this irresistible tale of sex, lies and outrageous romantic fireworks!
1h 33m Comedy Romance
Lance Valenteen (David Boreanaz) makes a living as "Mr. Fix It," a man who gets hired by men that have just recently been dumped by their girlfriend. Lance dates the guys' ex-girlfriend and becomes the worst date possible, sending the girl back into her ex-boyfriends arms. But when Lance gets hired by Bill Smith (Pat Healy) to get Sophia Fiori (Alana De La Garza) back, Lance, for the first time, starts falling for one of his marks.
7.
Two Weeks Notice (2002)
1h 41m Comedy Romance
Dedicated environmental lawyer Lucy Kelson goes to work for billionaire George Wade as part of a deal to preserve a community center. Indecisive and weak-willed George grows dependent on Lucy's guidance on everything from legal matters to clothing. Exasperated, Lucy gives notice and picks Harvard graduate June Carter as her replacement. As Lucy's time at the firm nears an end, she grows jealous of June and has second thoughts about leaving George.
8.
What's Your Number? (2011)
1h 35m Comedy Romance
What a man is a comedy that tells the story of a young professor, Alex (Matthias Schweighofer), which after being left by his girlfriend Caroline (Mavie Hörbiger), begins a journey to know himself. But how do you overcome the difficulties of a man today? Or rather what is it that makes a man a man?
9.
Good Luck Chuck (2007)
1h 41m Comedy
Cursed since childhood, dentist Charlie Logan cannot find the right woman. Even worse, he learns that each of his ex-girlfriends finds true love with the man she meets after her relationship with him ends. Hearing of Charlie's reputation as a good-luck charm, women from all over line up for a quick tryst. But when Charlie meets the woman of his dreams, he must find a way to break the curse or risk losing her to the next man she meets.
10.
The First Time (2012)
1h 35m Drama Comedy Romance
Dave, a high school senior, spends most of his time pining away over a girl he can't have. Aubrey, a junior with artistic aspirations, has a hot boyfriend who doesn't quite understand her or seem to care. Although they go to different schools, Dave and Aubrey find themselves at the same party. When both head outside to get some air, they meet. A casual conversation sparks an instant connection, and, over the course of a weekend, things turn magical, romantic, complicated, and funny as Aubrey and Dave discover what it's like to fall in love for the first time.
2h 16m Comedy Romance
Two women, one from the United States and one from the United Kingdom, swap homes at Christmastime after bad breakups with their boyfriends. Each woman finds romance with a local man but realizes that the imminent return home may end the relationship.
explore
Check out more list from our community