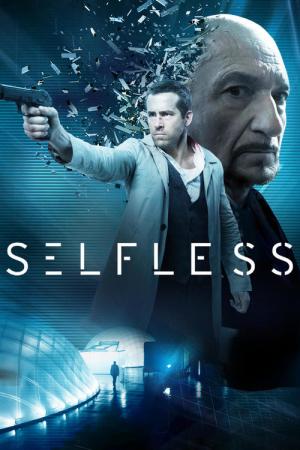 31 Best Movies Like Selfless ...
If you liked this film , you will probably love these too! In this selection we highlight some of the best films that share a very similar mood to '', and are worth checking out.
1h 49m Action Thriller Science Fiction
In the not-too-distant future the aging gene has been switched off. To avoid overpopulation, time has become the currency and the way people pay for luxuries and necessities. The rich can live forever, while the rest try to negotiate for their immortality. A poor young man who comes into a fortune of time, though too late to help his mother from dying. He ends up on the run from a corrupt police force known as 'time keepers'.
2.
Blade Runner 2049 (2017)
2h 44m Science Fiction Drama
Thirty years after the events of the first film, a new blade runner, LAPD Officer K, unearths a long-buried secret that has the potential to plunge what's left of society into chaos. K's discovery leads him on a quest to find Rick Deckard, a former LAPD blade runner who has been missing for 30 years.
1h 53m Action Mystery Thriller
A man awakens from a coma, only to discover that someone has taken on his identity and that no one, (not even his wife), believes him. With the help of a young woman, he sets out to prove who he is.
4.
The Thirteenth Floor (1999)
1h 41m Thriller Science Fiction Mystery
Los Angeles. A wealthy man, known as Mr. Fuller, discovers a shocking secret about the world he lives in. Fearing for his life, he leaves a desperate message for a friend of his in the most unexpected place.
2h 3m Science Fiction Mystery Action
Futuristic action about a man who meets a clone of himself and stumbles into a grand conspiracy about clones taking over the world.
1h 59m Action Adventure Mystery Science Fiction Thriller
Michael Jennings is a genius who's hired – and paid handsomely – by high-tech firms to work on highly sensitive projects, after which his short-term memory is erased so he's incapable of breaching security. But at the end of a three-year job, he's told he isn't getting a paycheck and instead receives a mysterious envelope. In it are clues he must piece together to find out why he wasn't paid – and why he's now in hot water.
1h 37m Thriller Action Science Fiction
A former soldier is taken captive and awakens in the back of a van where he learns that he only has less than 10 minutes to figure out how he got there.
2h 16m Action Thriller Science Fiction Adventure
In 2019, Lincoln Six-Echo is a resident of a seemingly "Utopian" but contained facility. Like all of the inhabitants of this carefully-controlled environment, Lincoln hopes to be chosen to go to The Island — reportedly the last uncontaminated location on the planet. But Lincoln soon discovers that everything about his existence is a lie.
1h 59m Thriller Science Fiction Drama Mystery
Two leading computer scientists work toward their goal of Technological Singularity, as a radical anti-technology organization fights to prevent them from creating a world where computers can transcend the abilities of the human brain.
1h 47m Science Fiction Thriller
A scientist becomes obsessed with returning his family to normalcy after a terrible accident.
1h Crime Drama
Criminal Minds: Beyond Borders is a drama about the specialized International Division of the FBI tasked with solving crimes and coming to the rescue of Americans who find themselves in danger while abroad.
1h 45m Thriller Mystery Science Fiction
A paranoia-fueled action thriller about an unsuccessful writer whose life is transformed by a top-secret "smart drug" that allows him to use 100% of his brain and become a perfect version of himself. His enhanced abilities soon attract shadowy forces that threaten his new life in this darkly comic and provocative film.
2h Adventure Science Fiction Action Mystery
Beatrice Prior and Tobias Eaton venture into the world outside of the fence and are taken into protective custody by a mysterious agency known as the Bureau of Genetic Welfare.
1h 29m Science Fiction Action Thriller
Set in a futuristic world where humans live in isolation and interact through surrogate robots, a cop is forced to leave his home for the first time in years in order to investigate the murders of others' surrogates.
1h 32m Horror Science Fiction Thriller
A corporate risk-management consultant must determine whether or not to terminate an artificial being's life that was made in a laboratory environment.
1h 40m Action Thriller Science Fiction
A brutal mugging leaves Grey Trace paralyzed in the hospital and his beloved wife dead. A billionaire inventor soon offers Trace a cure — an artificial intelligence implant called STEM that will enhance his body. Now able to walk, Grey finds that he also has superhuman strength and agility — skills he uses to seek revenge against the thugs who destroyed his life.
1h 37m Thriller Science Fiction
Three college students on a road trip across the Southwest experience a detour – the tracking of a computer genius who has already hacked into MIT and exposed security faults. When the trio find themselves drawn to an eerily isolated area, suddenly everything goes dark. When one of the students regains consciousness, he finds himself in a waking nightmare.
1h 25m Adventure Science Fiction Western
In a futuristic resort, wealthy patrons can visit recreations of different time periods and experience their wildest fantasies with life-like robots. But when Richard Benjamin opts for the wild west, he gets more than he bargained for when a gunslinger robot goes berserk.
1h 36m Thriller Science Fiction Action Adventure
Julian Michaels has designed the ultimate resort: VICE, where anything goes and the customers can play out their wildest fantasies with artificial inhabitants who look, think and feel like humans. When an artificial becomes self-aware and escapes, she finds herself caught in the crossfire between Julian's mercenaries and a cop who is hell-bent on shutting down Vice, and stopping the violence once and for all.
20.
Cyborg 2: Glass Shadow (1993)
1h 39m Action Adventure Science Fiction
In the year 2074, the cybernetics market is dominated by two rival companies: USA's Pinwheel Robotics and Japan's Kobayashi Electronics. Cyborgs are commonplace, used for anything from soldiers to prostitutes. Casella Reese is a prototype cyborg developed for corporate espionage and assassination. She is filled with a liquid explosive called Glass Shadow. Pinwheel plans to eliminate the entire Kobayashi board of directors by using Casella
1h 51m Action Science Fiction Thriller Crime
In the future, medical technology has advanced to the point where people can buy artificial organs to extend their lives. But if they default on payments, an organization known as the Union sends agents to repossess the organs. Remy is one of the best agents in the business, but when he becomes the recipient of an artificial heart, he finds himself in the same dire straits as his many victims.
1h 53m Action Adventure Science Fiction
Construction worker Douglas Quaid discovers a memory chip in his brain during a virtual-reality trip. He also finds that his past has been invented to conceal a plot of planetary domination. Soon, he's off to Mars to find out who he is and who planted the chip.
23.
Demolition Man (1993)
1h 55m Crime Action Science Fiction
Simon Phoenix, a violent criminal cryogenically frozen in 1996, escapes during a parole hearing in 2032 in the utopia of San Angeles. Police are incapable of dealing with his violent ways and turn to his captor, who had also been cryogenically frozen after being wrongfully accused of killing 30 innocent people while apprehending Phoenix.
24.
The Shadow Effect (2017)
1h 33m Science Fiction Action Thriller
A young man's life is turned upside down when his violent dreams begin to blend with reality.
25.
The Running Man (1987)
1h 41m Science Fiction Action Thriller
By 2017, the global economy has collapsed and U.S. society has become a totalitarian police state, censoring all cultural activity. The government pacifies the populace by broadcasting a number of game shows in which convicted criminals fight for their lives, including the gladiator-style The Running Man, hosted by the ruthless Damon Killian, where "runners" attempt to evade "stalkers" and certain death for a chance to be pardoned and set free.
26.
The Maze Runner (2014)
1h 53m Action Mystery Science Fiction Thriller
Set in a post-apocalyptic world, young Thomas is deposited in a community of boys after his memory is erased, soon learning they're all trapped in a maze that will require him to join forces with fellow "runners" for a shot at escape.
1h 58m Science Fiction Action
In RoboCop, the year is 2028 and multinational conglomerate OmniCorp is at the center of robot technology. Overseas, their drones have been used by the military for years, but have been forbidden for law enforcement in America. Now OmniCorp wants to bring their controversial technology to the home front, and they see a golden opportunity to do it. When Alex Murphy – a loving husband, father and good cop doing his best to stem the tide of crime and corruption in Detroit – is critically injured, OmniCorp sees their chance to build a part-man, part-robot police officer. OmniCorp envisions a RoboCop in every city and even more billions for their shareholders, but they never counted on one thing: there is still a man inside the machine.
28.
Minority Report (2002)
2h 25m Action Thriller Science Fiction Mystery
John Anderton is a top 'Precrime' cop in the late-21st century, when technology can predict crimes before they're committed. But Anderton becomes the quarry when another investigator targets him for a murder charge.
29.
The Bourne Supremacy (2004)
1h 48m Action Drama Thriller
When a CIA operation to purchase classified Russian documents is blown by a rival agent, who then shows up in the sleepy seaside village where Bourne and Marie have been living. The pair run for their lives and Bourne, who promised retaliation should anyone from his former life attempt contact, is forced to once again take up his life as a trained assassin to survive.
30.
The Bourne Ultimatum (2007)
1h 55m Action Drama Mystery Thriller
Bourne is brought out of hiding once again by reporter Simon Ross who is trying to unveil Operation Blackbriar, an upgrade to Project Treadstone, in a series of newspaper columns. Information from the reporter stirs a new set of memories, and Bourne must finally uncover his dark past while dodging The Company's best efforts to eradicate him.
explore
Check out more list from our community