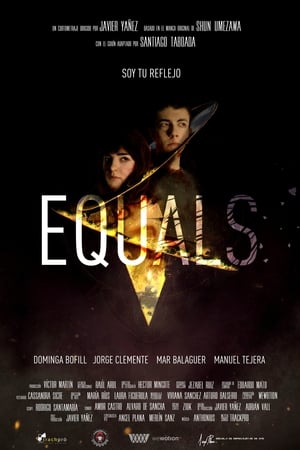 12 Best Movies Like Equals ...
If you liked this movie , you will for sure love these too! In this collection we highlight some of the best films that share a very similar premise to 'Equals', and are worth checking out.
1h 26m Drama Mystery Science Fiction
People in the future live in a totalitarian society. A technician named THX 1138 lives a mundane life between work and taking a controlled consumption of drugs that the government uses to make puppets out of people. As THX is without drugs for the first time he has feelings for a woman and they start a secret relationship.
1h 37m Drama Science Fiction
In a seemingly perfect community, without war, pain, suffering, differences or choice, a young boy is chosen to learn from an elderly man about the true pain and pleasure of the "real" world.
2h 52m Drama Science Fiction
A set of six nested stories spanning time between the 19th century and a distant post-apocalyptic future. Cloud Atlas explores how the actions and consequences of individual lives impact one another throughout the past, the present and the future. Action, mystery and romance weave through the story as one soul is shaped from a killer into a hero and a single act of kindness ripples across centuries to inspire a revolution in the distant future. Based on the award winning novel by David Mitchell. Directed by Tom Tykwer and the Wachowskis.
4.
Things You Can Tell Just by Looking at Her (2000)
52m Crime
A genealogist and a cop: a great team for uncovering the origins of the crime. On a murder case, genealogist Margot Laurent teams up with Arthur Du Plessis, a young and self-assured cop. Who committed the murder? And why? A murder always has its dark side: a fabricated family history that becomes an urban legend. And who can claim that their family has no secrets? Margot and Arthur strip away the hidden mysteries to shed light on the murder. Arthur is the no-nonsense one, here to arrest the culprit, while Margot, the genealogist, is more interested in the past, in the prehistory of the murder, in what prefigured the tragedy before it happened. Between them, Margot and Arthur bring the events into focus. Here lie hidden family traumas, stories sometimes ignored by those who must endure the aftermath, which give multiple layers to the whodunnit.
1h 45m Romance Science Fiction Mystery
The story of the forbidden relationship between a 'low born' boy and a 'high born' girl in an alternate reality where every person's relationships and life worth are determined by their innate 'frequencies'.
1h 31m Science Fiction Comedy Drama Romance
When a chance encounter brings together the cynical Dell and the quick-witted Kimberly, the stage is set for a tempestuous love affair that unfolds like a puzzle. As the film zigzags back and forth in time-from a meteor shower in LA, to an encounter in a Paris hotel room, to a fateful phone call — an unforgettable portrait of a relationship emerges.
1h 47m Action Science Fiction Thriller
In a dystopian future, a totalitarian regime maintains peace by subduing the populace with a drug, and displays of emotion are punishable by death. A man in charge of enforcing the law rises to overthrow the system.
2h 6m Romance Science Fiction Drama
In the not so distant future, Theodore, a lonely writer purchases a newly developed operating system designed to meet the user's every needs. To Theodore's surprise, a romantic relationship develops between him and his operating system. This unconventional love story blends science fiction and romance in a sweet tale that explores the nature of love and the ways that technology isolates and connects us all.
1h 33m Drama Science Fiction Romance
In Glasgow, Scotland, while a mysterious pandemic begins to spread around the world, Susan, a brilliant epidemiologist, falls in love with Michael, a skillful cook.
1h 32m Drama Science Fiction
On the night of the discovery of a duplicate Earth in the Solar system, an ambitious young student and an accomplished composer cross paths in a tragic accident.
1h 33m Drama Science Fiction Thriller
In a dystopian future, insurance fraud investigator William Gold arrives in Shanghai to investigate a forgery ring for "papelles", futuristic passports that record people's identities and genetics. Gold falls for Maria Gonzalez, the woman in charge of the forgeries. After a passionate affair, Gold returns home, having named a coworker as the culprit. But when one of Gonzalez's customers is found dead, Gold is sent back to Shanghai to complete the investigation.
explore
Check out more list from our community