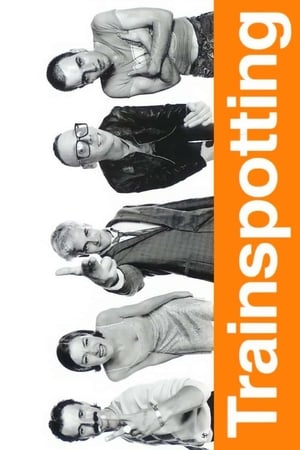 13 Best Movies Like Trainspotting ...
If you liked this film , you will probably love these too! In this list we highlight some of the best films that share a very similar premise to 'Trainspotting', and are worth checking out.
A ticking-time-bomb insomniac and a slippery soap salesman channel primal male aggression into a shocking new form of therapy. Their concept catches on, with underground "fight clubs" forming in every town, until an eccentric gets in the way and ignites an out-of-control spiral toward oblivion.
2h 19m
Director: David Fincher
Novel: Chuck Palahniuk
Screenplay: Jim Uhls
Drama
A young boy trying to deal with his mother's heroin addiction befriends a waitress who helps him cope with the tough situation.
1h 36m
Director: Gillies MacKinnon
Drama
Set in 1977, back when sex was safe, pleasure was a business and business was booming, idealistic porn producer Jack Horner aspires to elevate his craft to an art form. Horner discovers Eddie Adams, a hot young talent working as a busboy in a nightclub, and welcomes him into the extended family of movie-makers, misfits and hangers-on that are always around. Adams' rise from nobody to a celebrity adult entertainer is meteoric, and soon the whole world seems to know his porn alter ego, "Dirk Diggler". Now, when disco and drugs are in vogue, fashion is in flux and the party never seems to stop, Adams' dreams of turning sex into stardom are about to collide with cold, hard reality.
2h 36m
Director, Screenplay: Paul Thomas Anderson
Drama
A bigoted junkie cop suffering from bipolar disorder and drug addiction manipulates and hallucinates his way through the festive season in a bid to secure promotion and win back his wife and daughter.
1h 37m
Director, Screenplay: Jon S. Baird
Novel: Irvine Welsh
Crime Drama Comedy
5.
Fear and Loathing in Las Vegas (1998)
Raoul Duke and his attorney Dr. Gonzo drive a red convertible across the Mojave desert to Las Vegas with a suitcase full of drugs to cover a motorcycle race. As their consumption of drugs increases at an alarming rate, the stoned duo trash their hotel room and fear legal repercussions. Duke begins to drive back to L.A., but after an odd run-in with a cop, he returns to Sin City and continues his wild drug binge.
1h 58m
Director, Screenplay: Terry Gilliam
Author: Hunter S. Thompson
Screenplay: Alex Cox
Screenplay: Tod Davies
Screenplay: Tony Grisoni
Adventure Drama Comedy
6.
Drugstore Cowboy (1989)
Portland, Oregon, 1971. Bob Hughes is the charismatic leader of a peculiar quartet, formed by his wife, Dianne, and another couple, Rick and Nadine, who skillfully steal from drugstores and hospital medicine cabinets in order to appease their insatiable need for drugs. But neither fun nor luck last forever.
1h 38m
Director, Screenplay: Gus Van Sant
Novel: James Fogle
Screenplay: Daniel Yost
Drama Crime
7.
The Basketball Diaries (1995)
A high school basketball player's life turns upside down after free-falling into the harrowing world of drug addiction.
1h 42m
Author: Jim Carroll
Director: Scott Kalvert
Screenplay: Bryan Goluboff
Drama Crime
Five twenty-something friends spend a drug-fueled weekend in Cardiff, Wales.
1h 39m
Director, Screenplay: Justin Kerrigan
Comedy Drama
A controversial portrayal of teens in New York City which exposes a deeply disturbing world of sex and substance abuse. The film focuses on a sexually reckless, freckle-faced boy named Telly, whose goal is to have sex with as many different girls as he can. When Jenny, a girl who has had sex only once, tests positive for HIV, she knows she contracted the disease from Telly. When Jenny discovers that Telly's idea of "safe sex" is to only have sex with virgins, and is continuing to pass the disease onto other unsuspecting girls, Jenny makes it her business to try to stop him.
1h 31m
Director: Larry Clark
Screenplay: Harmony Korine
Drama Crime
Tracy is a normal 13-year-old trying to make it in school. After befriending the most popular girl at school, Evie, Tracy's world is turned upside down when Evie introduces her to a world of sex, drugs and cash. But it isn't long before Tracy's new world and attitude finally takes a toll on her, her family, and old friends.
1h 40m
Director, Screenplay: Catherine Hardwicke
Screenplay: Nikki Reed
Drama
Based on the 1973 rock opera album of the same name by The Who, this is the story of 60s teenager Jimmy. At work he slaves in a dead-end job. While after, he shops for tailored suits and rides his scooter as part of the London Mod scene.
2h
Director, Screenplay: Franc Roddam
Screenplay: Dave Humphries
Screenplay: Martin Stellman
Drama Music
In an impressive follow up to his debut film Forest, Benedek Fliegauf tells the uncompromising story of a day in the life of a drug dealer. His clients include the leader of a religious sect, a friend who needs a final fix, a former lover who has had his child, a student, and a black marketeer. Fliegauf's film recreates life in a city that resembles a ghost town, an alienated world with its own priorities and realities. It is, he says '. an imaginary city with a strongly spiritualist atmosphere. This necropolis is the film's real protagonist'.
2h 16m
Director, Writer: Benedek Fliegauf
Drama
13.
The Panic in Needle Park (1971)
A stark portrayal of life among a group of heroin addicts who hang out in Needle Park in New York City. Played against this setting is a low-key love story between Bobby, a young addict and small-time hustler, and Helen, a homeless girl who finds in her relationship with Bobby the stability she craves.
1h 50m
Director: Jerry Schatzberg
Screenplay: Joan Didion
Screenplay: John Gregory Dunne
Drama Romance
explore
Check out more list from our community