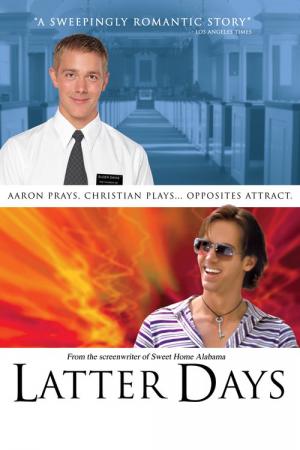 28 Best Movies Like Latter Days ...
If you liked this movie , you will for sure love these too! In this list we highlight some of the best films that share a very similar mood to '', and are worth checking out.
1h 50m Comedy Drama Romance
Everyone deserves a great love story. But for seventeen-year old Simon Spier it's a little more complicated: he's yet to tell his family or friends he's gay and he doesn't know the identity of the anonymous classmate he's fallen for online.
1h 37m Drama Romance
Forced to give up his dreams of art school, Zach works dead-end jobs to support his sister and her son. Questioning his life, he paints, surfs and hangs out with his best friend, Gabe. When Gabe's older brother returns home for the summer, Zach suddenly finds himself drawn into a relationship he didn't expect.
1h 32m Comedy Romance
When an Italian man comes out of the closet, it affects both his life and his crazy family.
4.
The Way He Looks (2014)
1h 36m Drama Romance
Leonardo is a blind teenager dealing with an overprotective mother while trying to live a more independent life. To the disappointment of his best friend, Giovana, he plans to go on an exchange program abroad. When Gabriel, a new student in town, arrives at their classroom, new feelings blossom in Leonardo making him question his plans.
5.
Beautiful Thing (1996)
1h 32m Comedy Drama Romance
Set during a long, hot summer on the Thamesmead Estate in Southeast London, three teenagers edge towards adulthood.
7.
Just a Question of Love (2000)
1h 28m Drama Romance
After his gay cousin dies from hepatitis, young Laurent, who lives with his best friend Carole, falls in love with Cedric, a plant scientist. He's afraid to inform his conservative parents that he is gay.
1h 48m Drama Romance
Steven spends his school days longing for all-star athlete John. But John has a gorgeous girlfriend, and Steven is still in the closet about being gay. The only one who knows the teenager's secret is his friend Linda. After a curious run-in with John in a public restroom, Steven starts to wonder if the jock is straight after all. When they start a romance, it threatens to expose the truth about both of them.
9.
Prayers for Bobby (2009)
1h 30m Drama History TV Movie
Bobby Griffith was his mother's favorite son, the perfect all-American boy growing up under deeply religious influences in Walnut Creek, California. Bobby was also gay. Struggling with a conflict no one knew of, much less understood, Bobby finally came out to his family.
10.
The Men Next Door (2012)
1h 24m Romance Comedy Drama
This is a fast-paced comedy about a 40-year-old gay man who finds himself dating two equally lovable men - a secure 50-year-old who came out later in life, and an adventurous 30-year-old who wasn't looking for a relationship. What he doesn't find out right away is that the two men are, in fact, father and son. And as they say, wackiness ensues.
1h 38m Comedy Drama
Tobi and Achim, the pride of the local crew club, have been the best of friends for years and are convinced that nothing will ever stand in the way of their friendship. They look forward to the upcoming summer camp and the crew competition. Then the gay team from Berlin arrives and Tobi is totally confused. The evening before the races begin, the storm that breaks out is more than meteorlogical...
1h 57m Drama Romance
Henry Hart is a young gay artist living in New York City. When his grandfather has a stroke, Henry puts his career on hold and returns home to the small town of Big Eden, Montana, to care for him. While there, Henry hopes to strike up a romance with Dean Stewart, his high-school best friend for whom he still has feelings. But he's surprised when he finds that Pike, a quiet Native American who owns the local general store, may have a crush on him.
1h 34m Romance Drama
Story of two gorgeous, young French boys who begin a passionate relationship that boils over and threatens to destroy both their lives. Shy Mathieu is 18-year-old and on summer vacation in the south of France. He spends his days lazily sunning himself at the beach, until he spies the handsome Cédric and falls in love.
14.
Edge of Seventeen (1998)
1h 44m Comedy Drama Romance
From Toni Basil to the Eurythmics, from friendship bracelets to whip-it's, the summer of 1984 was about as 80s as the 80s ever got. Stuck right in the middle of it is Eric Hunter, heading towards his senior year, and passing the summer working at a local amusement park in the fast food restaurant. He is joined by his long time girl/friend Maggie, as they don their ugly brown polyester uniforms and face the world.
15.
All Over the Guy (2001)
1h 35m Comedy Romance
A contemporary romantic comedy exploring the unlikely pairing of two 20-somethings thrown together by their respective best friends in hopes of igniting their own romance.
1h 24m Comedy Romance
After getting dumped by his slutty girlfriend, Caleb falls in love with Gwen. However, thanks to Caleb's roommate, Gwen thinks he's gay and sets him up with her roommate, Marc.
1h 36m Drama Romance
After a drunken house party with his straight mates, Russell heads out to a gay club. Just before closing time he picks up Glen but what's expected to be just a one-night stand becomes something else, something special.
1h 40m Drama Romance
A promising career with the police, a baby on the way... Marc's life seems to be right on track. Then he meets fellow policeman Kay and during their regular jogs Marc experiences a never-before-felt sense of ease and effortlessness -- and what it means to fall in love with another man.
1h 28m Drama Romance
A successful gay male escort describes in a series of confessions his tangled romantic relationships with his two roommates and an older, enigmatic male client.
1h 35m Drama Romance
When 19-year-old gay-rights activist Tommy and 24-year-old Alan first meet in 1973, they find themselves on the opposite sides of the political coin...
21.
I Love You Phillip Morris (2009)
1h 38m Comedy Drama Romance
Steve Russell is a small-town cop. Bored with his bland lifestyle, Russell turns to fraud as a means of shaking things up. Before long, Russell's criminal antics have landed him behind bars, where he encounters the charismatic Phillip Morris. Smitten, Russell devotes his entire life to being with Morris regardless of the consequences.
1h 33m Romance Drama
Malik has a lot on his plate when he returns home to Tunisia after living in France. He's processing his father's death, he can't come out to his mother, and his childhood anxieties have resurfaced. But all of Malik's problems seem to fade away when he falls for Bilal, the dreamy houseboy at his mother's bourgeois estate.
1h 41m Romance Drama Comedy
A group of New Yorkers caught up in their romantic/sexual milieu converge at Shortbus, an underground Brooklyn salon infamous for its blend of art, music, politics, and carnality, and loosely inspired by various underground NYC gatherings that took place in the early 2000s. Here, gay couple Jamie (PJ DeBoy) and James (Paul Dawson) meet Ceth (Jay Brannan), a young ex-model and aspiring singer.
1h 28m Comedy Drama
Dorian realizes he is gay in his final year of high school. He meets another gay youth locally, but remains confused. He starts therapy, then resorts to confession in the Church, and finally comes out to his brother. Dorian then decides to come out to his father; he gets kicked out of the house.
1h 31m Comedy Romance
Alim is a gay man living in London to escape the domineering eye of his conservative Muslim mother, Nuru, back in Canada. Alim keeps his homosexuality secret from his mother, so when she comes for a surprise visit, he and his boyfriend, Giles, must put on a straight facade to hide the truth.
27.
Torch Song Trilogy (1988)
2h Comedy Drama Romance
A very personal story that is both funny and poignant, TORCH SONG TRILOGY chronicles a New Yorker's search for love, respect and tradition in a world that seems not especially made for him.
explore
Check out more list from our community