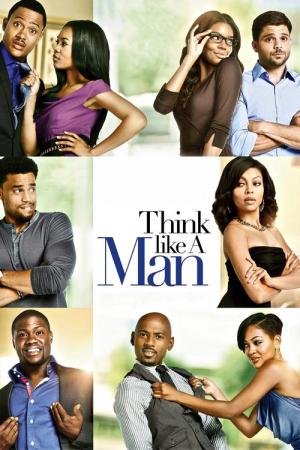 21 Best Movies Like Think Like A Man ...
If you liked this film , you will definitely love these too! In this selection we highlight some of the best films that share a very similar mood to '', and are worth checking out.
1.
Think Like a Man Too (2014)
1h 45m Comedy Romance
All the couples are back for a wedding in Las Vegas, but plans for a romantic weekend go awry when their various misadventures get them into some compromising situations that threaten to derail the big event.
1h 58m Comedy Drama Romance
Dating coach Alex 'Hitch' Hitchens mentors a bumbling client, Albert, who hopes to win the heart of the glamorous Allegra Cole. While Albert makes progress, Hitch faces his own romantic setbacks when proven techniques fail to work on Sara Melas, a tabloid reporter digging for dirt on Allegra Cole's love life. When Sara discovers Hitch's connection to Albert – now Allegra's boyfriend – it threatens to destroy both relationships.
3.
About Last Night (2014)
1h 40m Comedy Romance
A modern reimagining of the classic romantic comedy, this contemporary version closely follows new love for two couples as they journey from the bar to the bedroom and are eventually put to the test in the real world.
1h 22m Comedy Romance
Robert picked the wrong time to meet his soul mate! After being fired from his own father's company, he feels like his luck has run out - until Morgan enters into his life.
5.
Our Family Wedding (2010)
1h 43m Comedy
The weeks leading up to a young couple's wedding is comic and stressful, especially as their respective fathers try to lay to rest their feud.
6.
Breakin' All the Rules (2004)
1h 25m Comedy Romance
Inspired by his fiancée (who dumped him), a man publishes a break-up handbook for men, becoming a bestselling author in the process.
1h 44m Romance Comedy
Centers around the lives of Victoria, Zenobia, Clevon, and Phil -- all friends approaching the age of 35 and struggling to build the families they've always dreamed of. While Zenobia (Nicole Ari Parker) is still looking for a man, Victoria (Tamala Jones) is married to a man who doesn't want children. Clevon (Kevin Hart), meanwhile, is too geeky to get a woman, and Phil (Keith Robinson) is already married with children, but his wife is not very interested in being a mother. All four of them try to rectify their romantic lives and futures while their biological clocks tick away.
8.
Her Minor Thing (2005)
1h 31m Comedy Romance
Jeana does IT for the Sacramento Fire Department. She and Tom, a self-confident local TV news reporter, are about to go on a cruise to Rio when he lets slip on TV that she is a virgin. It's a slow news week, so this becomes a story: the media pursue Jeana, she breaks up with Tom and wants the tickets or her cruise money back, and Tom can't believe she's serious. Her path crosses that of Paul, a photographer recently arrived from Texas who's also Tom's cameraman; he's had six serious relationships that have ended with his heart broken. A triangle of sorts develops. Will Jeana end up with either man? Will she end up on the cruise? And what about that minor thing?
1h 16m Comedy Romance
Evicted from his apartment, James has to move in with his girlfriend of 3 months. He quickly discovers that she's everything he never wanted in a woman. His only option is to get her to break up with him -- but still let him sleep on the couch.
10.
See You in September (2010)
1h 31m Comedy Romance
Feeling abandoned by her therapist who's gone on an extended vacation, beautiful Lindsay gets help with her fear of commitment from an ad hoc support group formed by other New Yorkers also left high and dry by their shrinks. But when her pals dare her to date fellow group member A.J., Lindsay begins to wonder if she's finally found her match.
1h 33m Comedy Romance
Lance Valenteen (David Boreanaz) makes a living as "Mr. Fix It," a man who gets hired by men that have just recently been dumped by their girlfriend. Lance dates the guys' ex-girlfriend and becomes the worst date possible, sending the girl back into her ex-boyfriends arms. But when Lance gets hired by Bill Smith (Pat Healy) to get Sophia Fiori (Alana De La Garza) back, Lance, for the first time, starts falling for one of his marks.
12.
How to Lose a Guy in 10 Days (2003)
1h 56m Comedy Romance
It's the battle of wills, as Andie (Kate Hudson) needs to prove she can dump a guy in 10 days, whereas Ben (Matthew McConaughey) needs to prove he can win a girl in 10 days. Now, the clock is ticking - and the wildly entertaining comedy smash is off and running in this irresistible tale of sex, lies and outrageous romantic fireworks!
13.
Why Men Don't Listen and Women Can't Read Maps (2007)
1h 43m Comedy
Jan is an absolute heartthrob and a diehard Hertha fan. Katrin is attractive, just as successful and an incorrigible romantic. Chance makes the two the ideal couple. At least almost. Everything would be perfect if the two flagship models of their species did not lapse into primeval behavioral patterns. And so Jan sinks a little too deep in the cleavage of his secretary Melanie, and Katrin can not resist the adventurer Jonathan's lead role.
14.
I Hate Valentine's Day (2009)
1h 38m Comedy Romance
A love story set in Manhattan, where a florist who abides by a strict five-date-limit with any man finds herself wanting more with the new restaurateur in town.
15.
The Back-up Plan (2010)
1h 46m Comedy Romance
When Zoe tires of looking for Mr. Right, she decides to have a baby on her own. But on the day she's artificially inseminated, she meets Stan, who seems to be just who she's been searching for all her life. Now, Zoe has to figure out how to make her two life's dreams fit with each other.
13m Animation Sci-Fi & Fantasy
Four Angels and four Devils are sent to Earth, in an unused area of the Golden School, where they learn everything they need to become Guardian Angels and Guardian Devils.
1h 30m Romance TV Movie Comedy
Revolves around three friends who have dream weddings only to find out that the pastor who married them failed to complete the key paperwork required to make them official.
18.
The Ugly Truth (2009)
1h 36m Comedy Romance
A romantically challenged morning show producer is reluctantly embroiled in a series of outrageous tests by her chauvinistic correspondent to prove his theories on relationships and help her find love. His clever ploys, however, lead to an unexpected result.
19.
Divorce Invitation (2012)
1h 53m Comedy Romance
'Divorce Invitation' centers on Mike Christian, a happily married man who runs into his high school sweetheart Alex, and after all these years, sparks still fly. When Mike is determined Alex is his true soul mate, he realizes he has a huge problem-he signed an iron-clad pre-nuptial agreement and his wife will not let him out of the marriage
20.
How to Fall in Love (2012)
1h 24m Comedy Romance TV Movie
An accountant, who never quite grew out of his awkward teenage years, finds himself with a dating coach - she happens to be his high school crush as well. Thanks to his coach, he gets a pretty woman he has his sights on for some time, but realizes they are incompatible. Meanwhile, his dating lessons with his teenage crush reawaken old feelings. Not realizing the feelings are mutual, he finds himself unable to act on them due to his fear of being rejected by the one he truly loves.
explore
Check out more list from our community