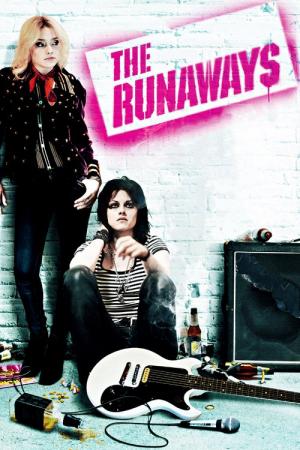 26 Best Movies Like The Runaways ...
If you liked this film , you will probably love these too! In this collection we highlight some of the best films that share a very similar premise to '', and are worth checking out.
1h 48m Drama Music History
The story of Mötley Crüe and their rise from the Sunset Strip club scene of the early 1980s to superstardom.
2.
Crazy Sexy Cool: The TLC Story (2013)
1h 44m TV Movie Drama
TLC's humble beginnings in Atlanta quickly led to an unprecedented rise to fame in the 1990's as one of the world's most talented, celebrated and highest-selling female groups of all time. Through very public and high profile success, turmoil and tragedy, TLC left an indelible stamp of female empowerment that changed the face of the music industry forever.
1h 38m Drama
The drama tells the story of John Lennon's teenage years in Liverpool and the start of his journey to becoming a successful musician. The story also examines the impact on his early life and personality of the two dominant females in his childhood.
1h 54m Drama Music Romance
In January 1978, after their success in England, the punk rock band Sex Pistols venture out on their tour of the southern United States. Temperamental bassist Sid Vicious is forced by his band mates and their manager to travel without his troubled girlfriend, Nancy Spungen, who will meet him in New York only after a traumatic event. When the band breaks up and Sid begins his solo career in a hostile city, the turbulent couple definitely falls into the depths of drug addiction and co-dependency, a last journey with no return.
2h 14m Drama Music
Three young women dream of becoming pop stars—and get their wish when they're chosen to be backup singers for the legendary James 'Thunder' Early.
6.
We Are the Best! (2013)
1h 42m Drama Music
Three girls in 1980s Stockholm decide to form a punk band -- despite not having any instruments and being told by everyone that punk is dead.
7.
Great Balls of Fire! (1989)
1h 48m Drama History Music
The story of Jerry Lee Lewis, arguably the greatest and certainly one of the wildest musicians of the 1950s. His arrogance, remarkable talent, and unconventional lifestyle often brought him into conflict with others in the industry, and even earned him the scorn and condemnation of the public.
1h 47m Drama Music TV Movie
The story of legendary blues performer, Bessie Smith, who rose to fame during the 1920s and '30s.
1h 55m Drama
Sadie looks up to her older sister Georgia, a successful folk singer who's happily married with children, but can't break out of the bar-band circuit and hit the big time she desperately covets. It's in part due to her attraction to drugs and booze, and also to her own unwise choice in men. Finally, though, Sadie's Achilles heel is a rough, unlovely voice very different than her sister's crowd-pleasing singing.
1h 40m Drama Music
Chronicles the early days of The Beatles in Hamburg, Germany. The film focuses primarily on the relationship between Stuart Sutcliffe, John Lennon, and Sutcliffe's girlfriend Astrid Kirchherr.
2h 30m Drama Music TV Movie
This biopic traces Elvis Presley's life from his impoverished childhood to his meteoric rise to stardom to his triumphant conquering of Las Vegas.
12.
Good Vibrations (2012)
1h 37m Music Drama
The story of music legend Terri Hooley, a key figure in Belfast's punk rock scene. Hooley founded the Good Vibrations store from which a record label sprung, representing bands such as The Undertones, Rudi and The Outcasts.
13.
Hard Core Logo (1996)
1h 32m Drama Comedy Music
Bruce Macdonald follows punk bank Hard Core Logo on a harrowing last-gasp reunion tour throughout Western Canada. As magnetic lead-singer Joe Dick holds the whole magilla together through sheer force of will, all the tensions and pitfalls of life on the road come bubbling to the surface.
14.
Why Do Fools Fall in Love (1998)
1h 56m Drama Romance
In the mid-80s, three women (each with an attorney) arrive at the office of New York entertainment manager, Morris Levy. One is an L.A. singer, formerly of the Platters; one is a petty thief from Philly; one teaches school in a small Georgia town. Each claims to be the widow of long-dead doo-wop singer-songwriter Frankie Lyman, and each wants years of royalties due to his estate, money Levy has never shared. During an ensuing civil trial, flashbacks tell the story of each one's life with Lyman, a boyish, high-pitched, dynamic performer, lost to heroin. Slowly, the three wives establish their own bond.
15.
Bound for Glory (1976)
2h 27m Music
A biography of Woody Guthrie, one of America's greatest folk singers. He left his dust-devastated Texas home in the 1930s to find work, discovering the suffering and strength of America's working class.
2h Music Drama
Gloria never imagined that an audition for the music producer Sergio Andrade was going to change her life so drastically. King Midas not only brought her to stardom, but also to a dramatic story of love, heartbreak and betrayal. Based on the life story of pop/rock singer Gloria Trevi.
17.
Gainsbourg: A Heroic Life (2010)
2h 10m Drama
A glimpse at the life of French singer Serge Gainsbourg, from growing up in 1940s Nazi-occupied Paris through his successful song-writing years in the 1960s to his death in 1991 at the age of 62.
1h 57m Drama Romance Music
Based on the life of rock promoter/producer Bob Marucci, who discovered, among others, Frankie Avalon and Fabian.
30m
We don't have an overview translated in English. Help us expand our database by adding one.
1h 37m Drama
The life and struggles of a notorious rock musician seeping into a pit of loneliness whose everyday life involves friends and family seeking financial aid and favors, inspired by rock music legend Kurt Cobain and his final hours.
1h 30m Drama History
In the mid-1960s, wealthy debutant Edie Sedgwick meets artist Andy Warhol. She joins Warhol's famous Factory and becomes his muse. Although she seems to have it all, Edie cannot have the love she craves from Andy, and she has an affair with a charismatic musician, who pushes her to seek independence from the artist and the milieu.
22.
That Thing You Do! (1996)
1h 48m Comedy Drama Romance Music
A Pennsylvania band scores a hit in 1964 and rides the star-making machinery as long as it can, with lots of help from its manager.
23.
The Mambo Kings (1992)
1h 44m Drama Music
The Mambo Kings tells the story of César and Nestor Castillo, brothers and aspiring musicians who flee from Cuba to America in search of the American Dream.
24.
Lady Sings the Blues (1972)
2h 24m Drama Music Romance
Chronicles the rise and fall of legendary blues singer Billie Holiday. Her late childhood, stint as a prostitute, early tours, marriages and drug addiction are featured.
1h 30m Romance Drama Music
Chronicles Whitney Houston's rise to fame and turbulent relationship with husband Bobby Brown.
explore
Check out more list from our community