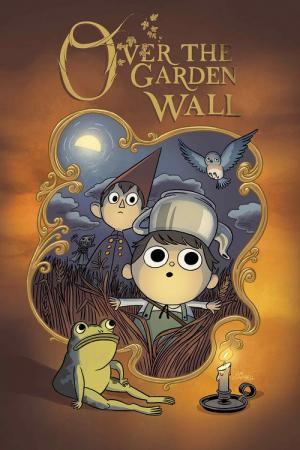 17 Best Shows Like Over The Garden Wall ...
If you liked this one , you will definitely love these too! In this list we highlight some of the best films that share a very similar premise to '', and are worth checking out.
22m Animation Comedy Mystery Sci-Fi & Fantasy Kids
Twin brother and sister Dipper and Mabel Pines are in for an unexpected adventure when they spend the summer helping their great uncle Stan run a tourist trap in the mysterious town of Gravity Falls, Oregon.
1h 40m Animation Family Fantasy
When Coraline moves to an old house, she feels bored and neglected by her parents. She finds a hidden door with a bricked up passage. During the night, she crosses the passage and finds a parallel world where everybody has buttons instead of eyes, with caring parents and all her dreams coming true. When the Other Mother invites Coraline to stay in her world forever, the girl refuses and finds that the alternate reality where she is trapped is only a trick to lure her.
24m Animation Drama Sci-Fi & Fantasy
They are neither plants nor animals. They differ from other forms of life such as the micro-organisms and the fungi. Instead they resemble the primeval body of life and are generally known as "Mushi". Their existence and appearance are unknown to many and only a limited number of humans are aware of them. Ginko is a "Mushi-shi" who travels around to investigate and find out more about the "Mushi". In the process, he also lends a helping hand to people who face problems with supernatural occurances which may be related to the "Mushi".
4.
The Promised Neverland (2019)
23m Animation Mystery Sci-Fi & Fantasy Action & Adventure Drama
Surrounded by a forest and a gated entrance, the Grace Field House is inhabited by orphans happily living together as one big family, looked after by their "Mama," Isabella. Although they are required to take tests daily, the children are free to spend their time as they see fit, usually playing outside, as long as they do not venture too far from the orphanage — a rule they are expected to follow no matter what. However, all good times must come to an end, as every few months, a child is adopted and sent to live with their new family... never to be heard from again.However, the three oldest siblings have their suspicions about what is actually happening at the orphanage, and they are about to discover the cruel fate that awaits the children living at Grace Field, including the twisted nature of their beloved Mama.
11m Animation Comedy Sci-Fi & Fantasy
Hook up with Finn and Jake as they travel the Land of Ooo searching for adventure. But remember, adventure isn't always easy. Sometimes you've got to battle fire gnomes that torture old ladies, save a smelly hot dog princess from the Ice King, and thaw out a bunch of frozen businessmen. What the cabbage?!
7.
Steven Universe (2013)
22m Animation Sci-Fi & Fantasy Comedy Action & Adventure
An animated fantasy-comedy series that follows Luz, a self-assured teenage girl who accidentally stumbles upon a portal to a magical world where she befriends a rebellious witch, Eda, and an adorably tiny warrior, King. Despite not having magical abilities, Luz pursues her dream of becoming a witch by serving as Eda's apprentice at the Owl House and ultimately finds a new family in an unlikely setting.
22m Animation Sci-Fi & Fantasy Action & Adventure Mystery
In Scotland, 994 A.D., the castle Wyvern is guarded by gargoyles, creatures that sleep during the day, turned into stone, and are fearsome warriors during the night. In spite of keeping the castle's inhabitants safe, the gargoyles are not respected nor appreciated by them, except for the Captain of Guard who sees great value and honor in these creatures. After being betrayed by the only human they trusted, most of the gargoyles are killed while sleeping, and out of anger the Magus puts a spell on the surviving gargoyles so they also sleep during the night. In 1994 A.D., the billionaire David Xanatos purchases the castle, moving it to the top of his skyscraper in Manhattan. With the castle above the clouds, the spell is broken and now the Scottish gargoyles live again in a world strange to them. The Clan is still reluctant about trusting humans, but after meeting Elisa Maza they find a reason to befriend humans again.
10.
Be Cool, Scooby-Doo! (2015)
In this incarnation of the long running Scooby Doo franchise, the Scooby gang are traveling in summer and spending time together which could be their last summer but monsters and ghouls get in the way of completing their adventurers.
12.
Balto: Wolf Quest (2002)
14.
The Pagemaster (1994)
1h 20m Fantasy Science Fiction Family Animation
Tyler knows a lot about accidents. So much so, he is scared to do anything that might endanger him, like riding his bike, or climbing into his treehouse. While in an old library, he is mystically transported into the unknown world of books, and he has to try and get home again.
1h 42m Animation Adventure Family Fantasy
A teenager finds herself transported to a deep forest setting where a battle between the forces of good and the forces of evil is taking place. She bands together with a rag-tag group characters in order to save their world—and ours.
16.
The Adventures of Tom Thumb & Thumbelina (2002)
explore
Check out more list from our community